PEGASUS FAMILY JULI 2018
INTERNATIONELL INTERAKTIV VISUELL TEATERFESTIVAL FÖR BARN OCH VUXNA.
Fjärde året!
Med professionella Dockteatergrupper från Spanien, Indonesien, Turkiet, Italien, Danmark, Sverige.
PEGASUS FAMILY JULY 2018
INTERNATIONAL INTERACTIVE VISUAL THEATREFESTIVAL FOR KIDS AND ADULTS.
Fourth edition!
Professional Puppetgroups from Indonesia, Spain, Turkey, Italy, Denmark, Sweden.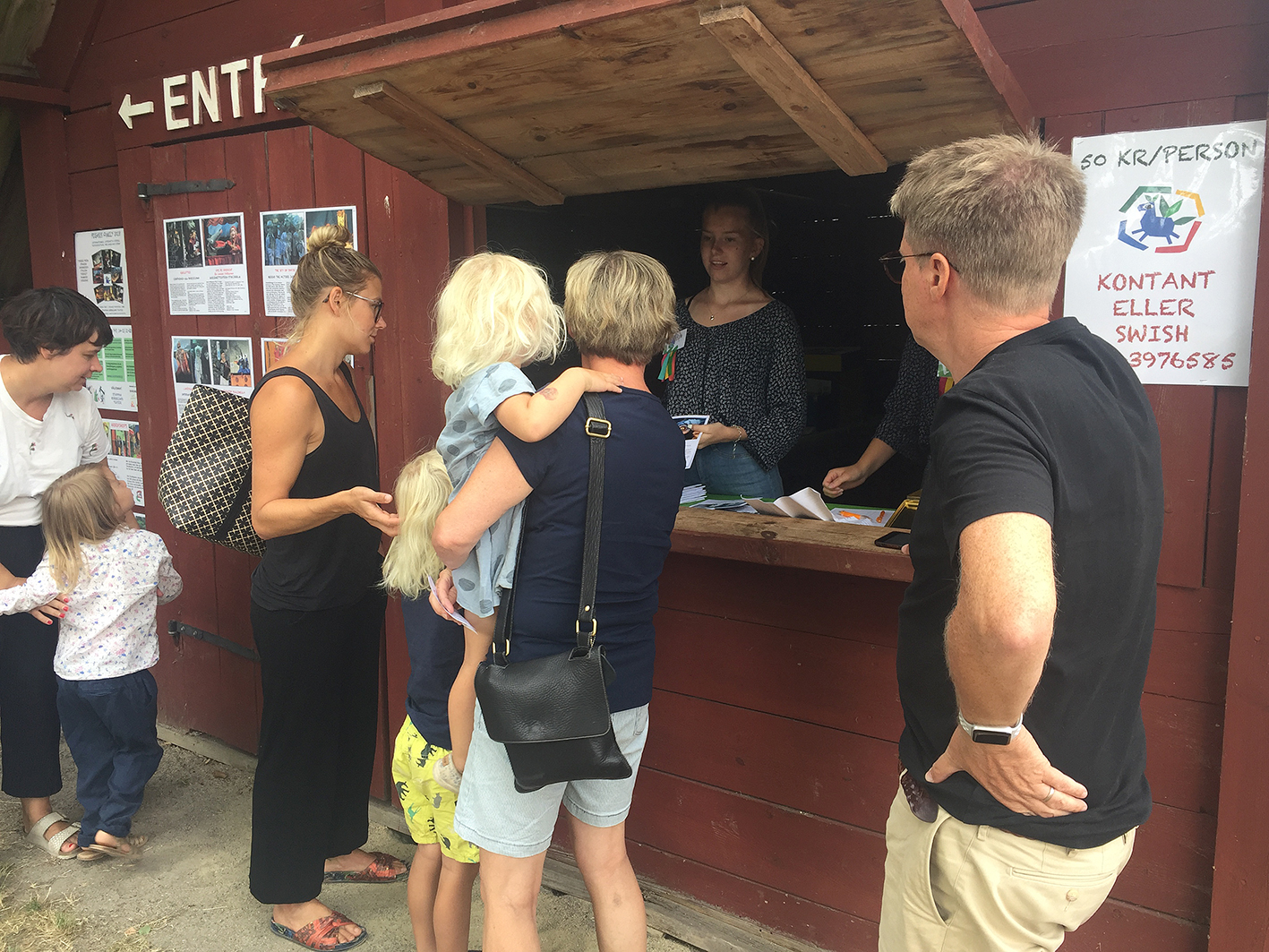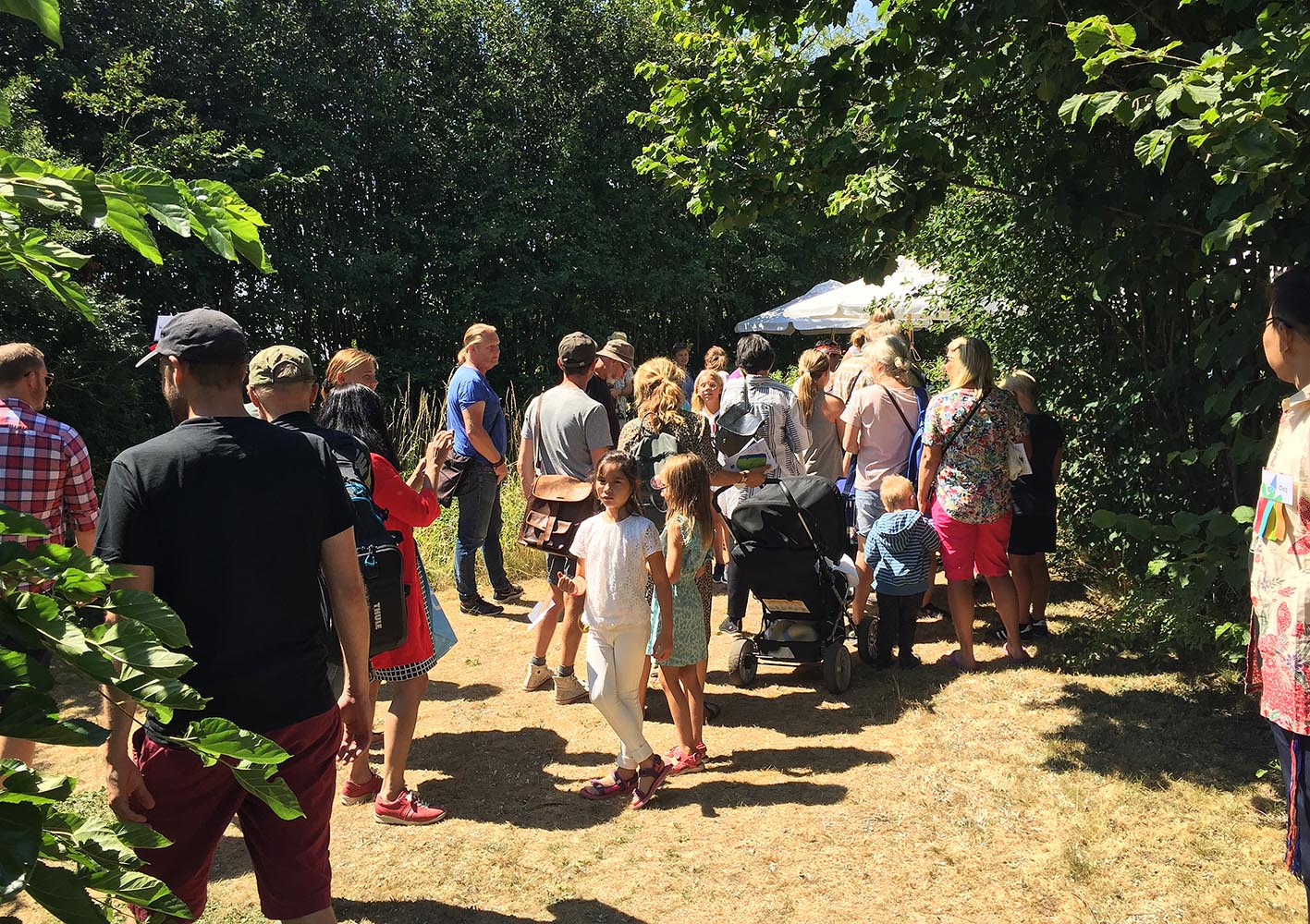 Pjäser i fri luft.
Some shows in open air.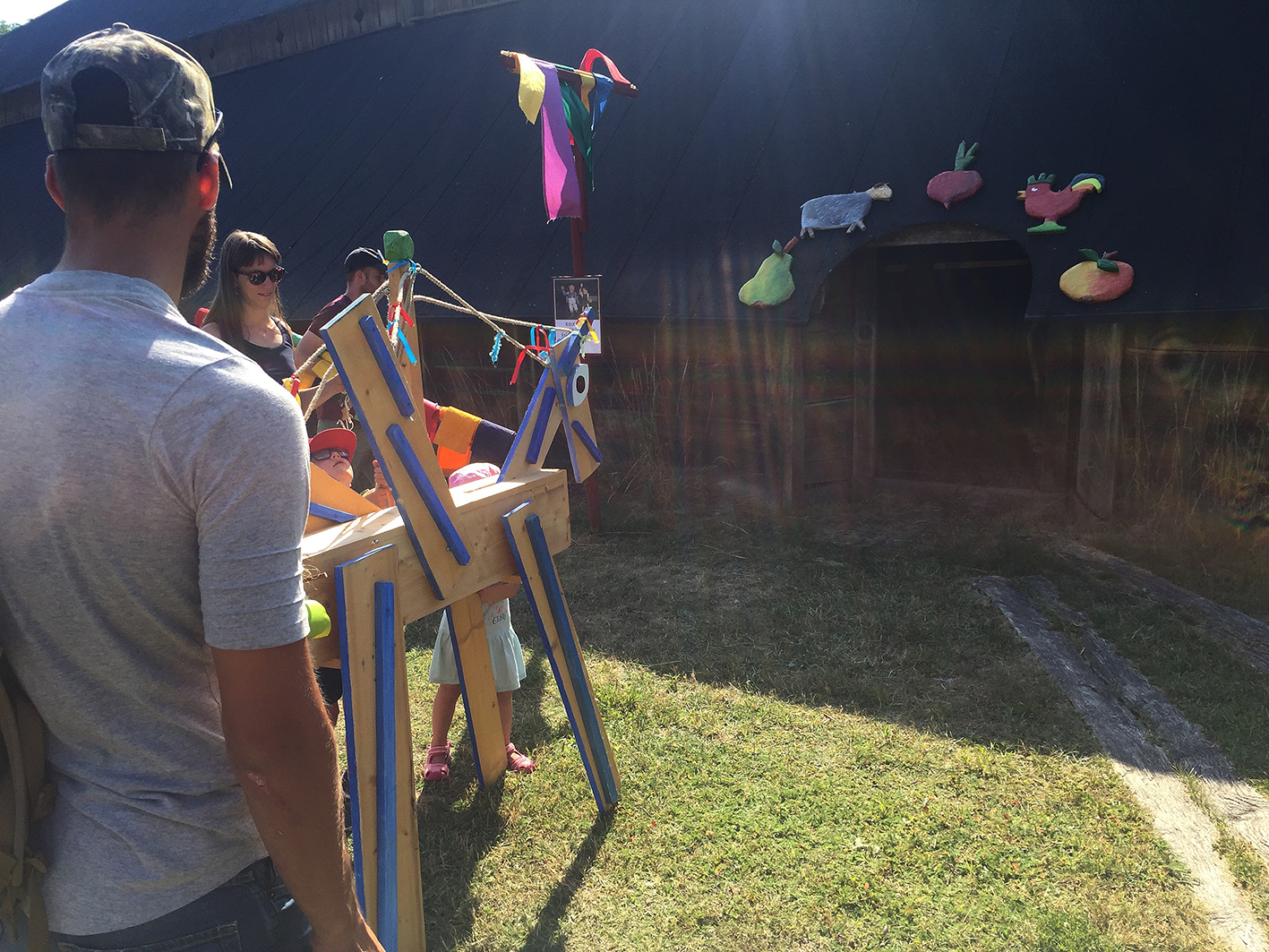 Och i teaterljus i ett unikt Långhus.
Some in a unique Longhouse.
ÅRETS FÖRSTA NYHET: DOCKOMATEN!
Man tillverkar sin egen docka, spelar en kort scen tillsammans med någon av de internationella artisterna. Det hela filmas, när man kommer hem kan man se och dela sin Dockvideo med andra.

Här är en kort: KATTEN OCH FÅGELN
The DOCKOMAT! Make a puppet together with a professional puppetmaker, bring it to the Dockomat, rehearse with an international artist. Record a short video, watch and share it with friends back home!
Here´s a short one THE CAT AND THE BIRD
ÅRETS ANDRA NYHET: PUPPETJAM!
Vuxenkvällar med närkontakt med de gästande internationella grupperna.
PUPPETJAM! Festivalevenings for adults and youth.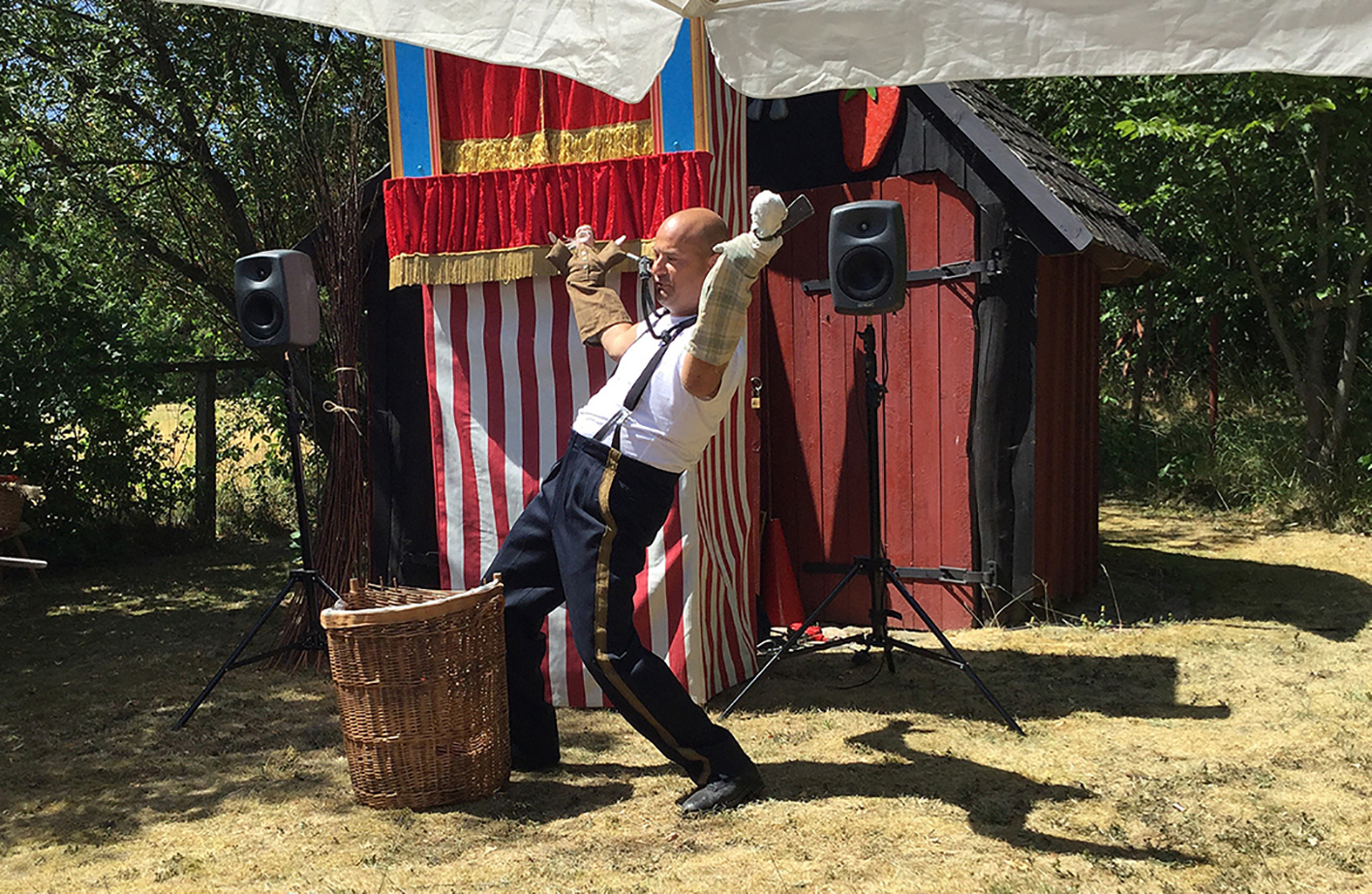 Marionetteatern Kulturhuset Stadsteatern Stockholm: VAR ÄR VARGEN!?
WHERE´S THE WOLF!?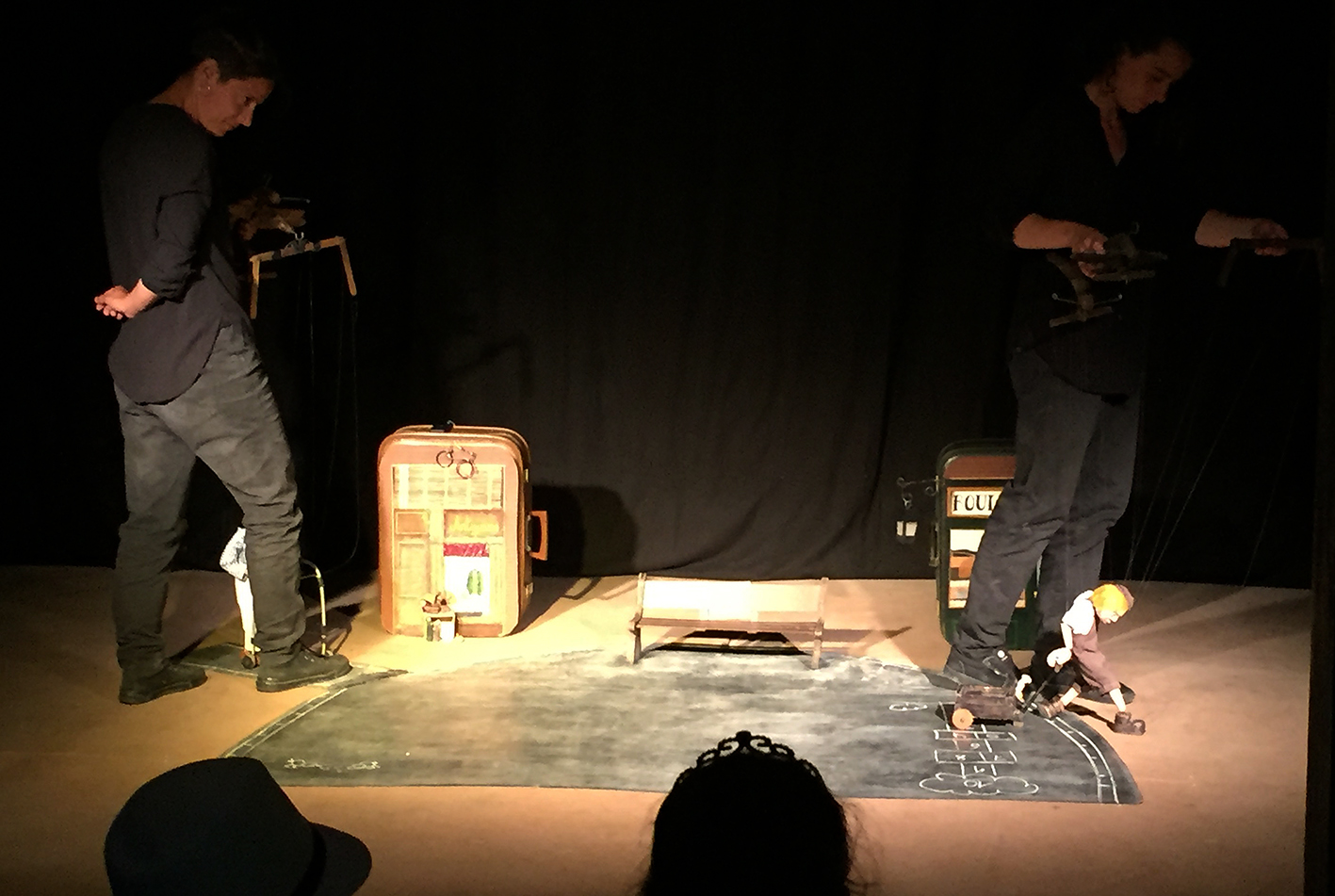 Spanskt: Compagnia eLe från Barcelona gav ROULETTE, en nyskapande Marionettföreställning.
Spanish: Compagnia eLe performed ROULETTES, a modern Marionette-performance.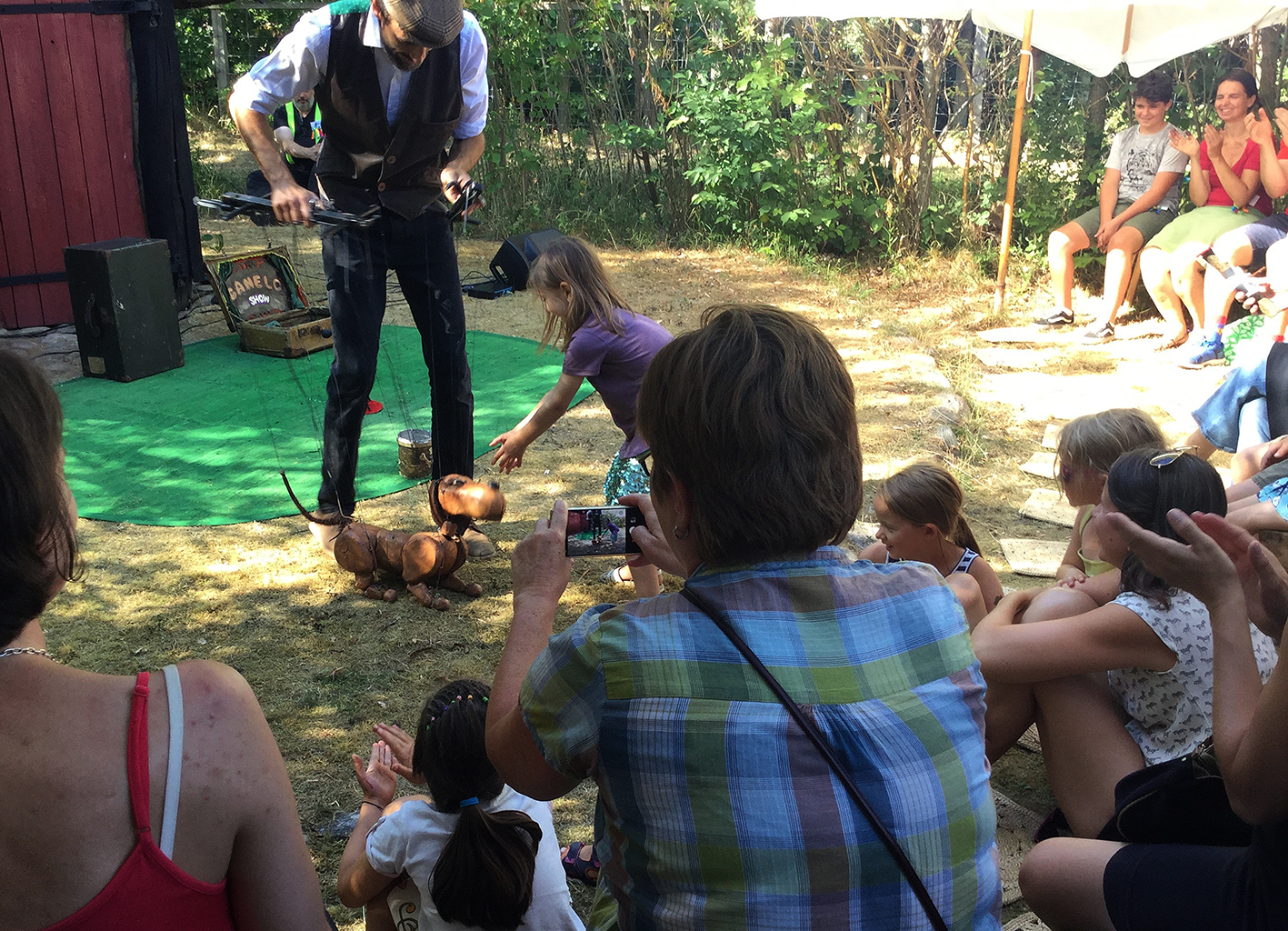 Rambling Puppets Barcelona: CANELO SHOW!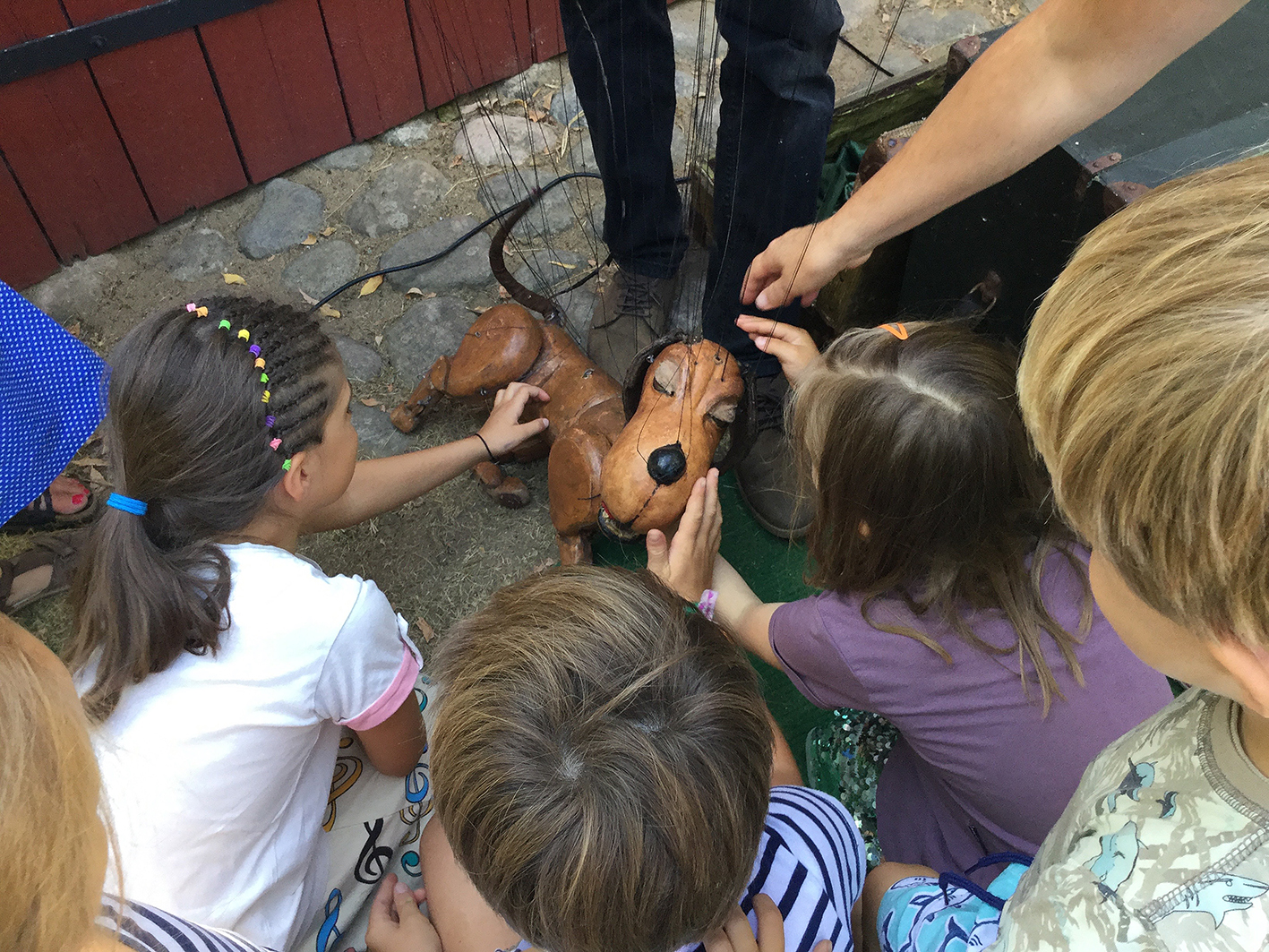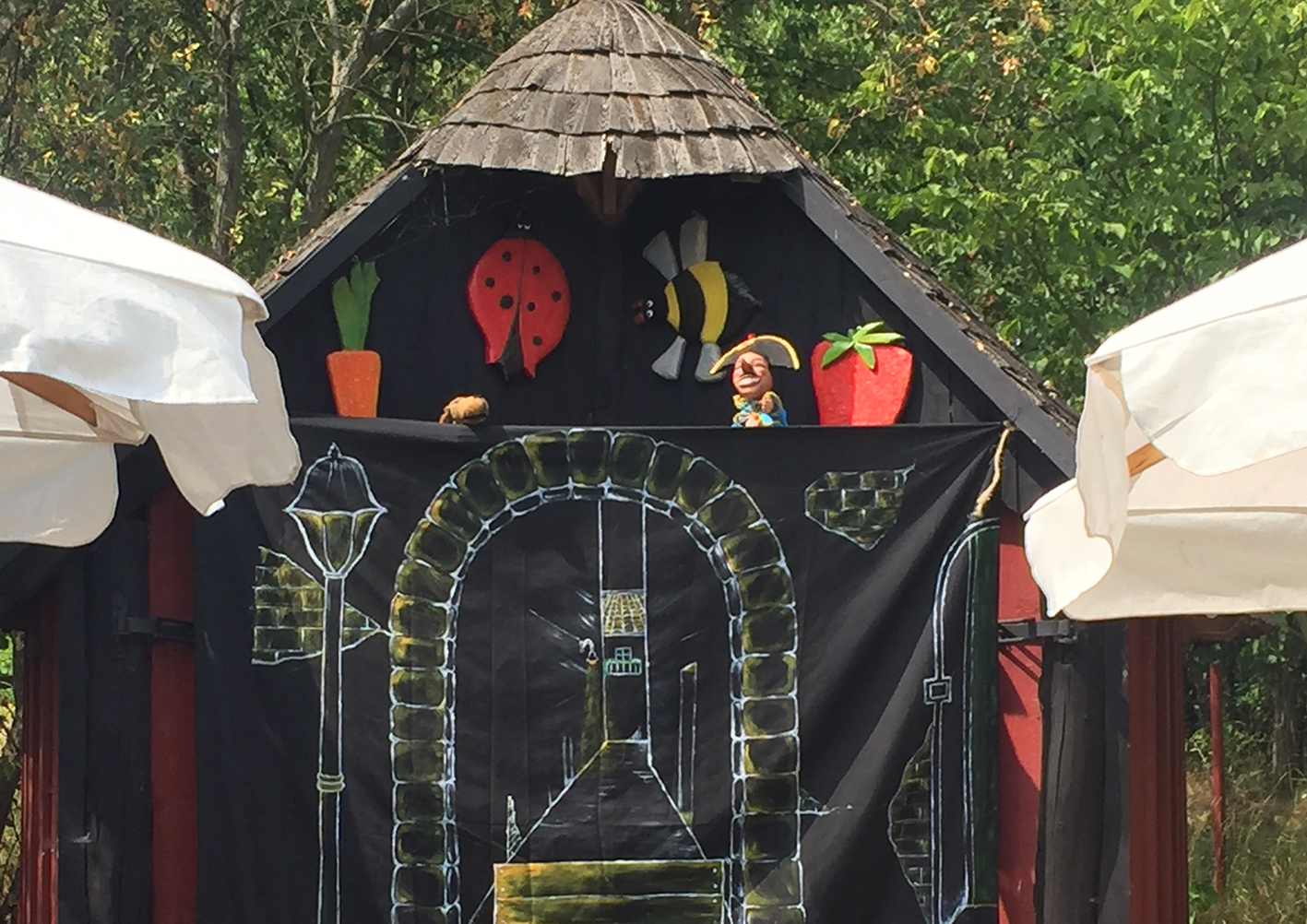 Grupperna Compagnia eLe och Rambling Puppets skapar sina föreställningar på Casa Taller de Marionetas mitt i Barcelonas centrum. Ett verkligt Marionettcentrum där grupper från hela världen möts.
Compagnia eLe and Rambling Puppets create their performances at famous Casa Taller de Marionetas in Barcelona. At this venue you can meet marionetteartists from all over the world.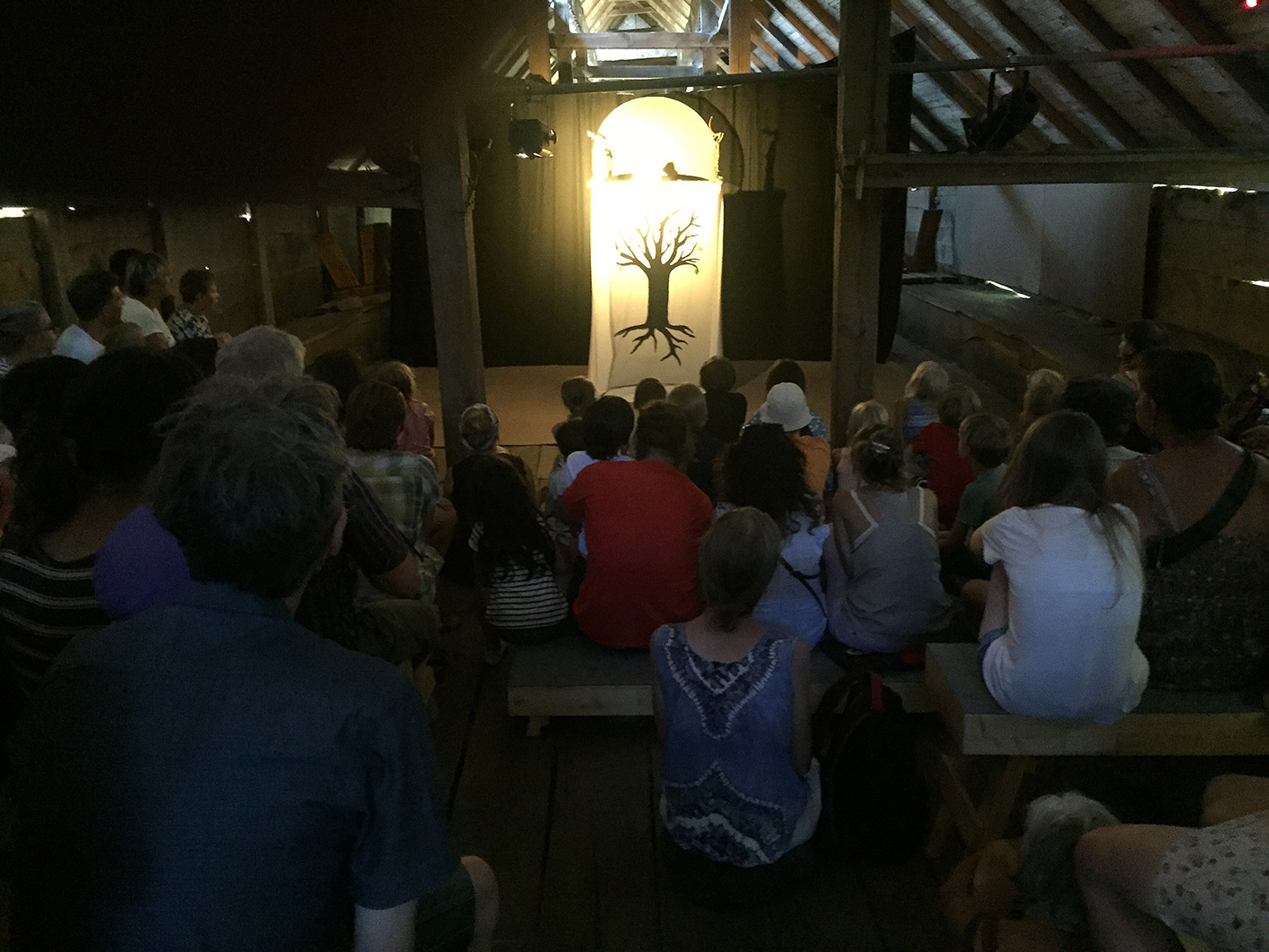 Italienskt: Figurentheater Eva Sotriffer från Bolzano gav TAKE IT!  En Pulcinellaföreställning.
Italian: Figurentheater Eva Sotriffer performed TAKE IT! A Pulcinella-performance.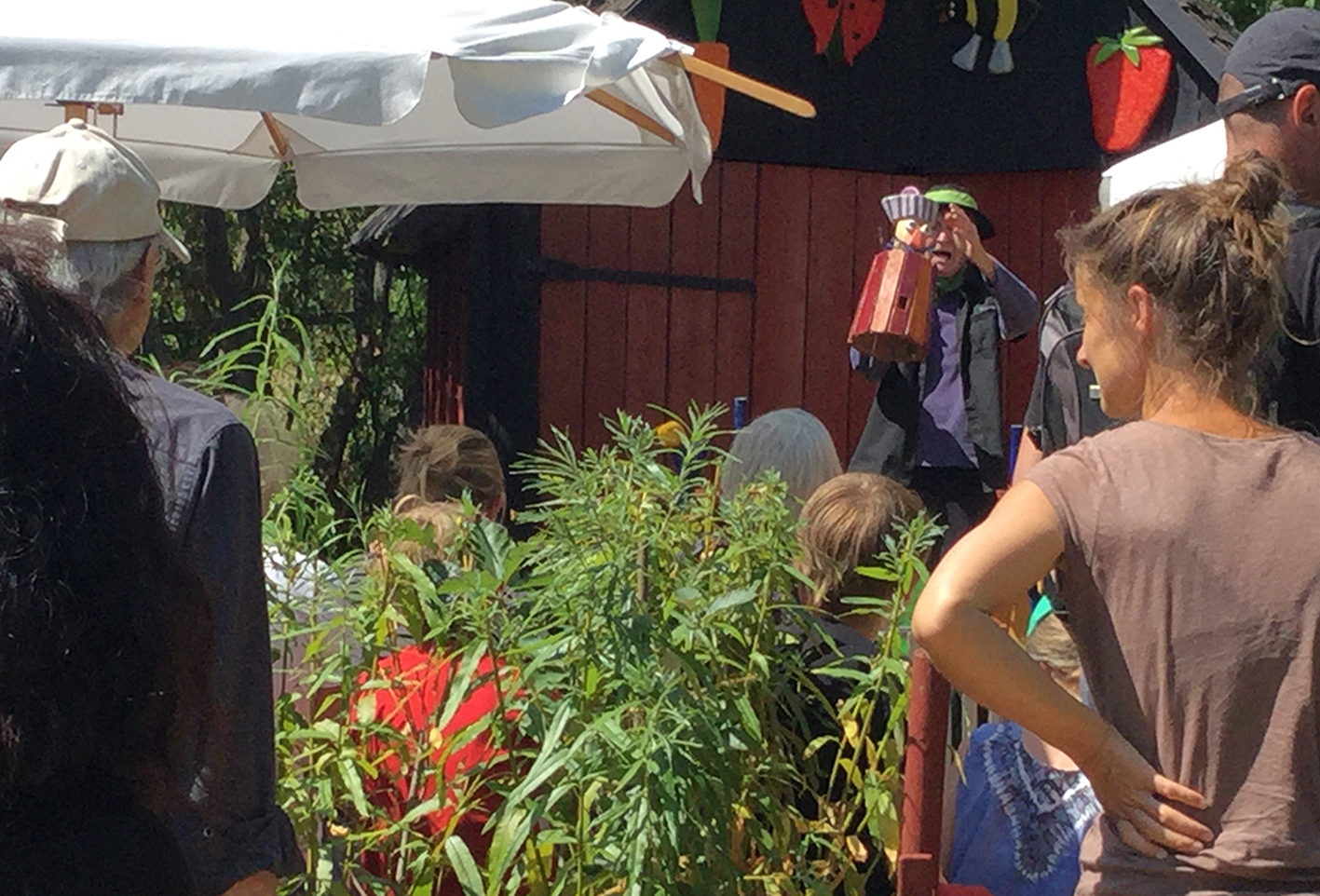 Staffan Björklunds Teater: MADAM ROT.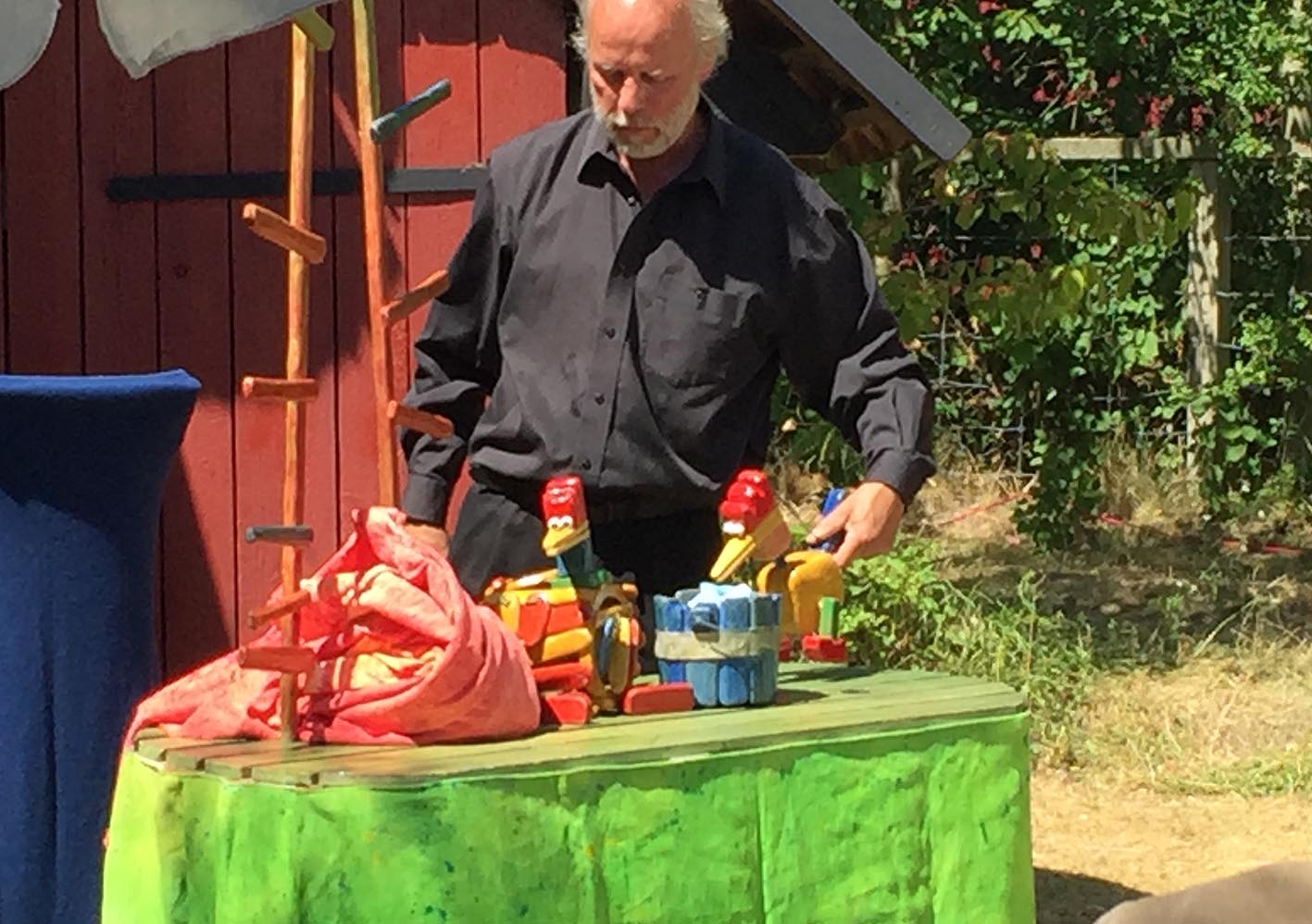 Olsens Teater Danmark: TRIPP TRAPP TRÄSKO!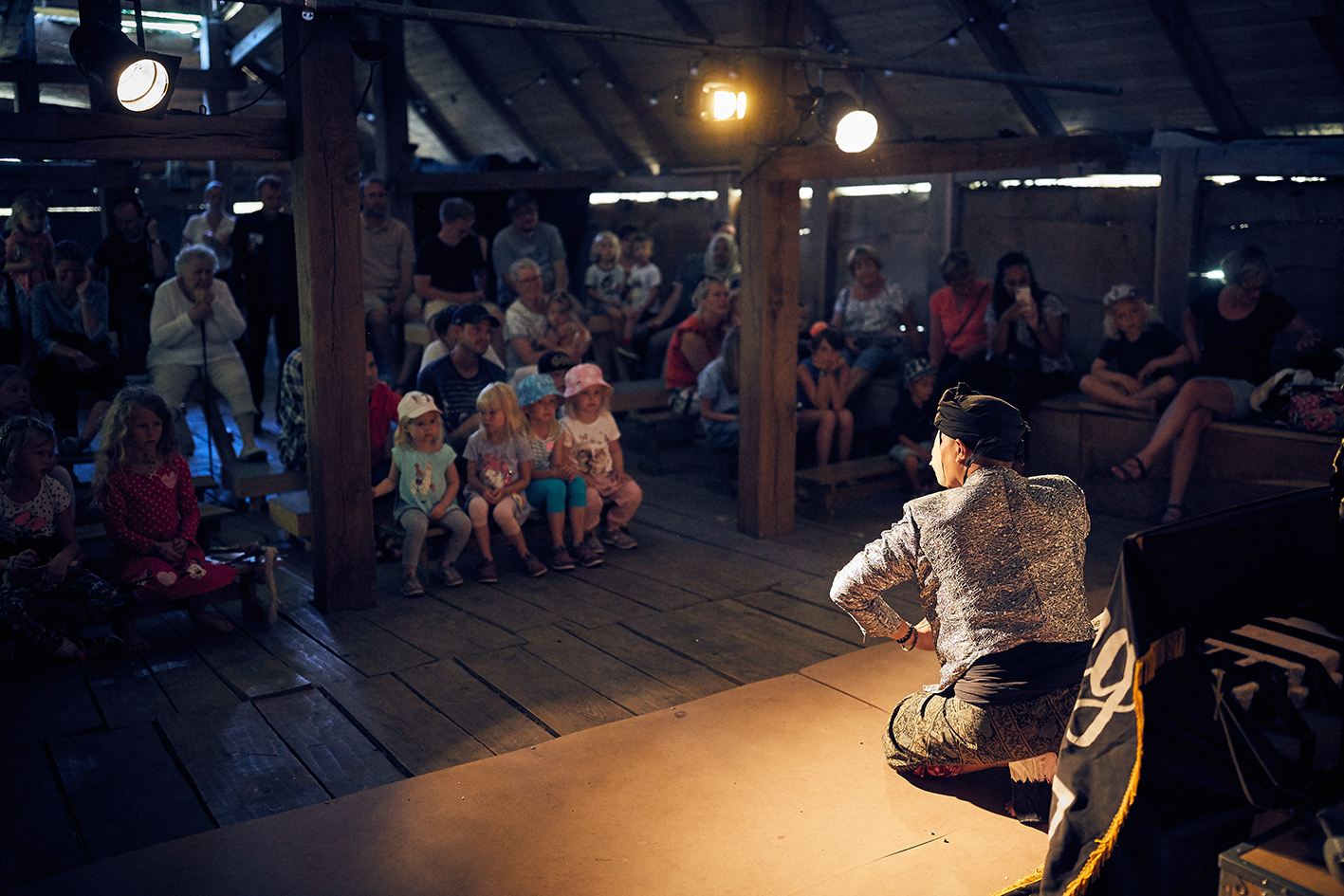 Indonesiskt: Behind The Actors från Bandung på Java gav SKY SAFIR, en modern version av Lejonkungen. Maskdans, Dockor, Musik.
Indonesian: Behind The Actors from Bandung, Java, performed SKY SAFIR. A modern version of  The Lion King. Mask Dance, Puppets, Music.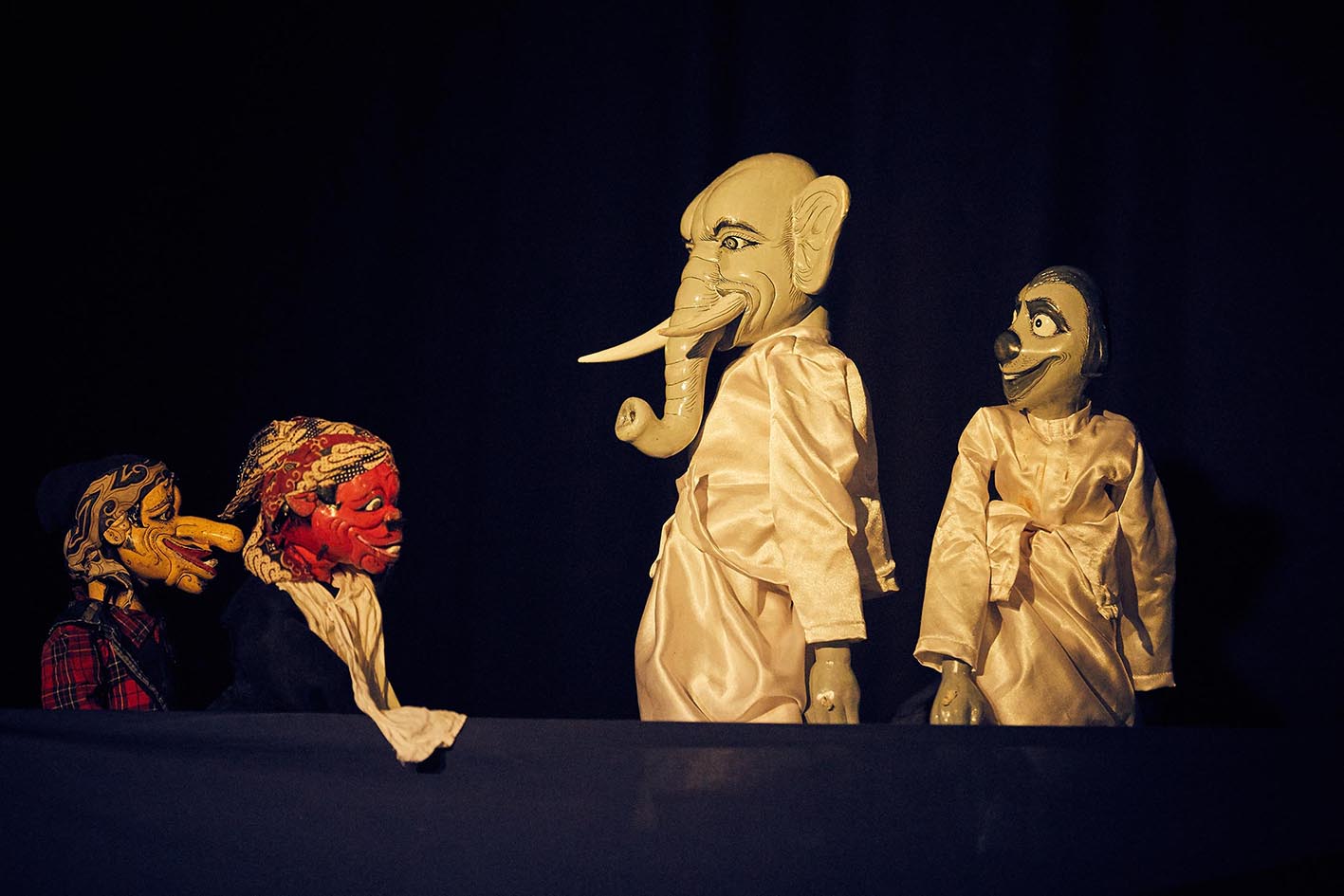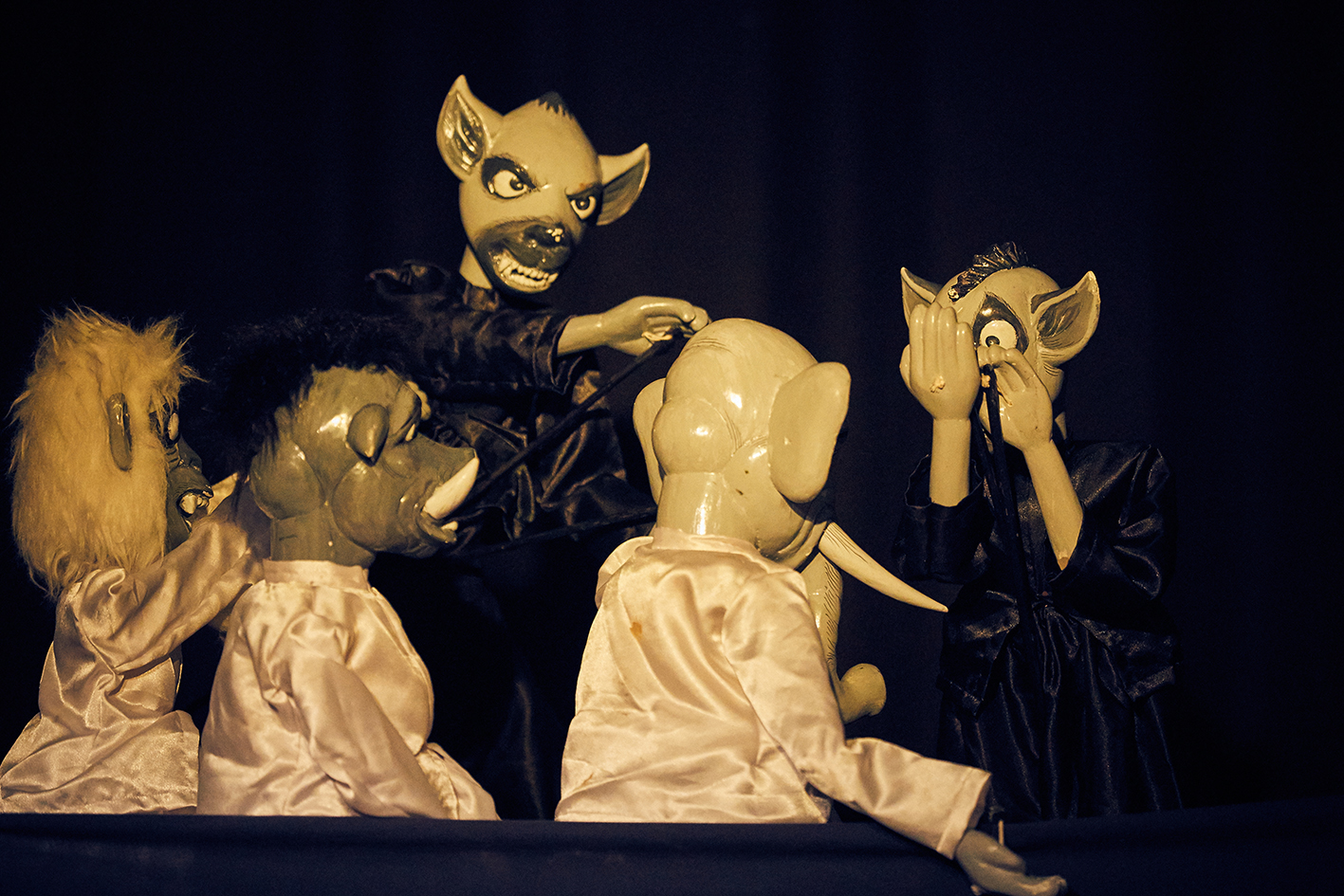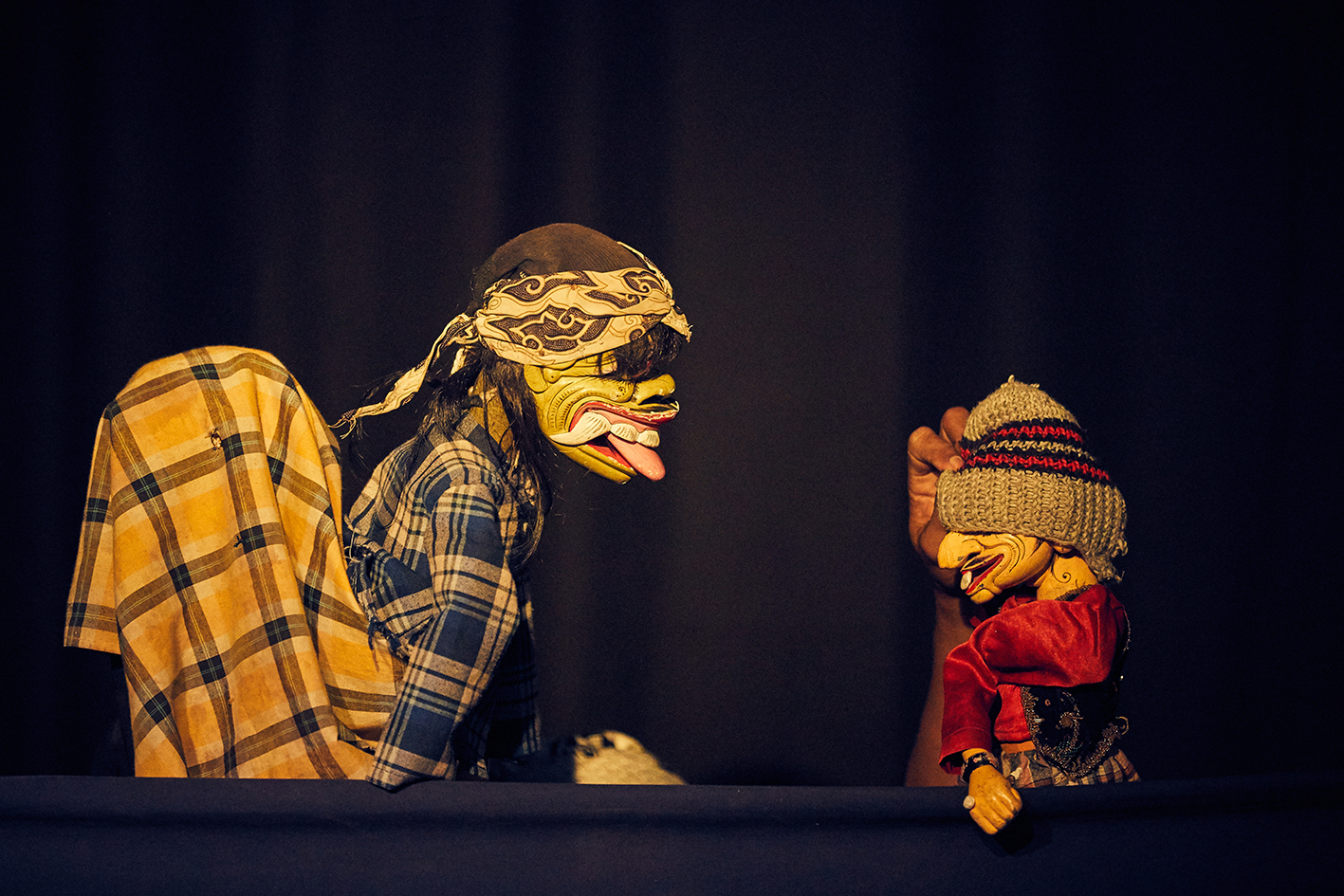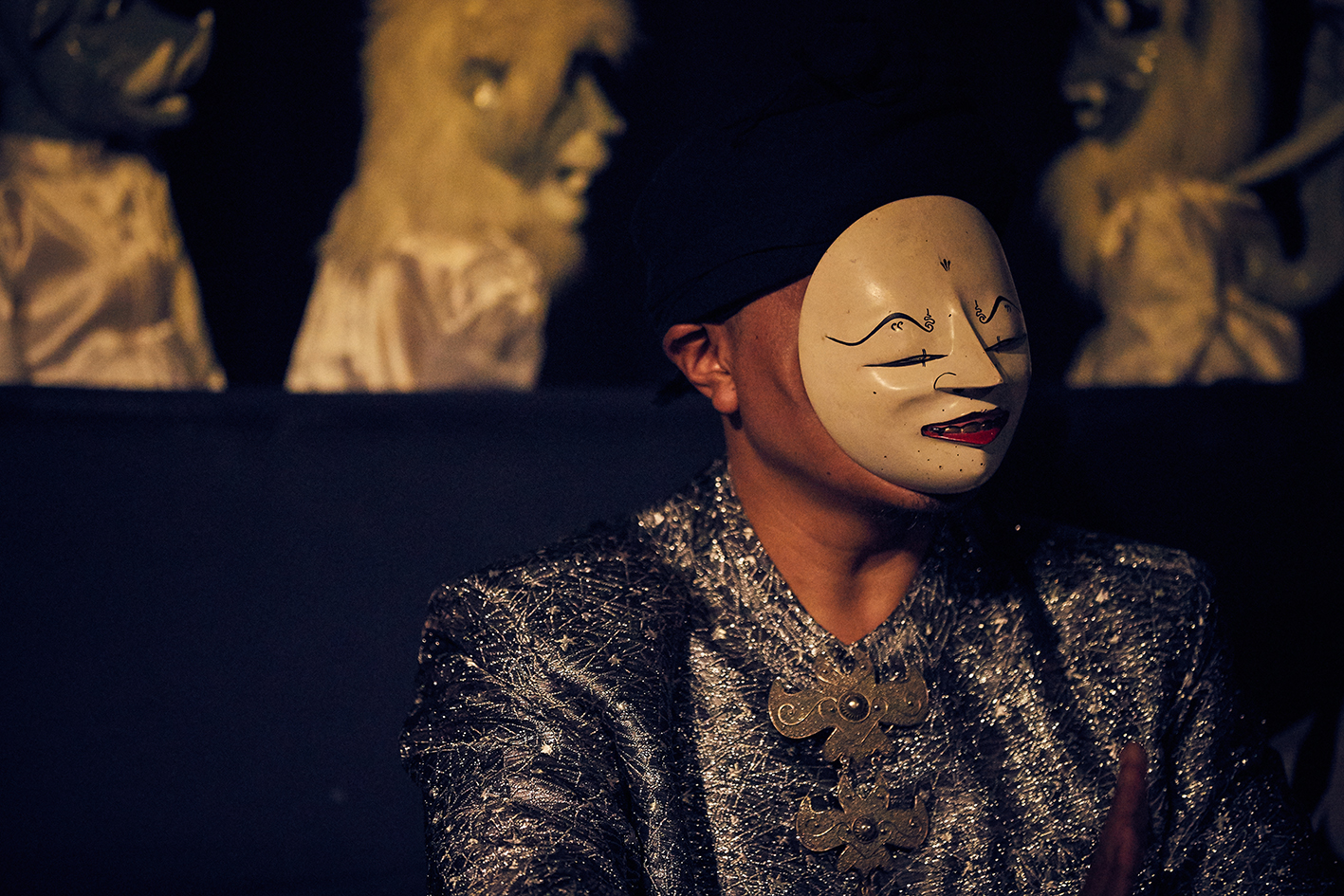 DOCKOMATEN!
Festivalens grundidé är att man efter att ha upplevt föreställningar fått inspiration till att tillverka egna dockor tillsammans med de internationella artister man nyss sett uppträda.
Man får hjälp av professionella dockmakare, det kan bli dockor av Teaterträdgårdens naturmaterial, det kan bli marionetter, det kan bli….
Vid Dockomaten repeterar man en kort stund med sin nya docka och någon av de internationella Dockartisterna, precis som på vilken professionell teater som helst var som helst!

Det hela filmas, läggs upp på Youtube, där man kan se och dela sin lilla Festivalföreställning med släkt och vänner.
THE DOCKOMAT!
The idea of the festival is "Spirit And Hand", which means that our audience after a performance can express themselves together with the international Festivalartists by making their own puppets.
At he Dockomat the kids and the Festivalartists meet again for a short rehearsal, and a short performance is recorded.
Back home the kids can watch themselves  performing together with International professionals, and share their Youtubevideo with friends!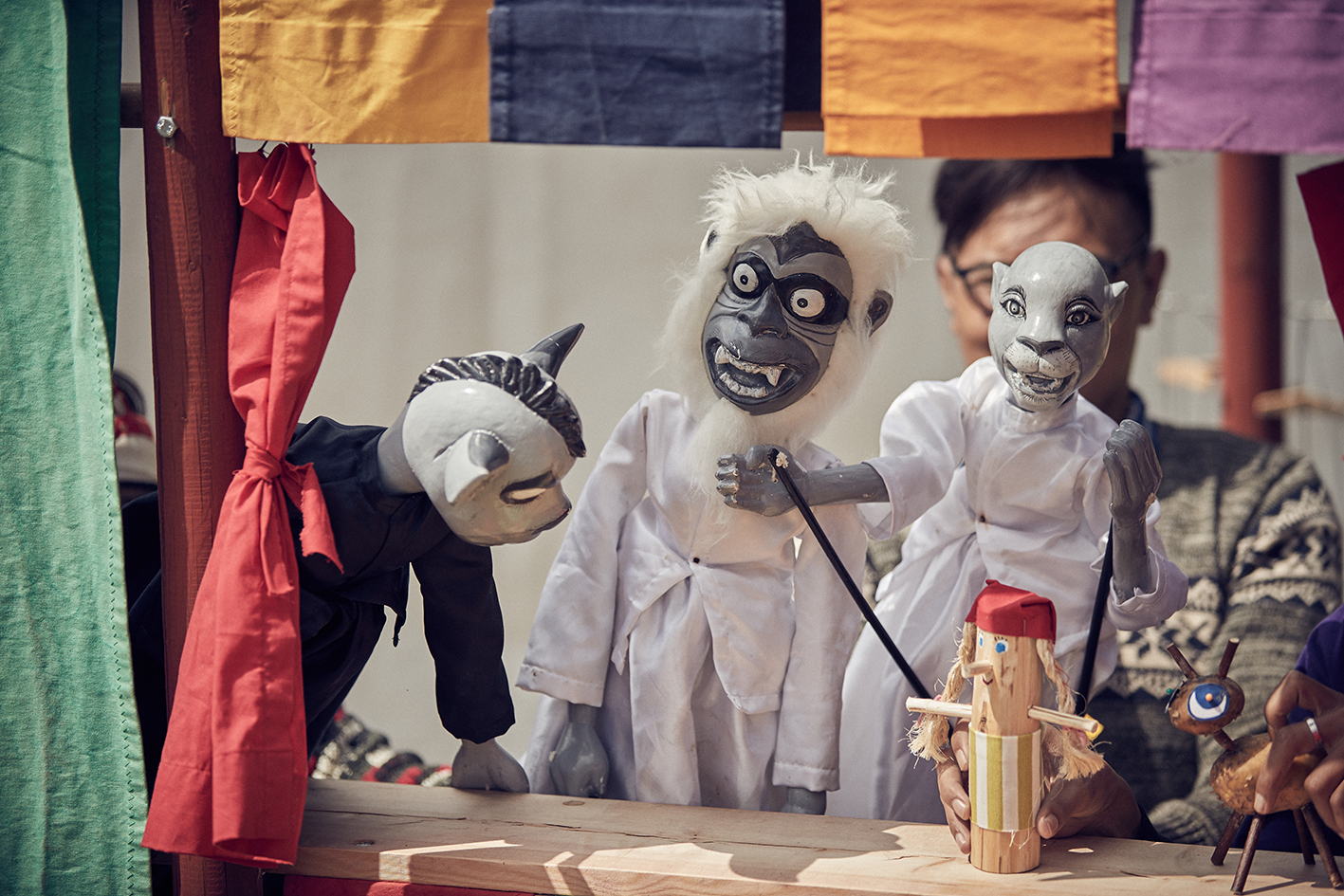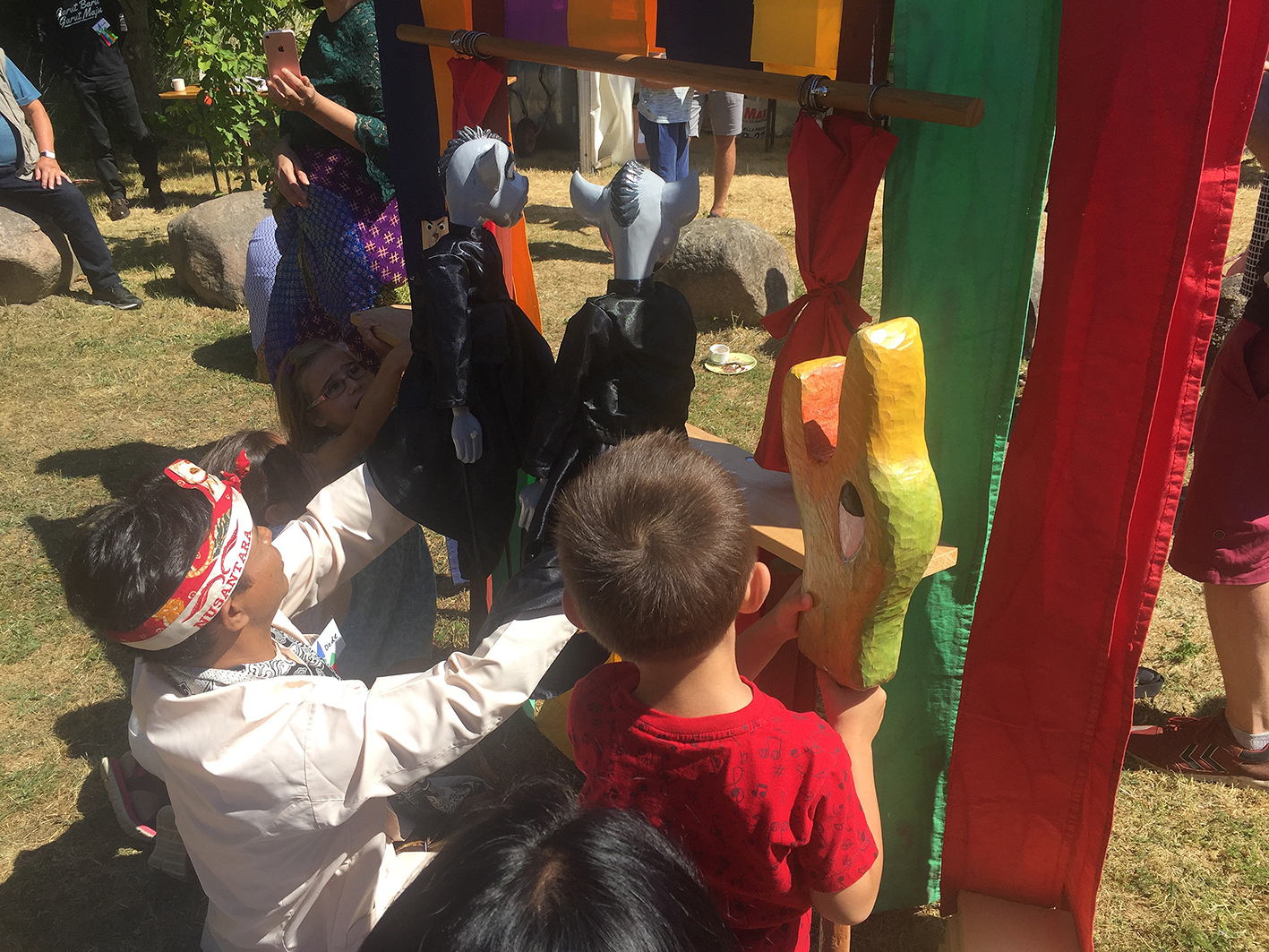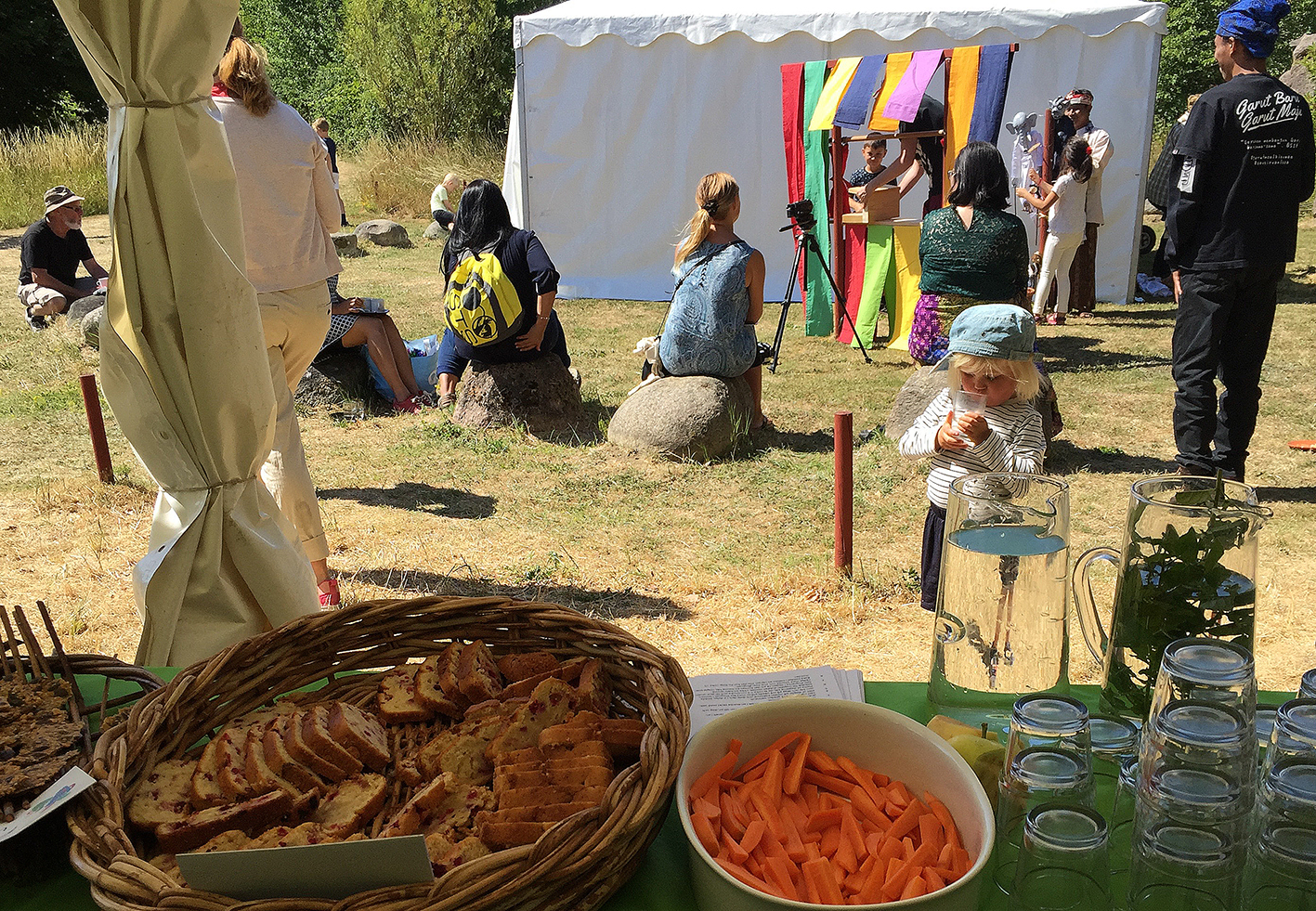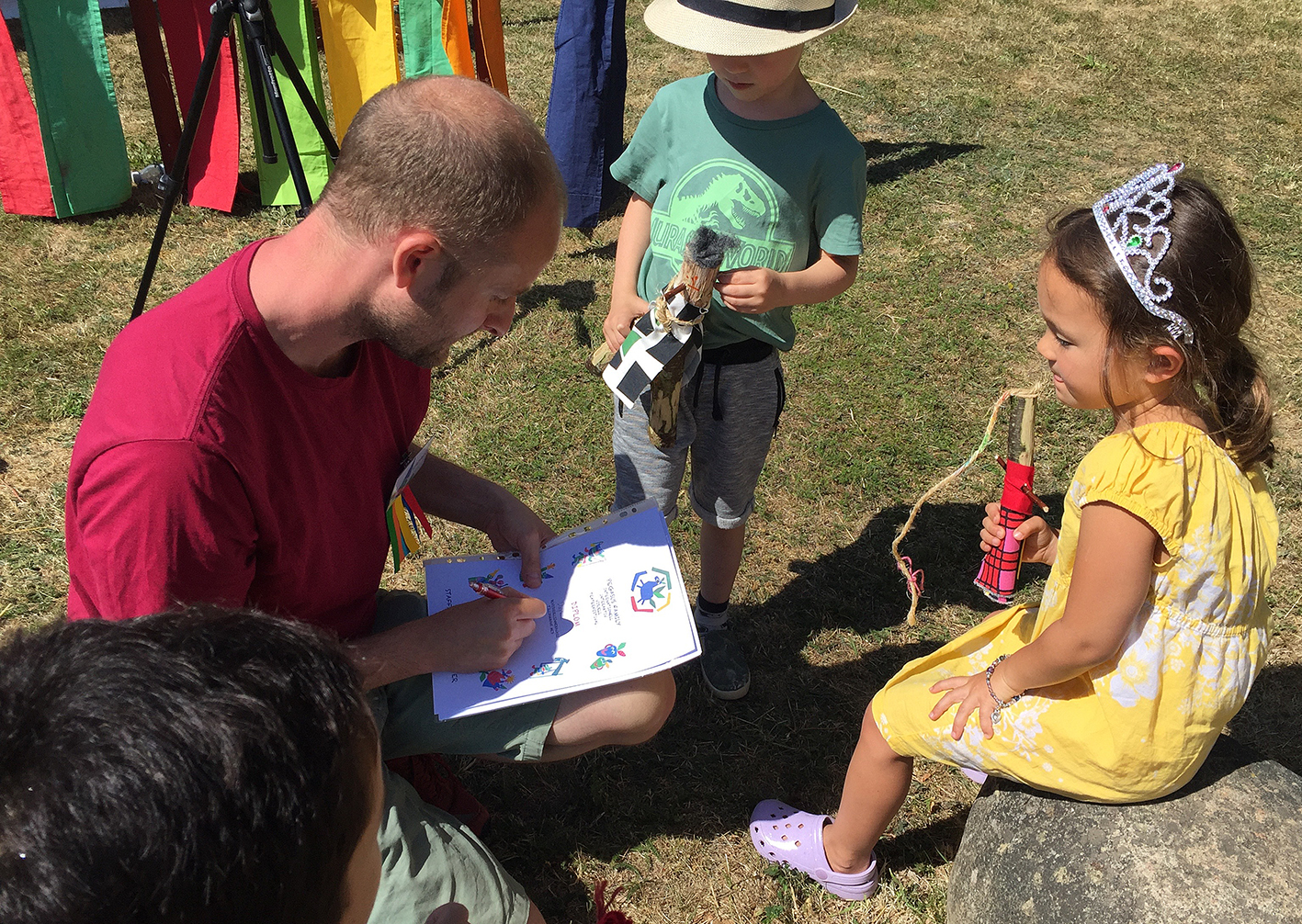 Liksom de stora artisterna får de små artisterna ett Festivaldiplom för sin roll i sin internationella video.

Se ett trettiotal Dockomatvideor här: https://www.youtube.com/user/swedpuppet/videos

Of course the small local artists get a Diploma just like the big International artists!

Enjoy 30 Dockomatvideos here:
https://www.youtube.com/user/swedpuppet/videos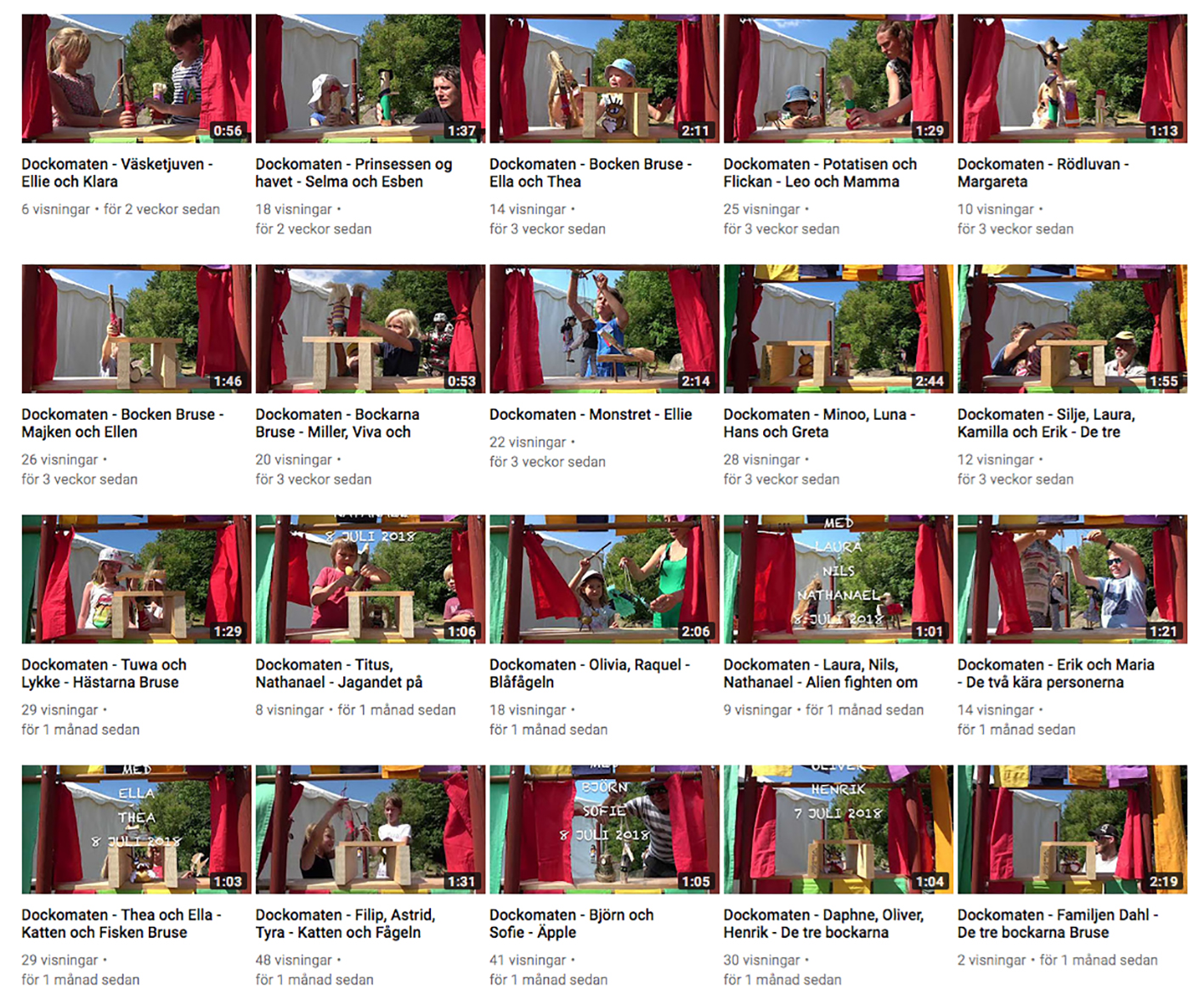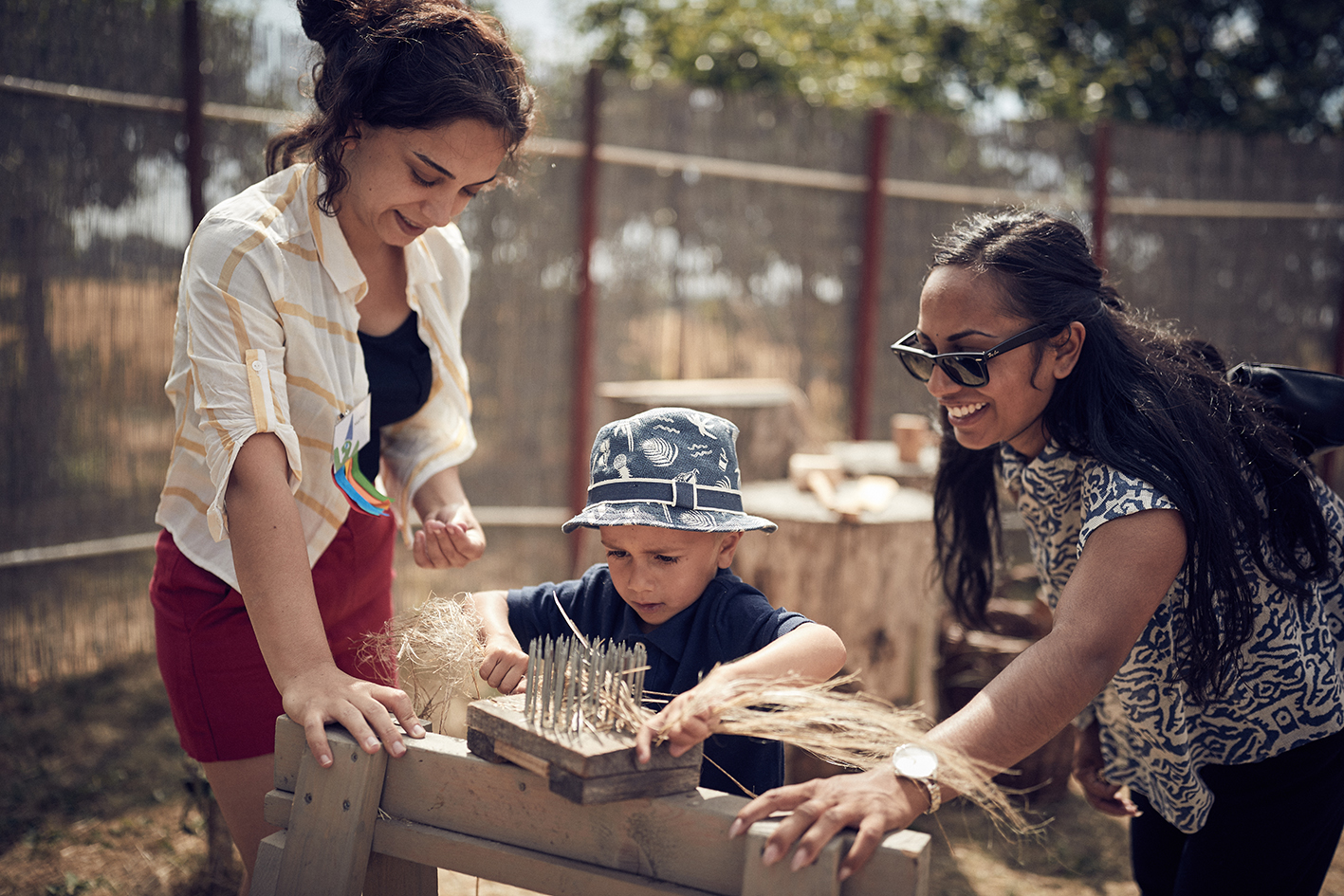 I Trädocksworkshopen får man tillverka dockor av Teaterträdgårdens naturmaterial, här kammas linstrån till hår till trädockor.
A lot of puppets are created out of natural materials from the Theatregarden like wood, sticks, flax, root-fruits.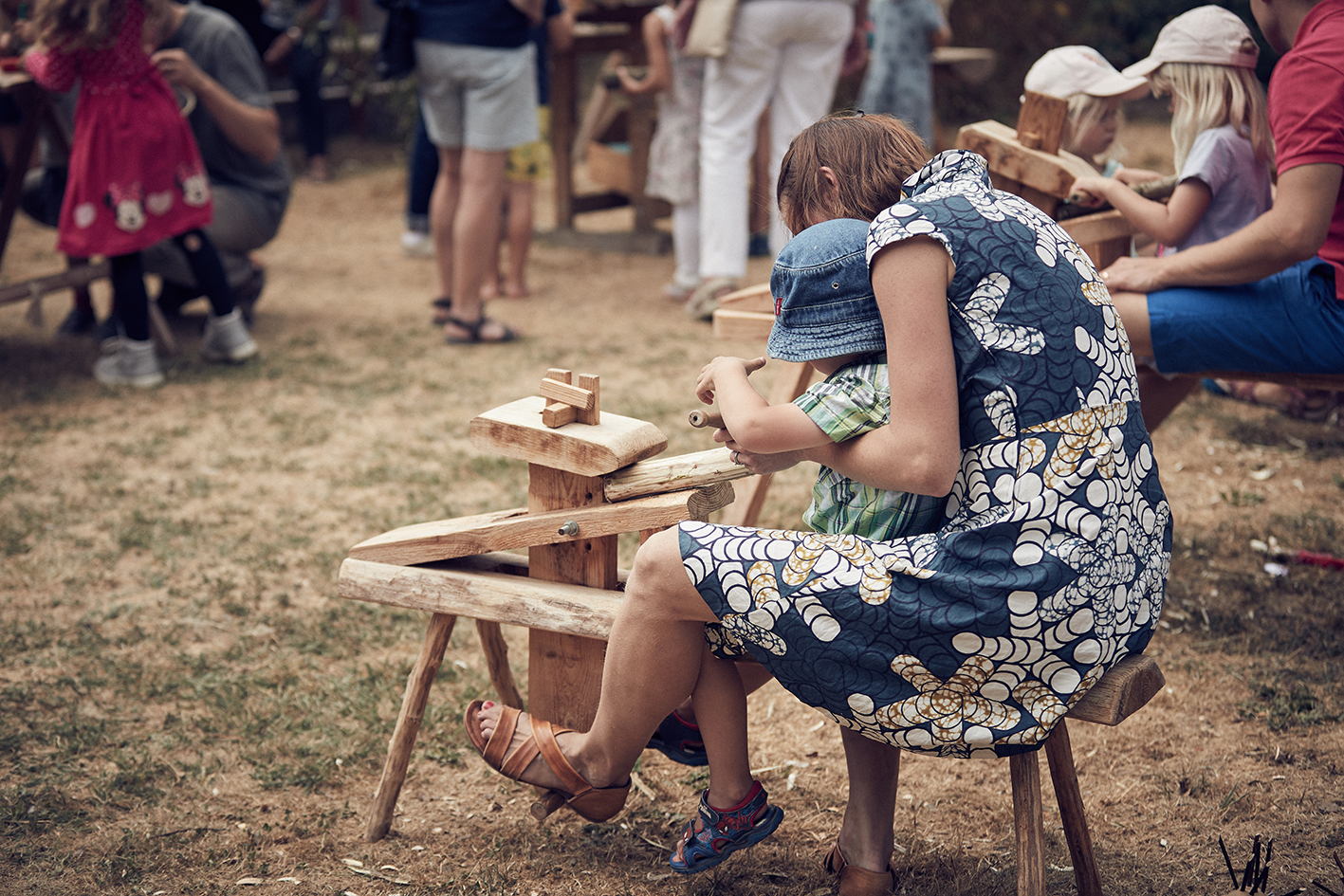 Riktiga verktyg används, träpinnars bark skalas med kniv vid en slöjdhäst, kul att jobba seriöst tillsammans!

Proper tools are used, bark is peeled with knives at craft horses.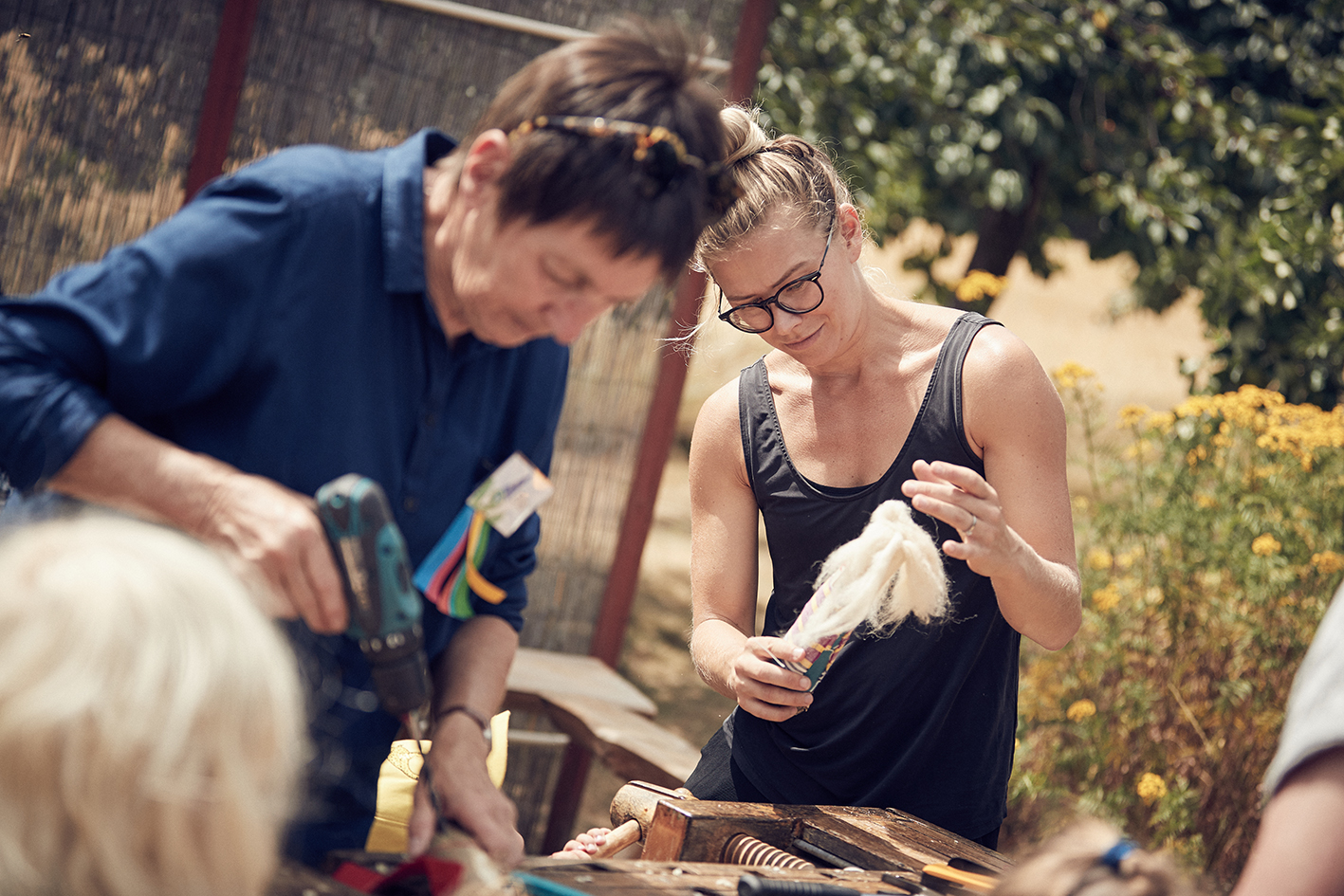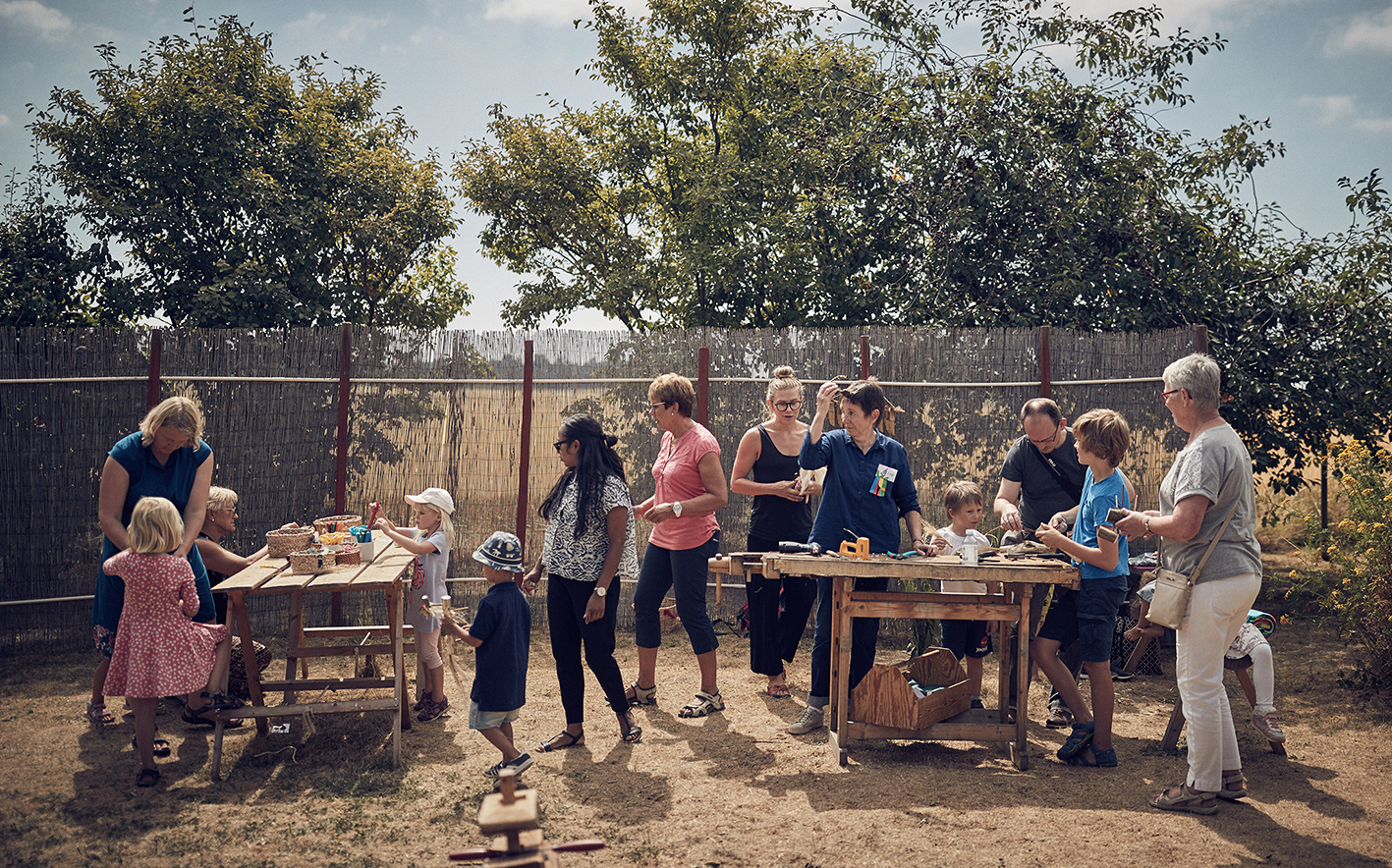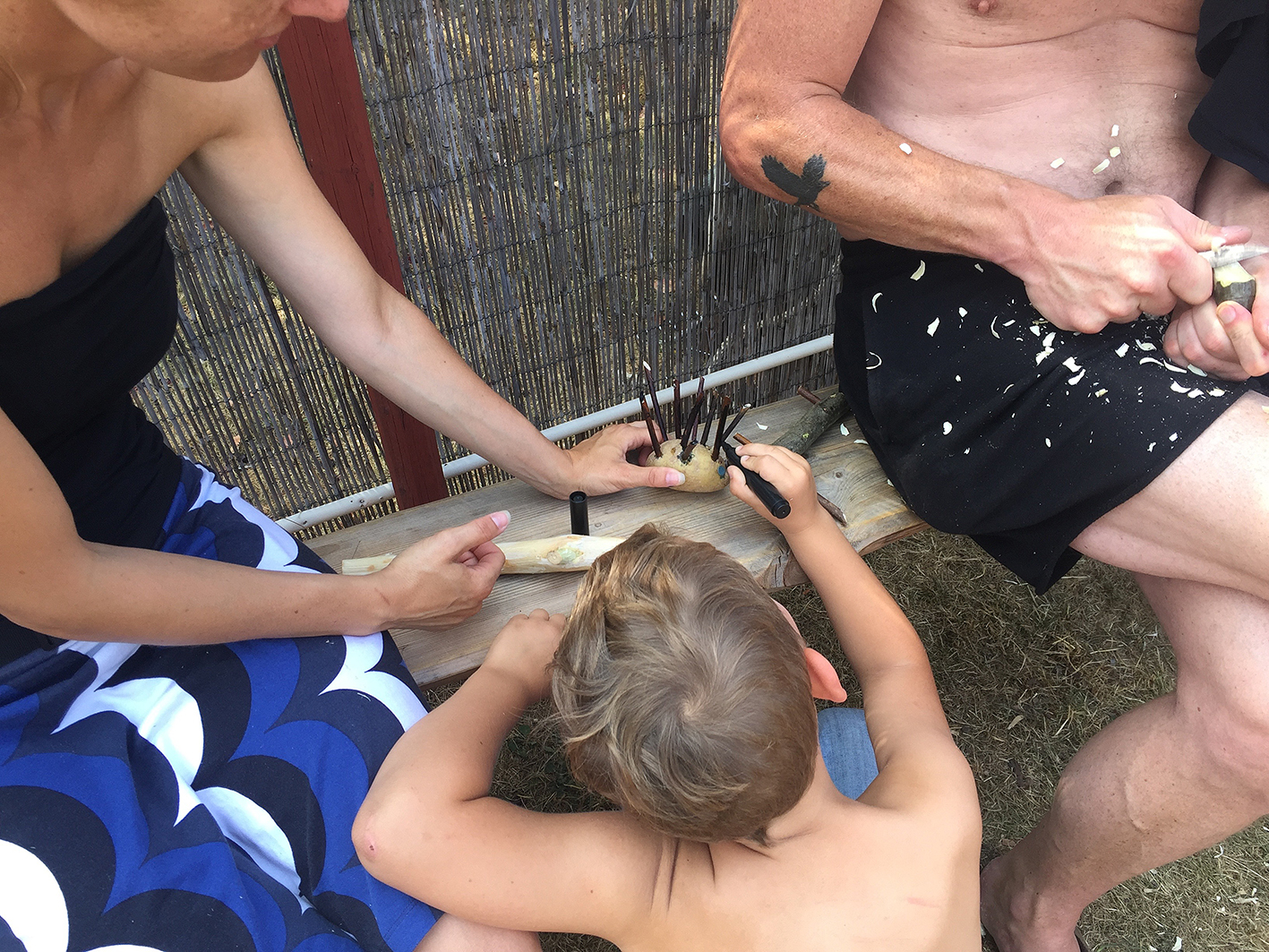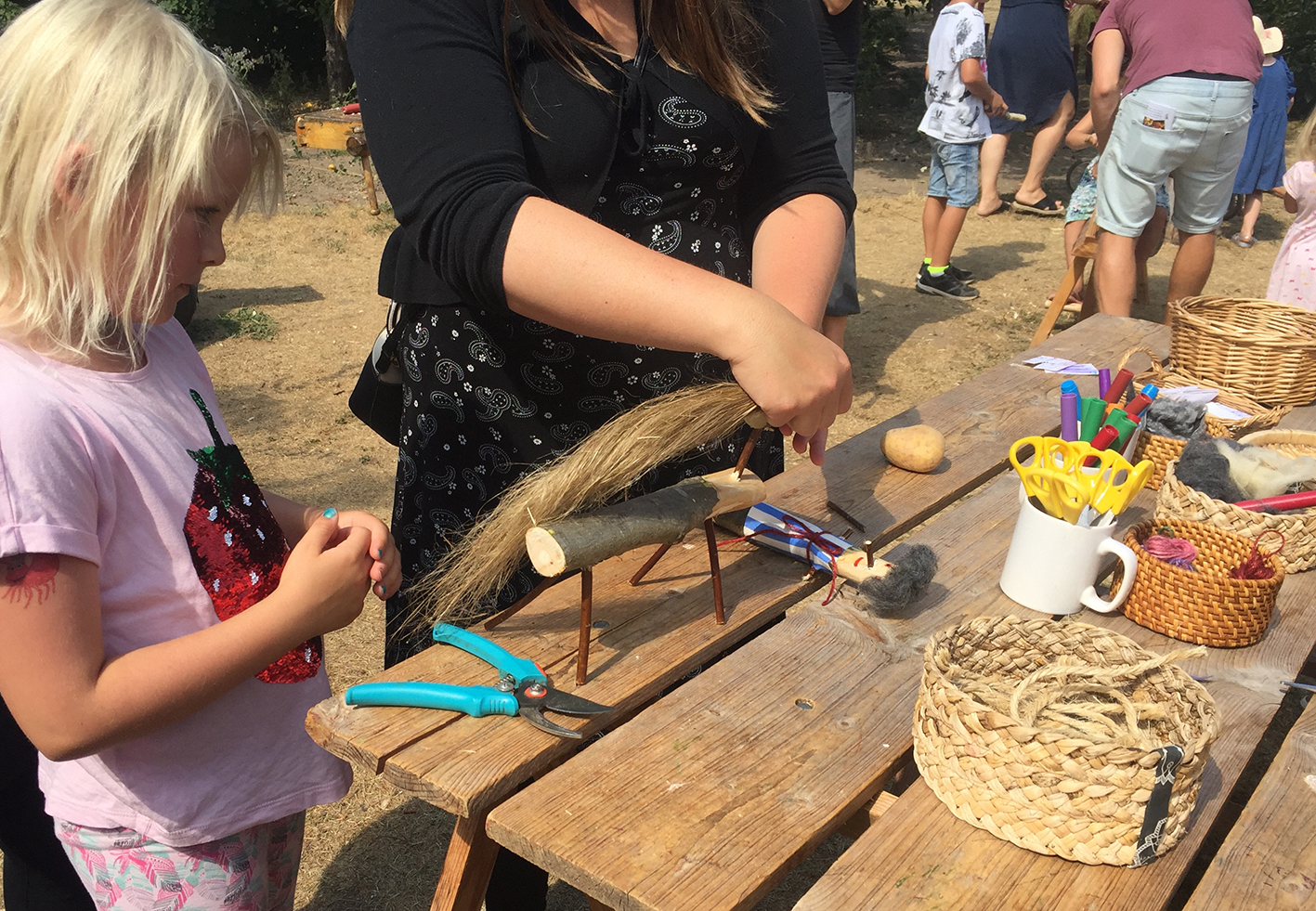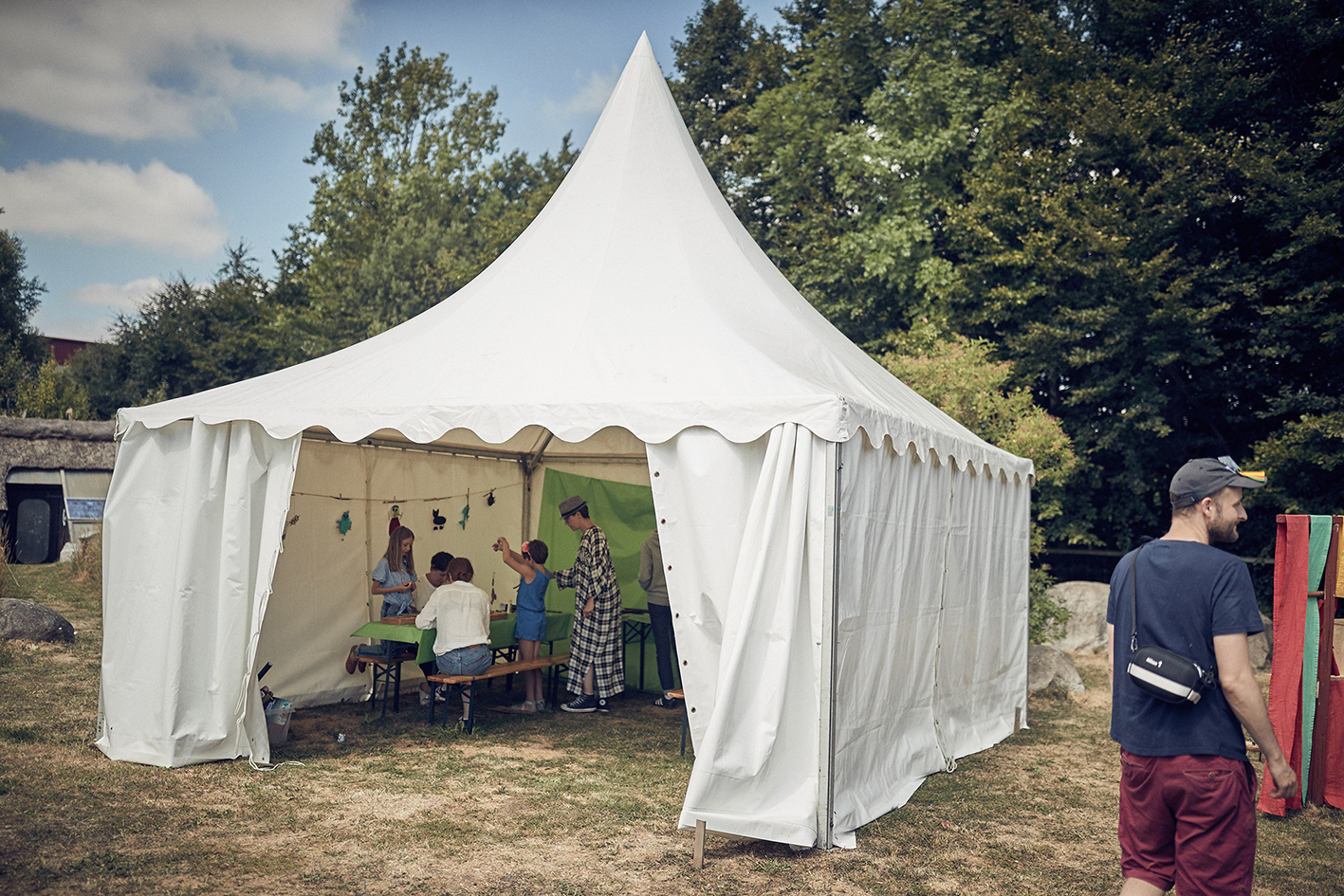 I Marionettältet skapas dockor med trådar efter inspiration från en Marionettföreställning man nyss sett.
Marionette-tent: Make your own marionette, Let the artists help you!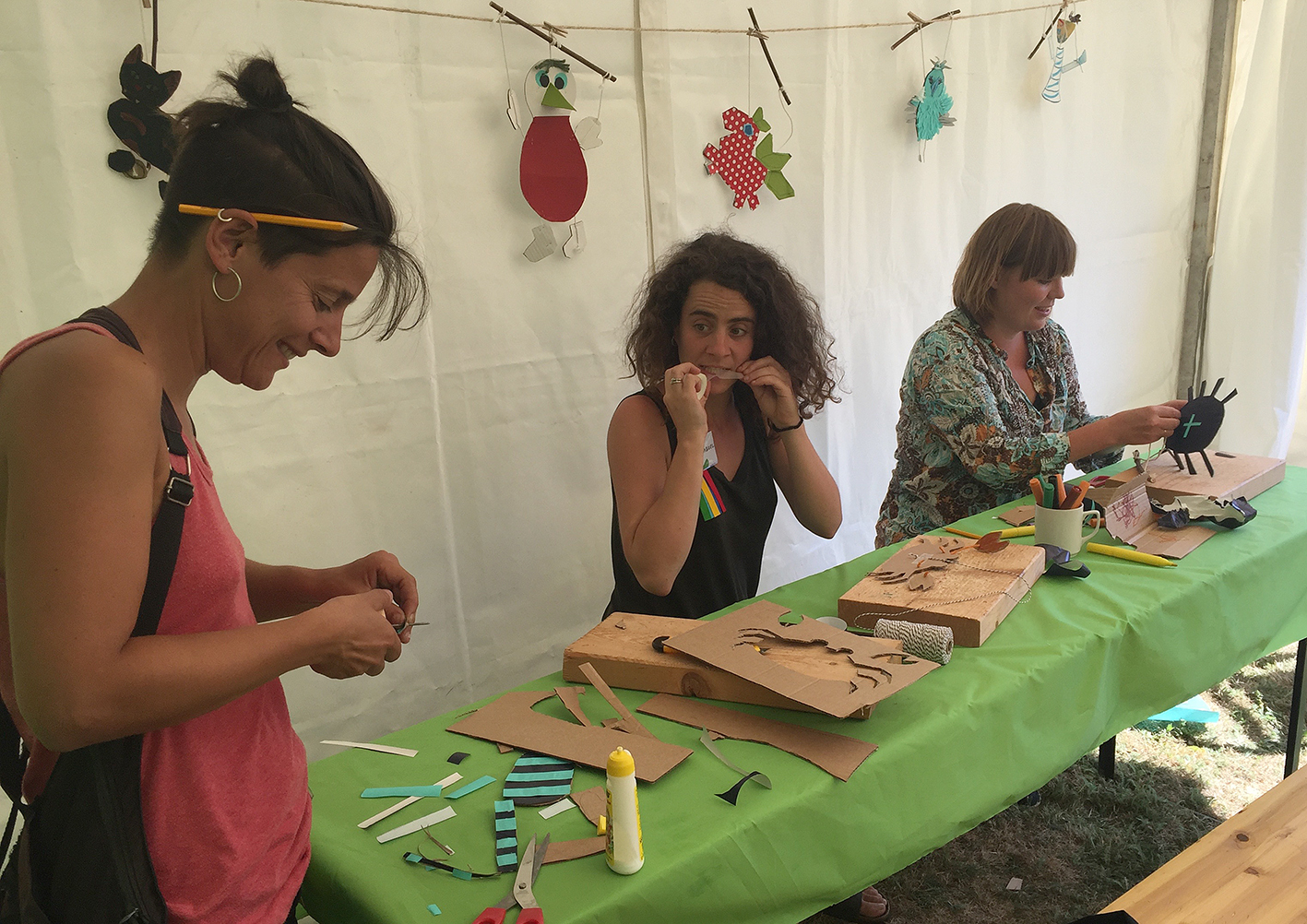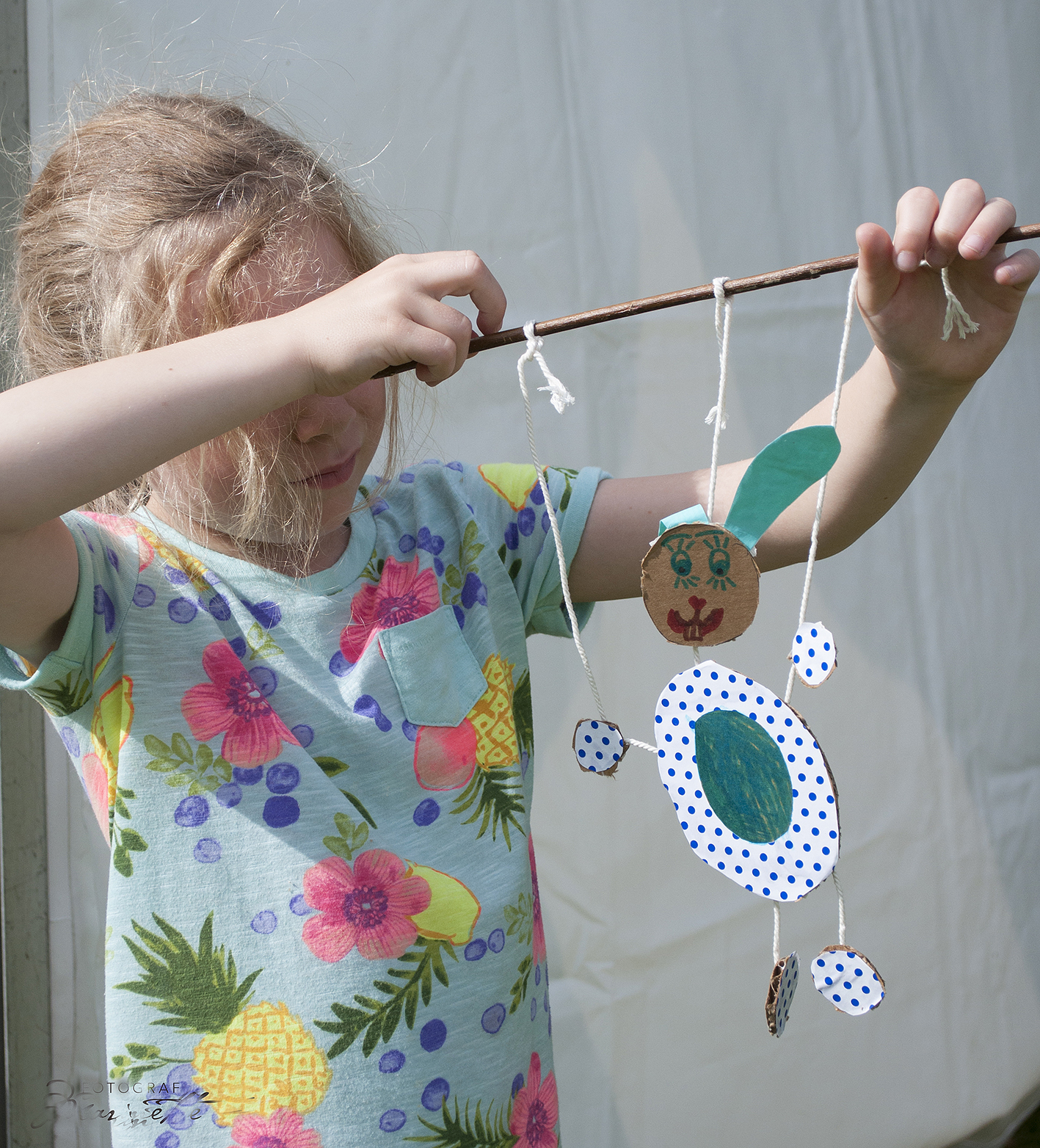 PUPPETJAM!
Festivalkvällar med internationell animeringsinspiration.
En kväll med tema WAYANG, Indonesisk Dockkonst, en med tema PULCINELLA, Sydeuropeisk Dockkonst med rötter i Commedia de´llarte.
PUPPETJAM!
A Wayngevening, and a Pulcinellaevening.
Inernational guests, regional and local audiences, great party!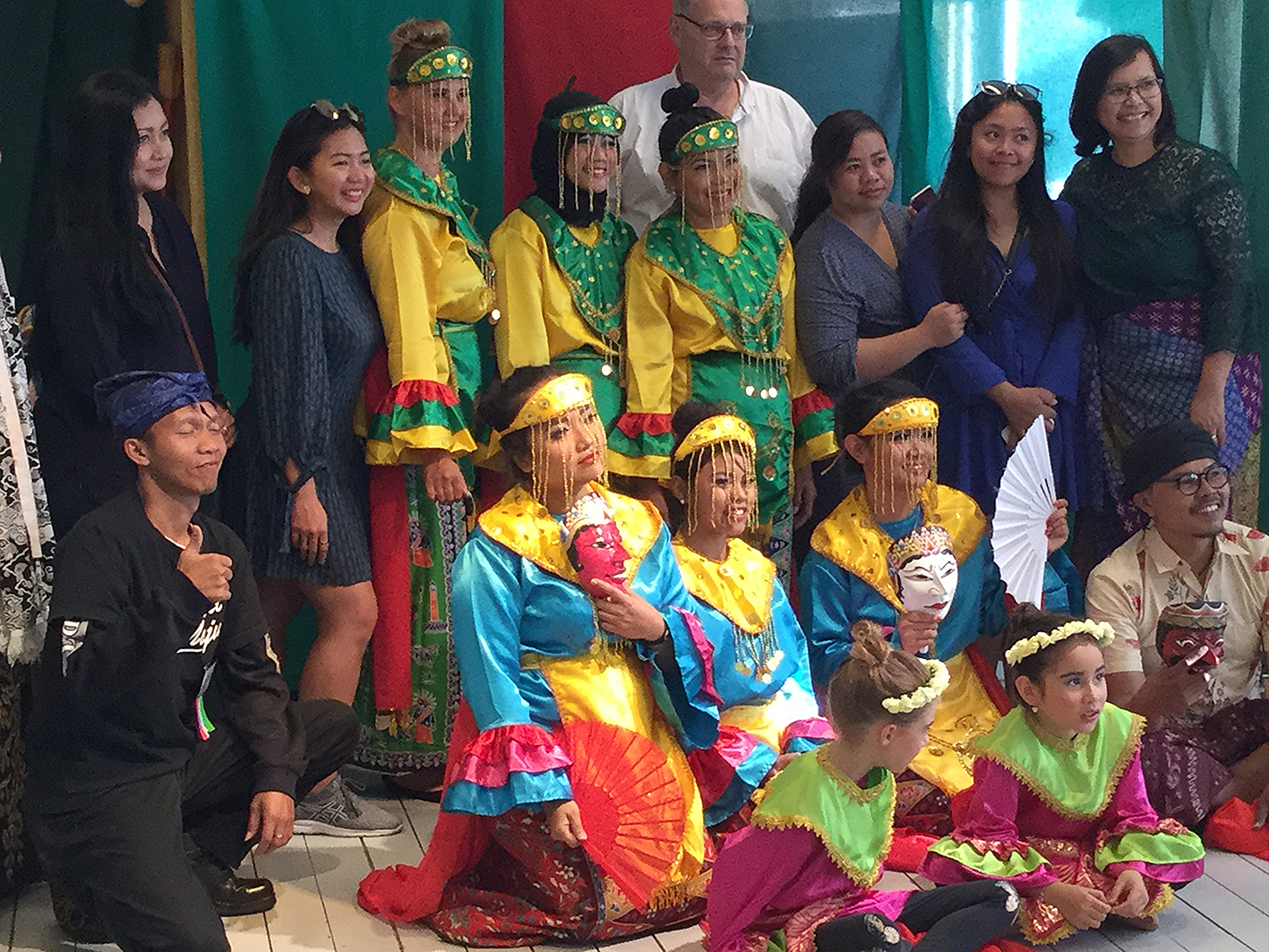 Indonesisk Maskdans.
Indonesian Mask Dance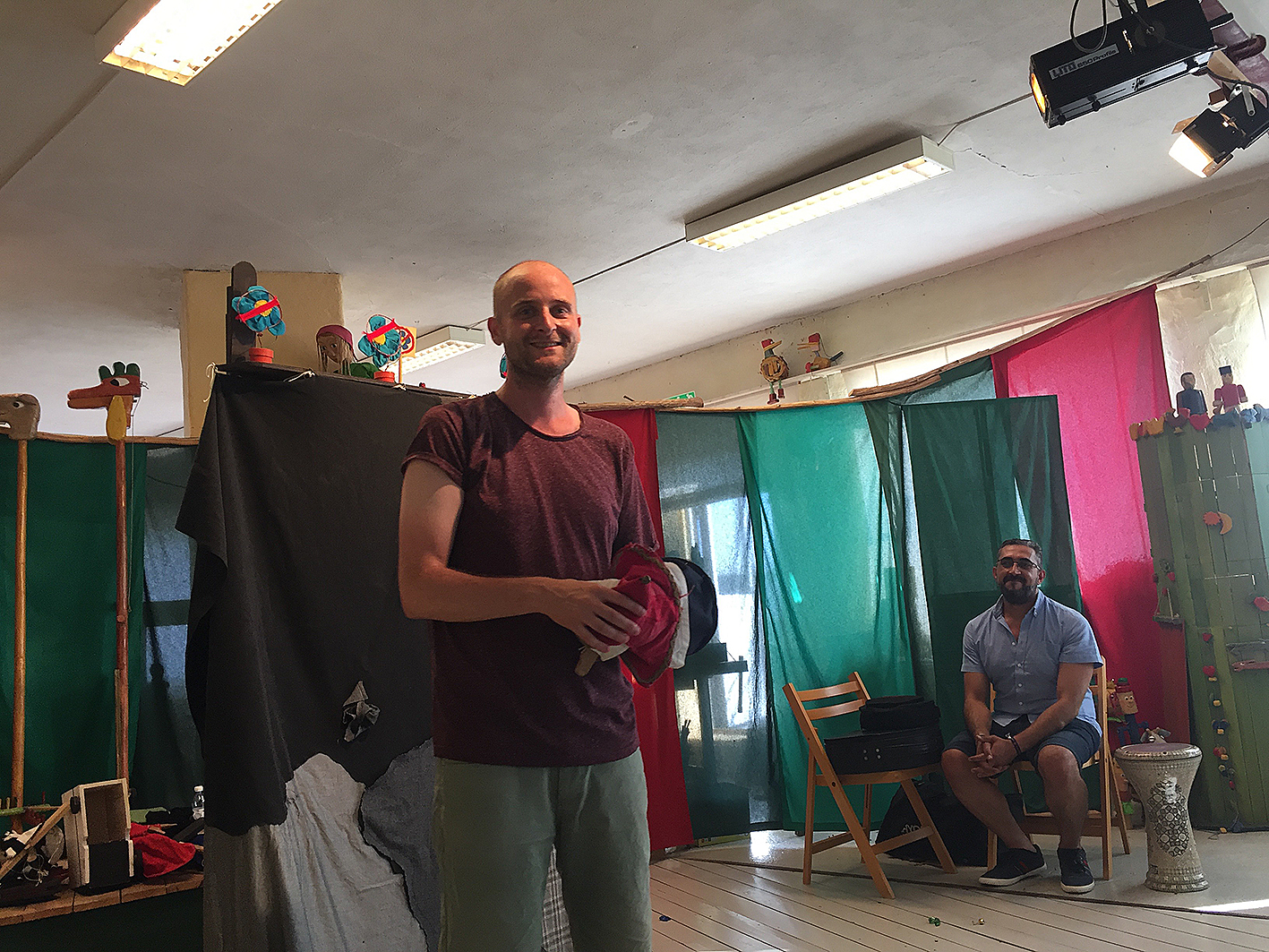 Turkiskt med Syrisk musik. IBIS OCH BLOMMAN, med den Ottomanska figuren Ibis i Pulcinelladräkt! Musiker: Bader Debs.

A Turkish performance with Syrian music! IBIS AND THE FLOWER by BORDERLINE THEATRE and musician Bader Debs.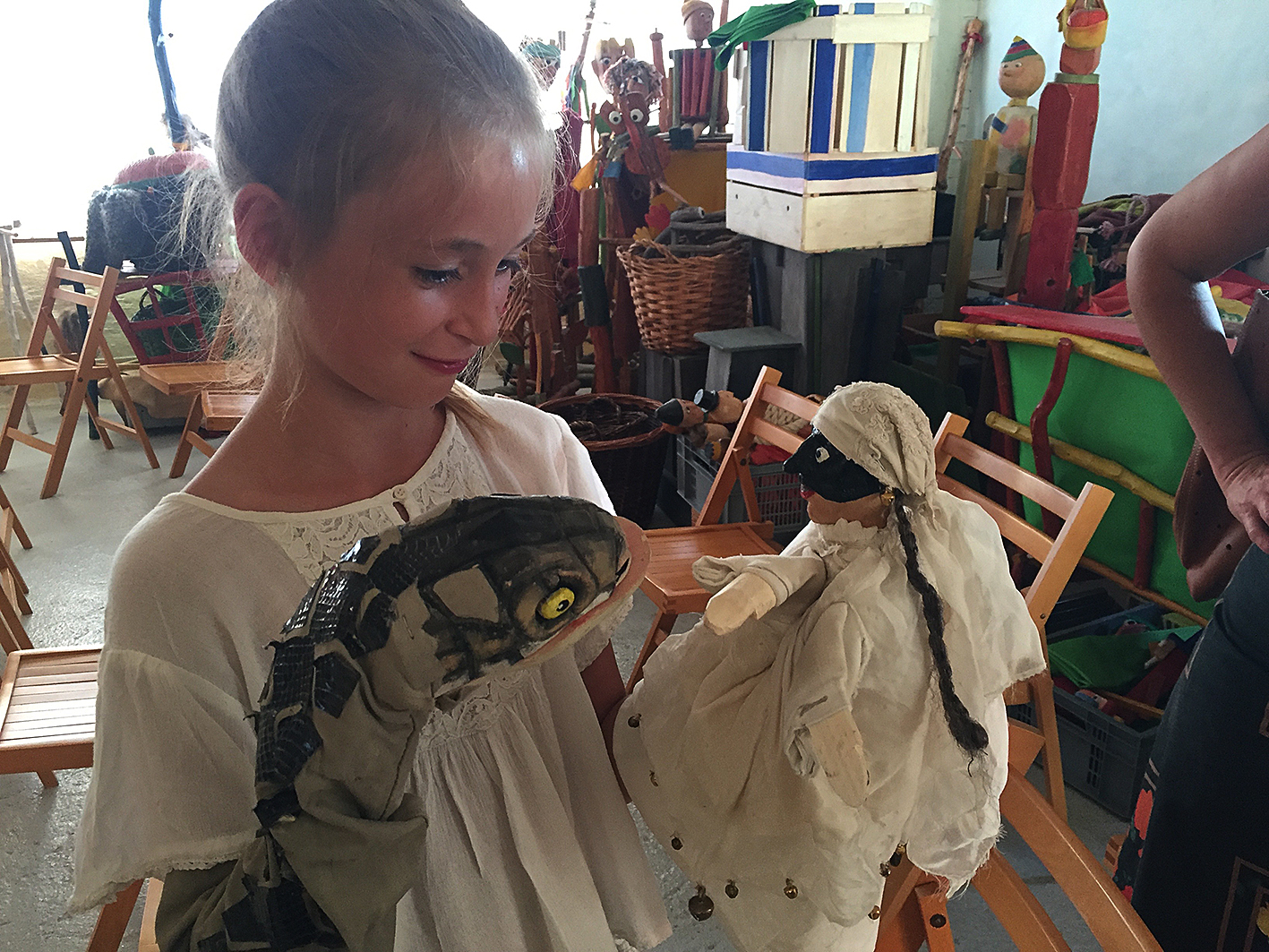 Dockor från Figurentheater Eva Sotriffers föreställning TAKE IT!
Puppets from Figurentheater Eva Sotriffers Pulcinellaperformance  TAKE IT!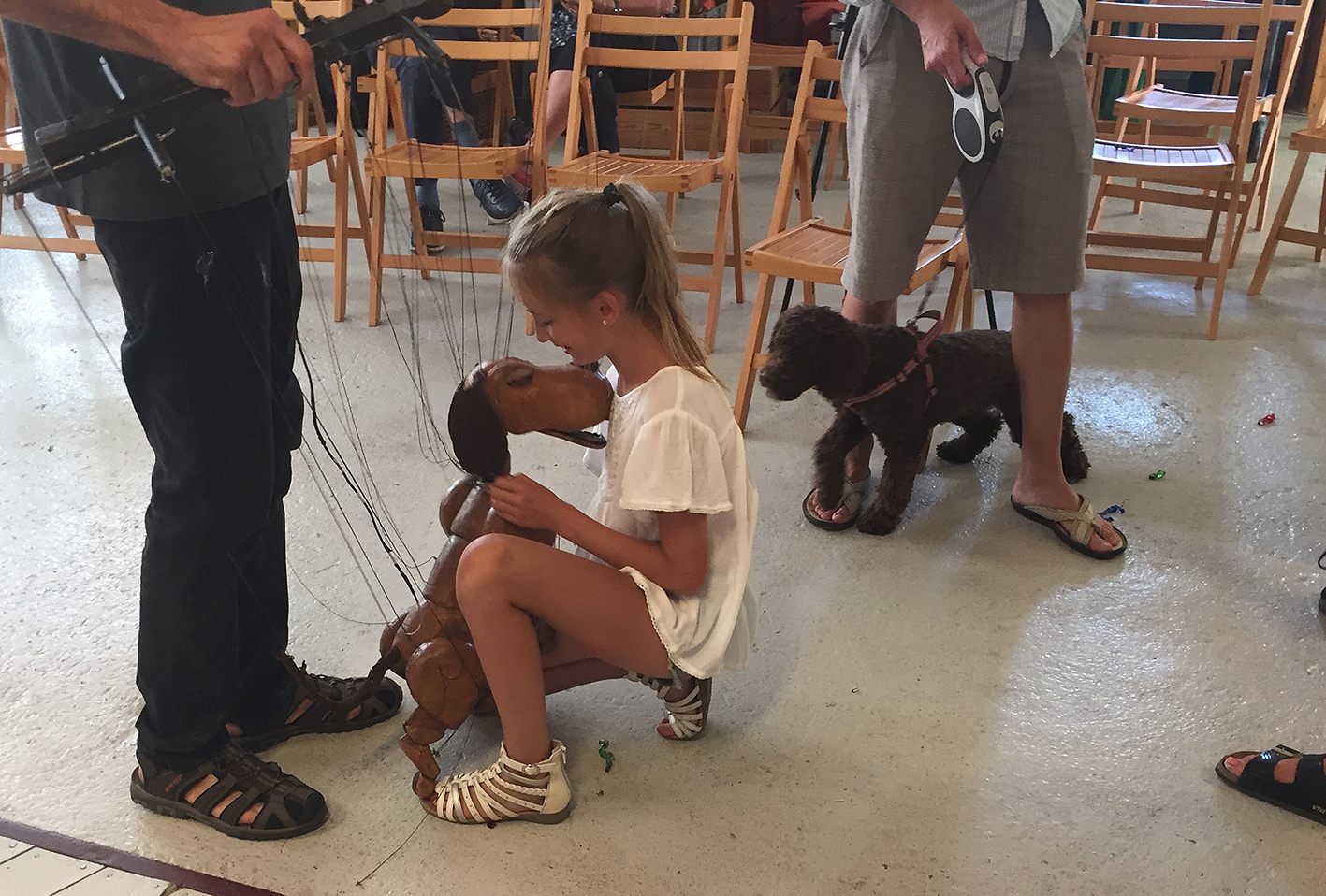 Svensk hund i koppel möter Barcelonahund i trådar.
A Swedish dog in dog-lead, a Barcelonadog in threads.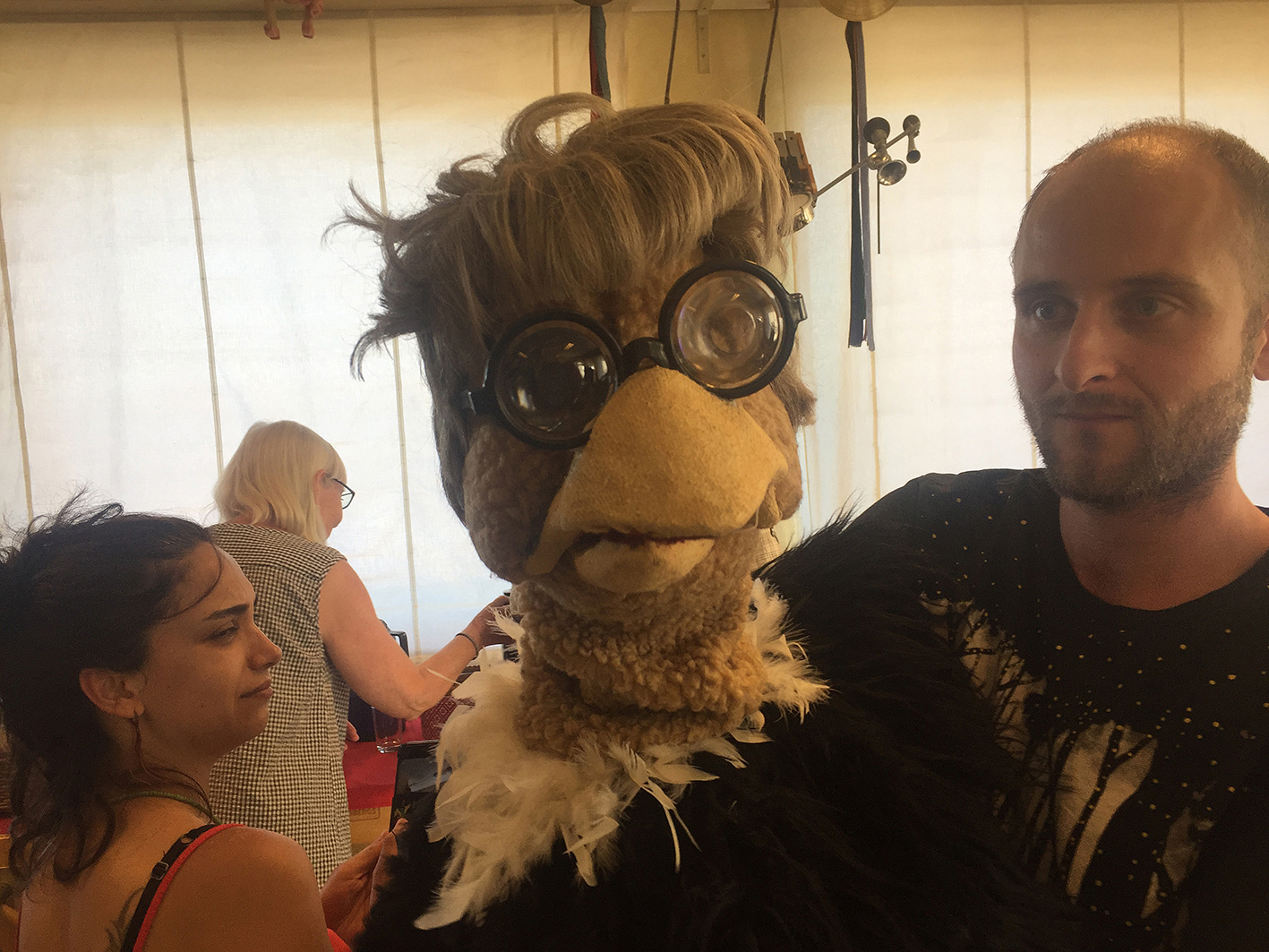 Dansk muppet i Norska händer.
A Danish Muppet in Norwegian hands.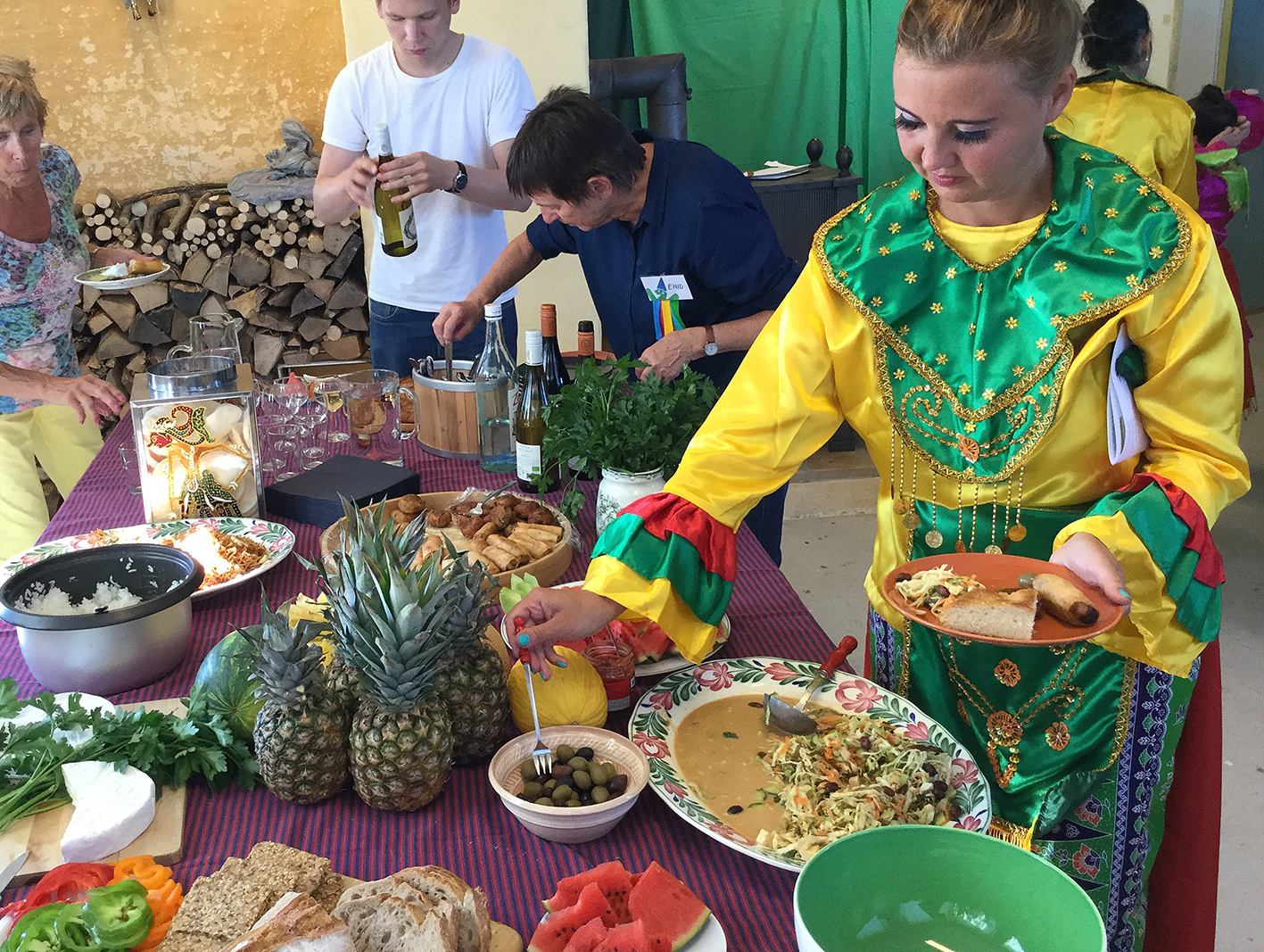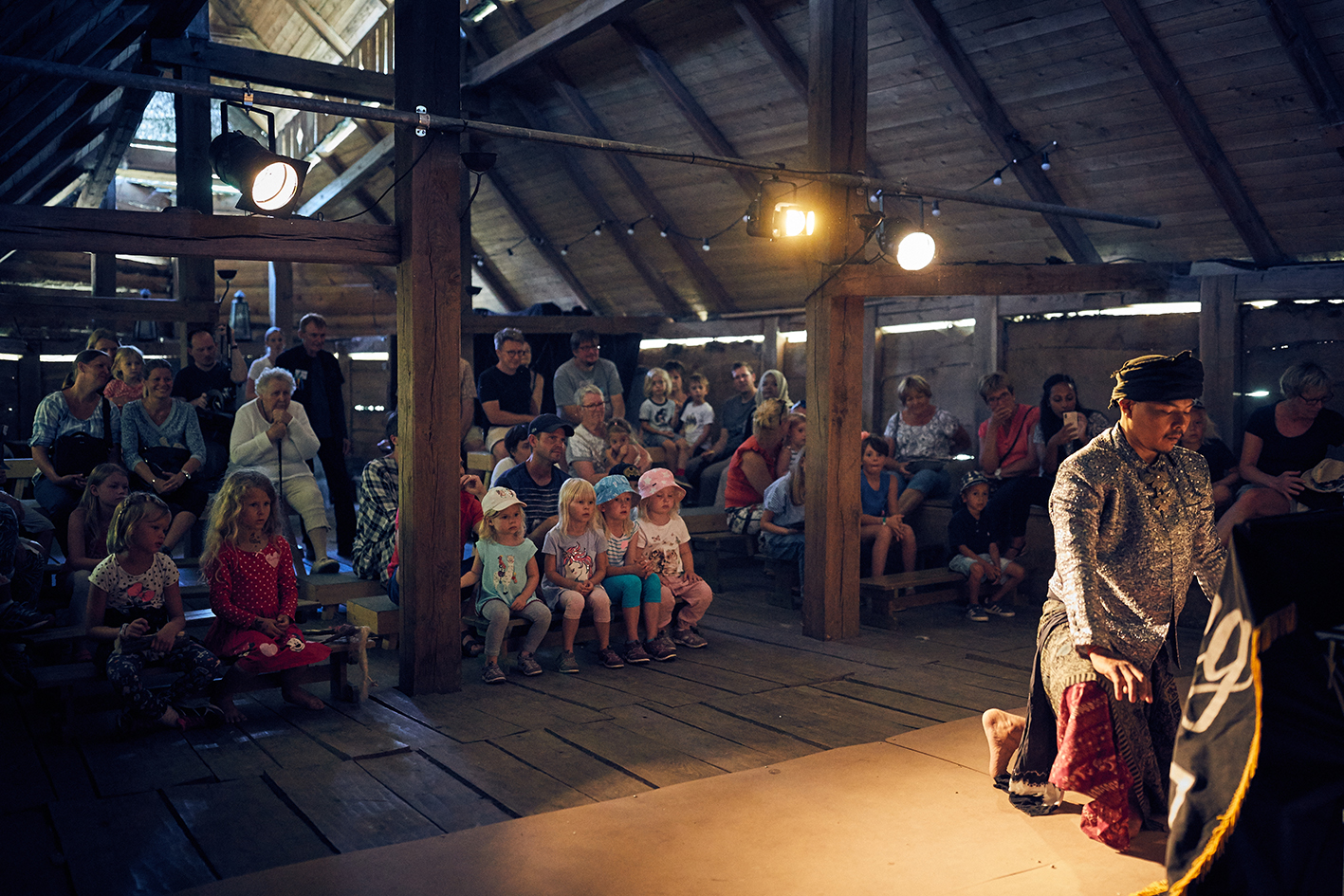 Behind The Actors föreställning SKY SAFIR. Dockteaterkonst från andra sidan jorden, anpassad för gammal och ung, liten och stor.
SKY SAFIR by Behind The Actors, Indonesia. Puppetart from very far away from our region Scania Southern Sweden, adapted for young and old, small and big!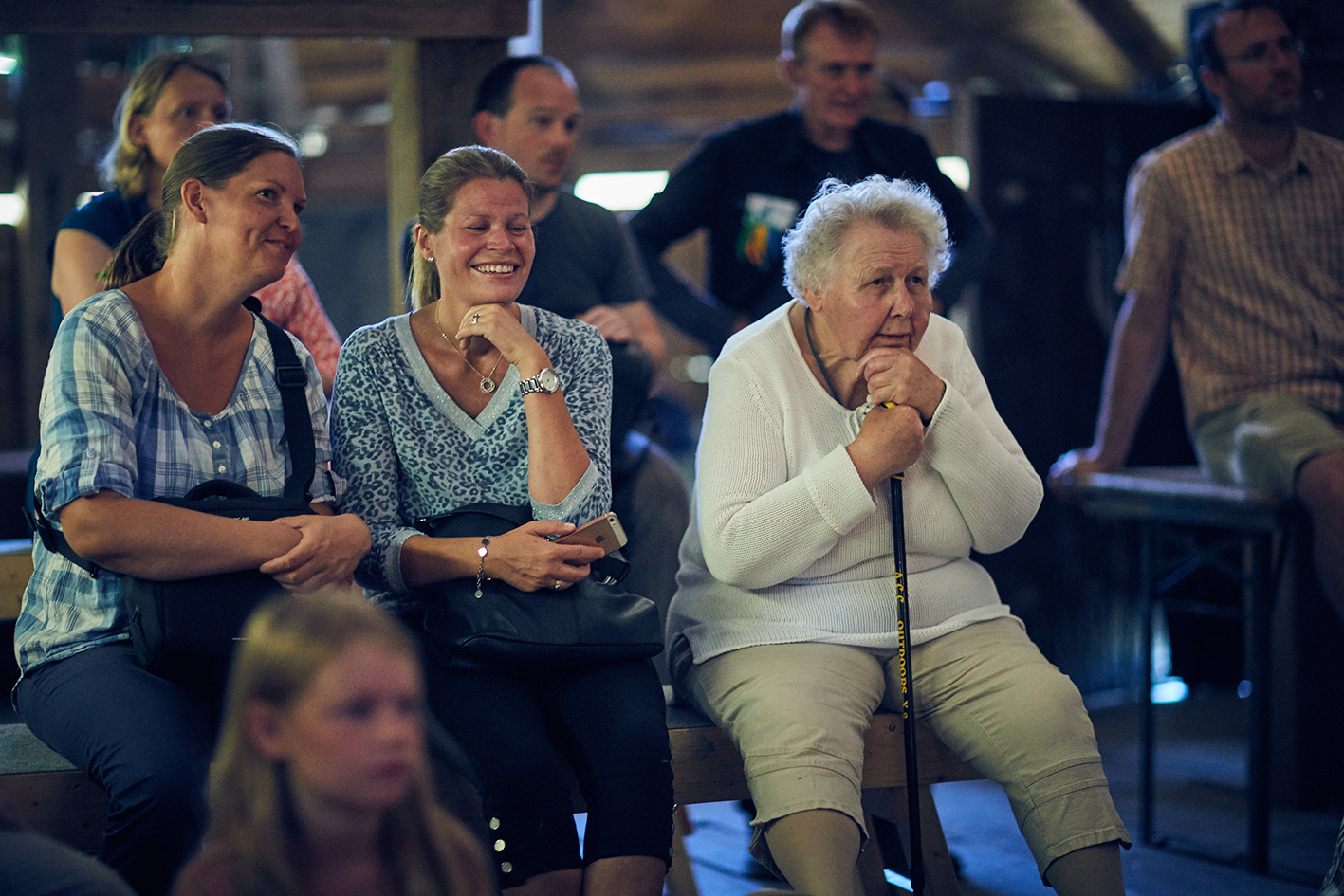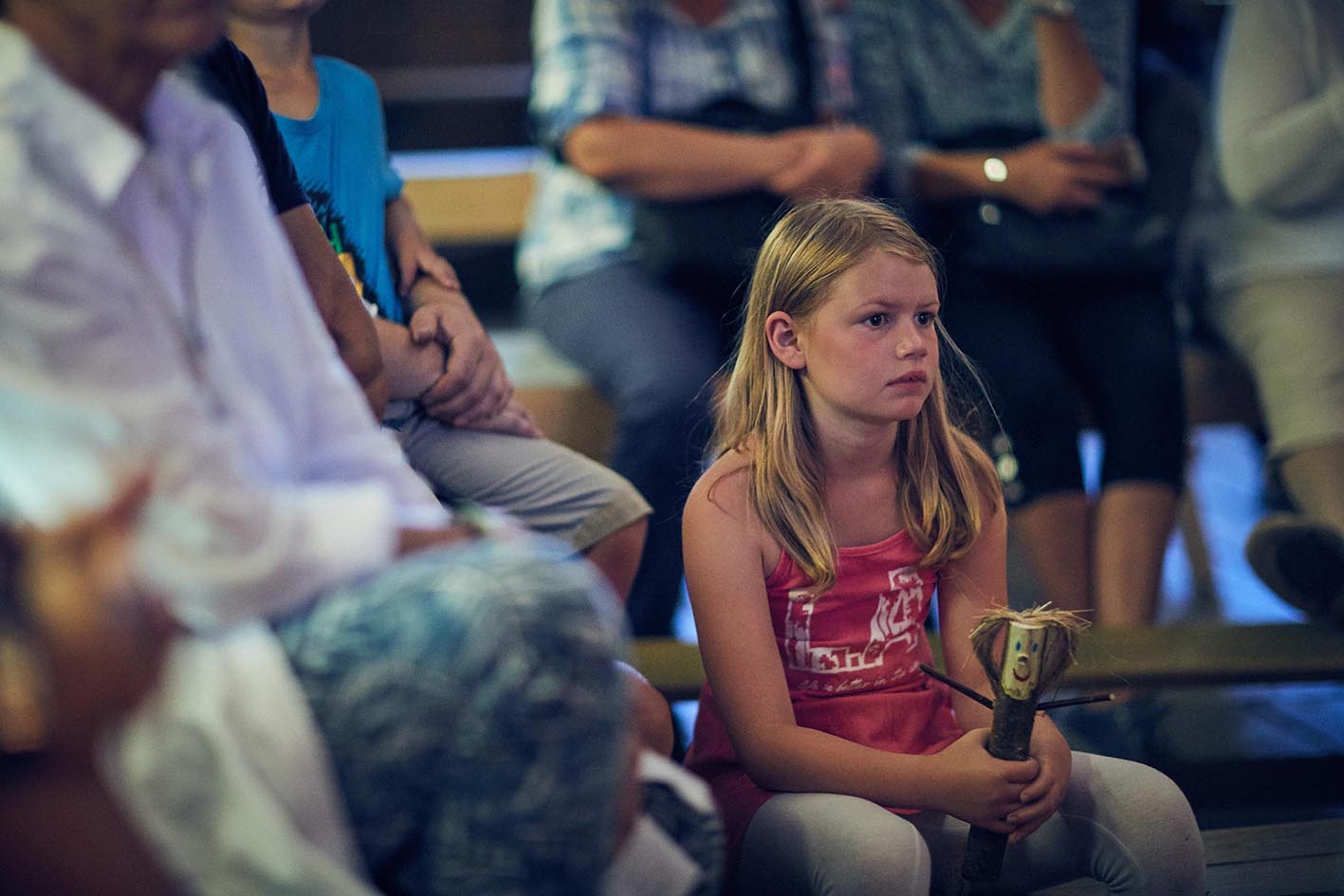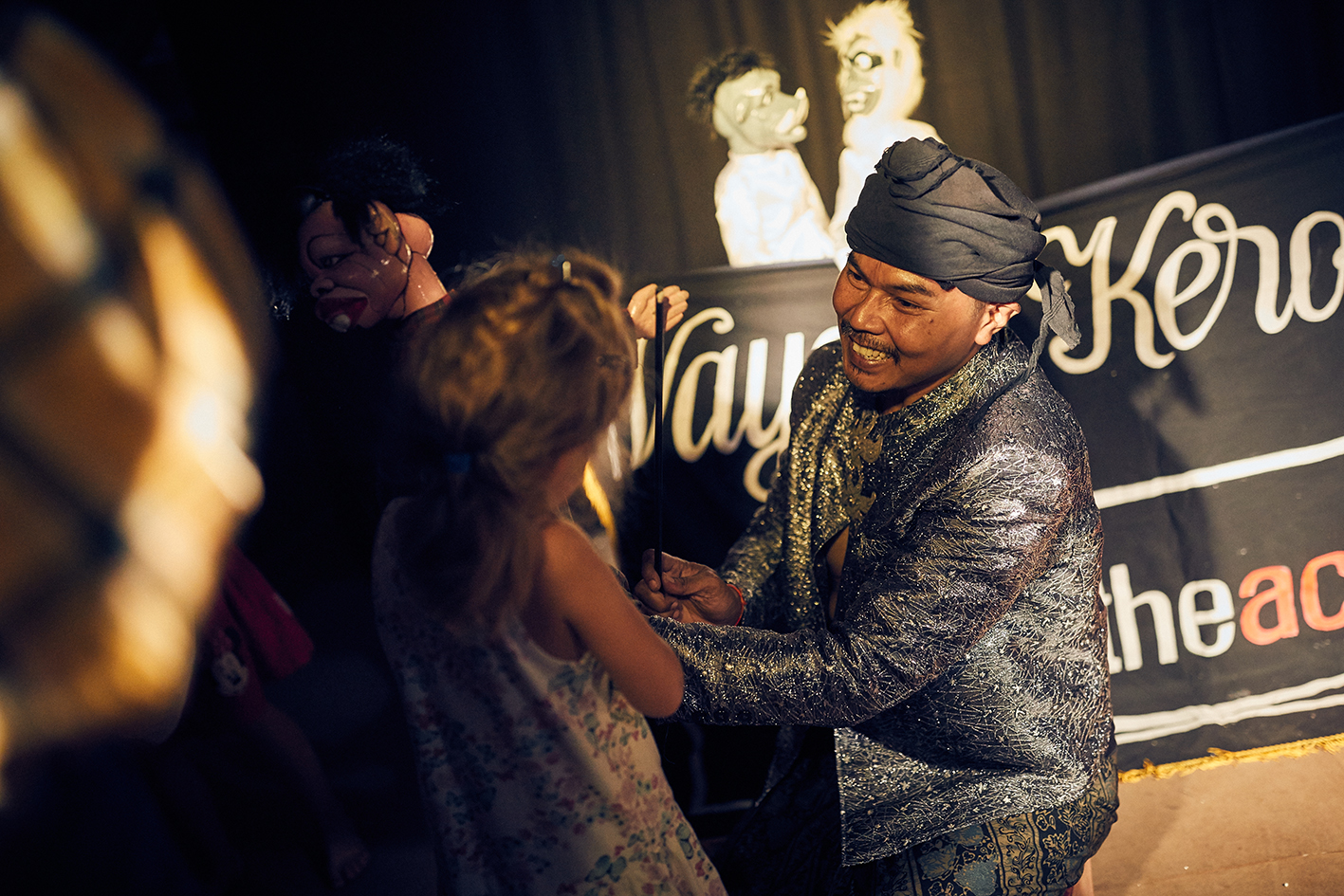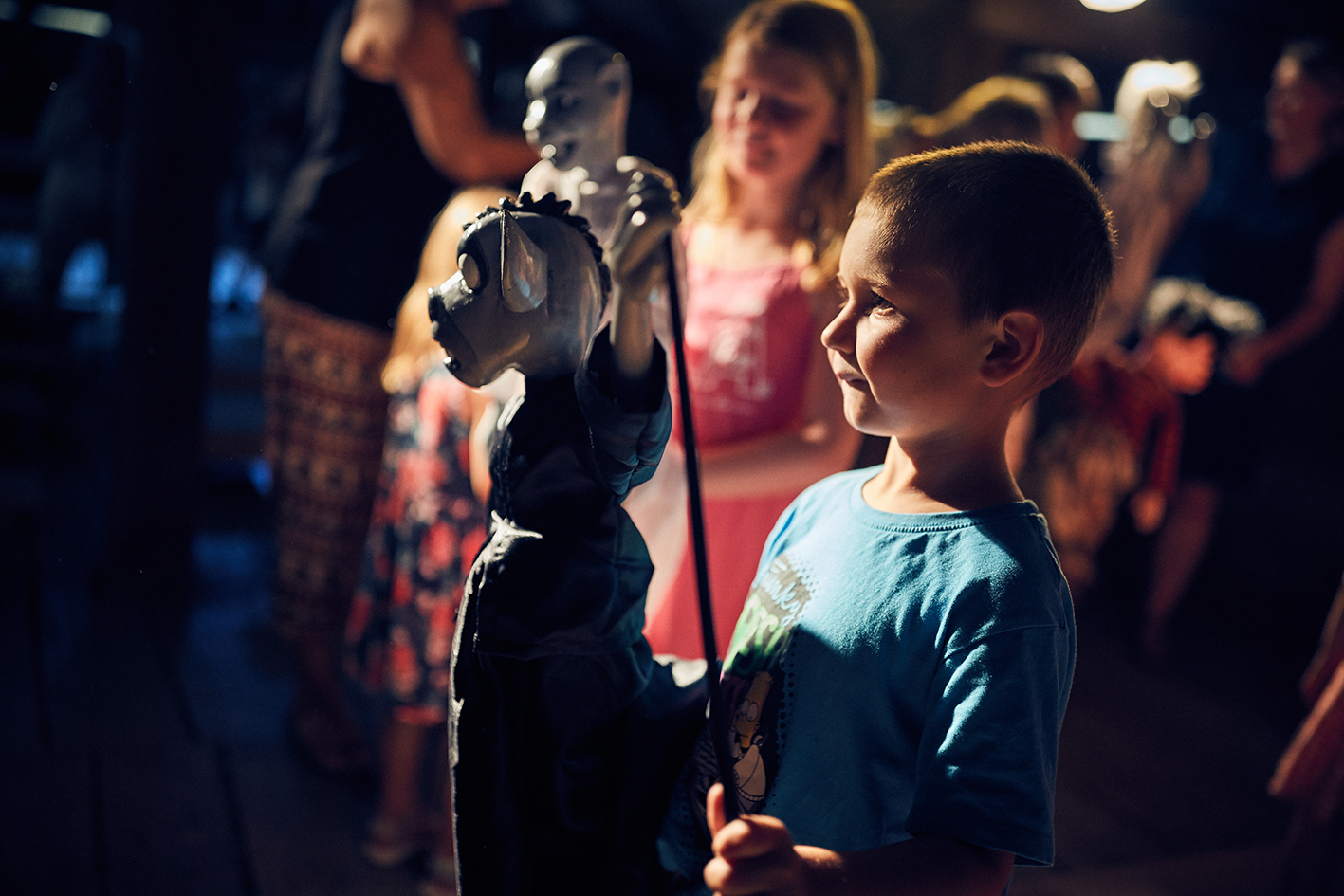 De grupper vi bjuder in till PEGASUS FAMILY har vi träffat när vi spelat på festivaler och deltagit i internationella projekt runt om i världen. Grupperna sympatiserar med vad vill presentera av modern internationell dockteaterkonst här i Sydsverige, de är på samma våglängd och ställer upp på festivalens två teman: Ekologi och FN:s Barnkonvention.
We´ve met the invited groups when we performed at festivals worldwide, and took part in international theatreprojects. The groups agree with the two themes of our festival: Ecology & UN Childrens Rights Convention.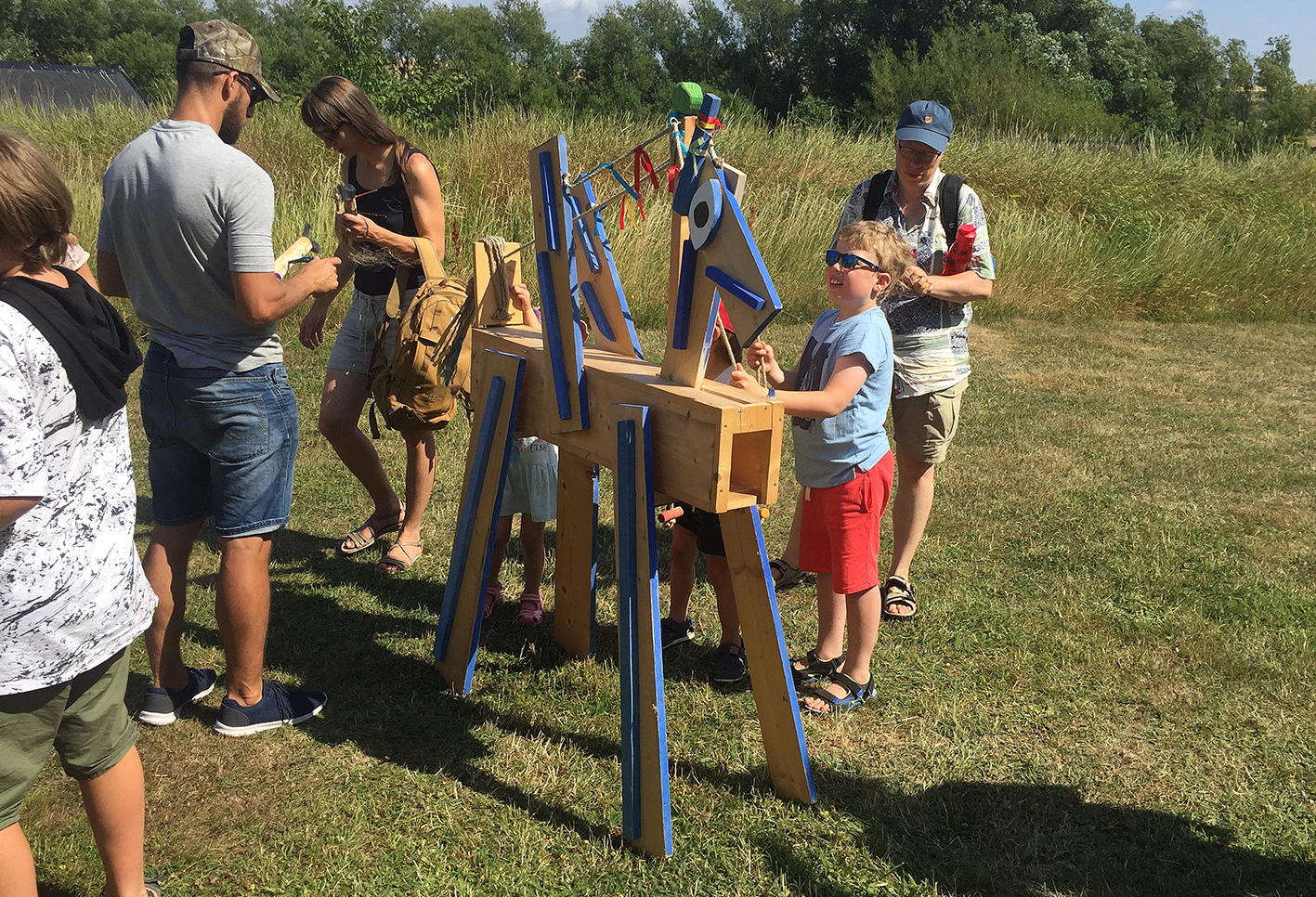 Pegasus, den stora marionetten.
Pegasus, the great marionette!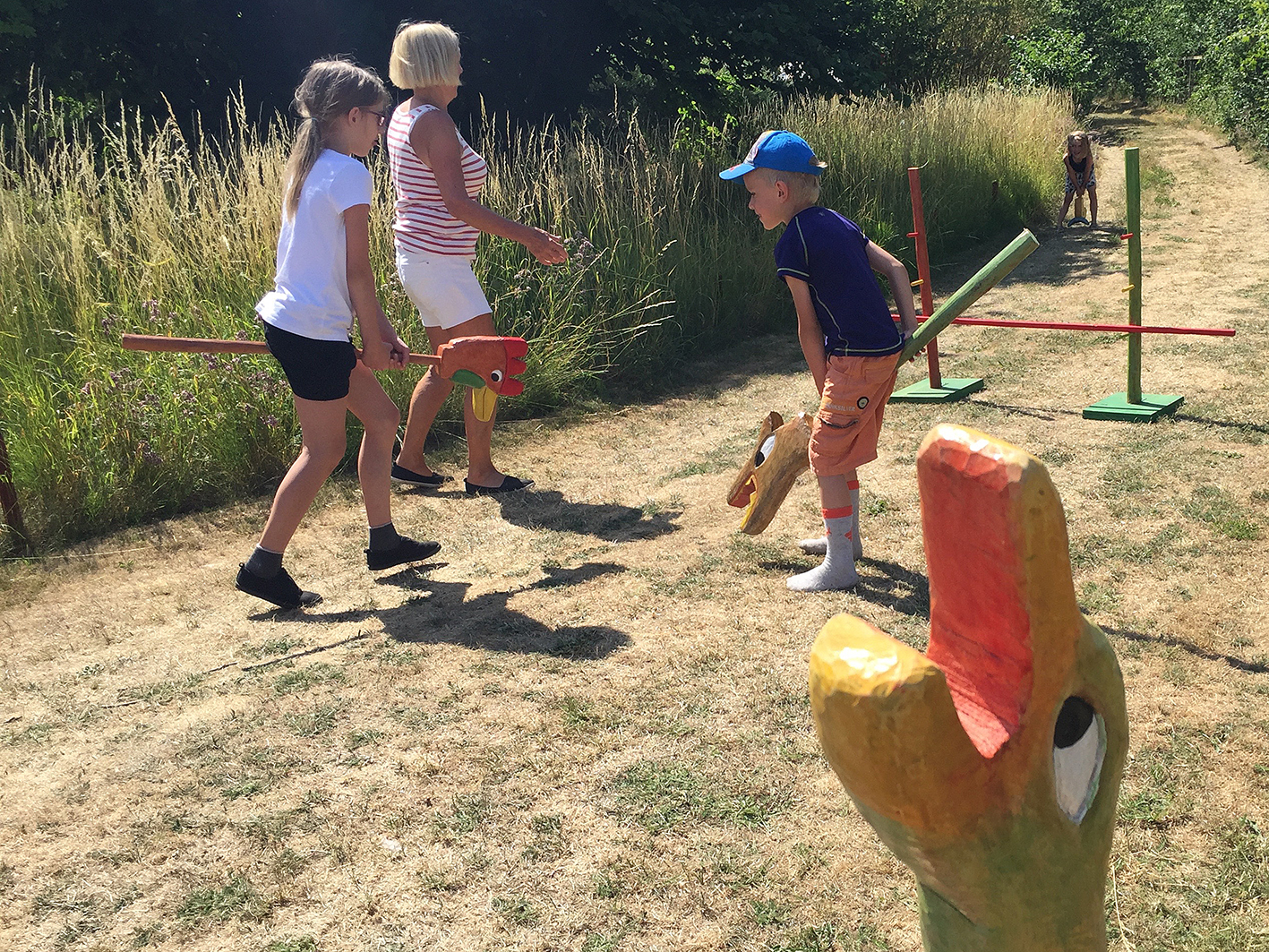 Pegasus stall. Stallets djur rastas och vattnas i värmen.
Pegasus Stable. Pegasus Stablefriends enjoyed the hustle and bustle!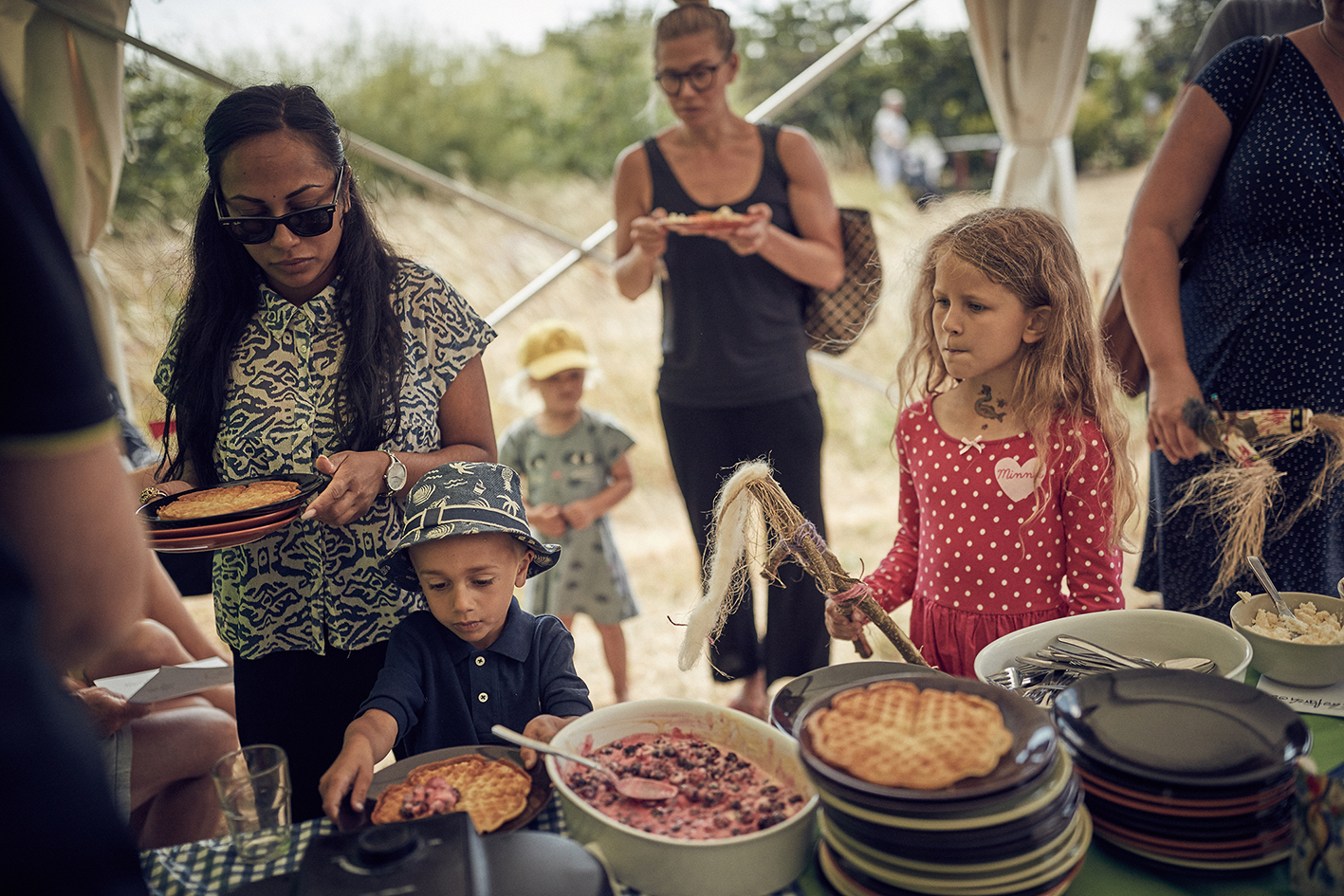 Med PEGASUS FAMILY vill vi främja Dockteatern som konstart i vår region. Dockteater är animering, konsten att få liv i döda ting och berätta en historia.
En klassisk konstart med ständigt nya utövare världen över. Under PEGASUS FAMILY kan publiken möta internationella aktörer som provar nya uttryck för konstarten, och artister som litar på värdet av igenkännandet av en lång tradition.
Vi presenterar dem sommartid här i en unik Teaterträdgård under Sveriges största återkommande Internationella Dockteaterarrangemang i sitt slag.
PEGASUS FAMILY promotes the art genre Puppetry in our region Scania. Puppetry means animation, telling a story by giving life to dead objects. A classical genre of art with constantly new practitioners worldwide.
At PEGASUS FAMILY the audience can meet international performers who try new expressions and artists who trust the value of recognition of a long tradition.
We present those performers and artists summertime in our unique Theatregarden at PEGASUS FAMILY, the largest Swedish recurrent arrangement of its kind.
INTERNATIONELLT, INTERAKTIVT, VISUELLT, EKOLOGISKT: PEGASUS FAMILY 2018.
VÄLKOMNA TILL 5-ÅRSJUBILEUM JULI 2019!

INTERNATIONAL, INTERACTIVE, VISUAL, ORGANIC: PEGASUS FAMILY 2018.

SEE YOU AT THE FIFTH EDITION JULY 2019!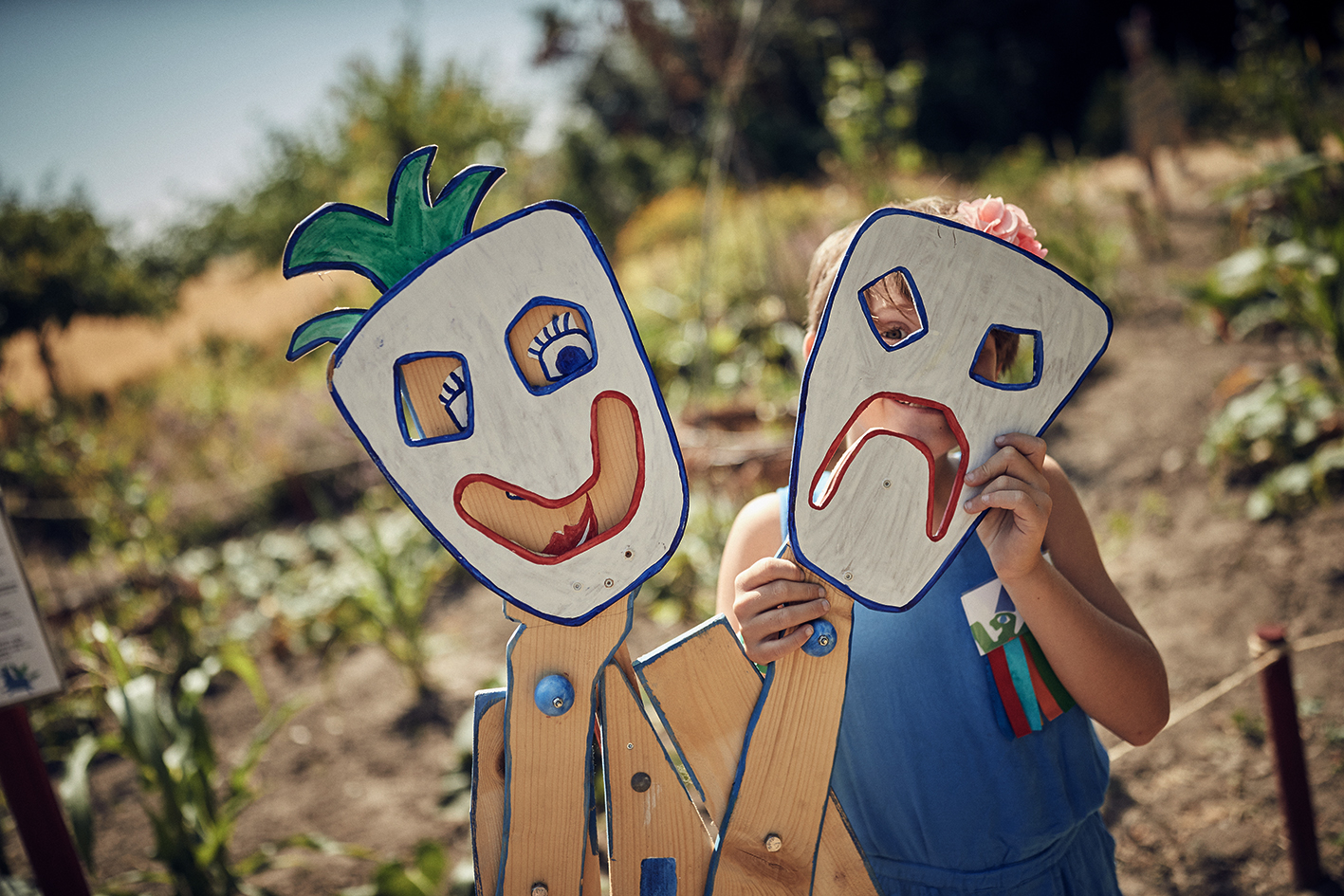 Staffan Björklunds Teaters verksamhet stöds sedan flera år genom verksamhetsbidrag från Kulturrådet, Kultur Skåne och Kävlinge kommun. PEGASUS FAMILY 2018 kunde genomföras tack vare stöd från våra Festivalpartners: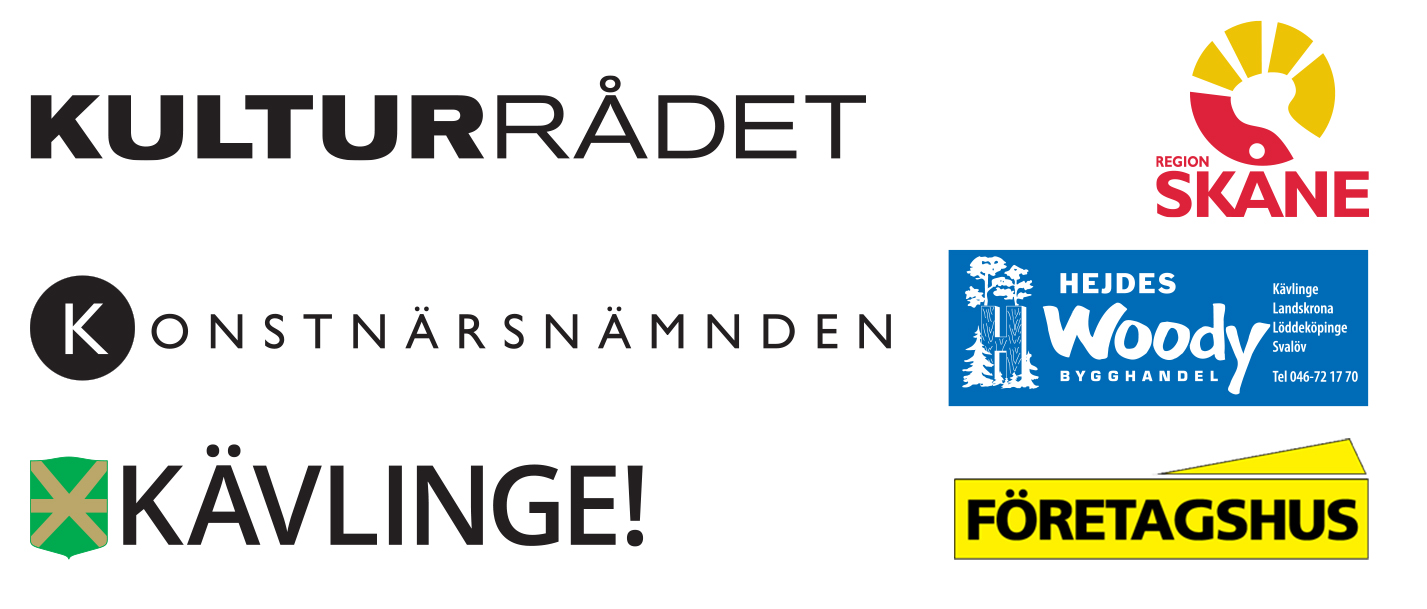 Foton: Freddie Billqvist & Staffan Björklunds Teater