Staffan Björklund's Theatre
STAFFAN BJÖRKLUNDS TEATER has toured all over Sweden for more than thirtyfive years.
Our perfomances are characterised by humour, musicality and by artistically formed puppets of wood. The theatre produces one new performance a year. Principally the plays direct to children and families.
The theatre that is well known all over Sweden is subsidized by Swedish cultural authorities.
The theatre has taken part in a number of international theatre festivals and was awarded different prizes abroad as well as in Sweden.
The theatre frequently collaborate with European Stage Art Groups. During 2016 we produced three international performances. In Ljubljana, Slovenia: Little Stories Of Love, at Miniteater, Slovenian actors, Bulgarian director, our design. In Sofia, Bulgaria: Spirit And Hand, with Theatre Sirius and Small Theatre Company Gabrovo, Bulgarian actors, our concept and design.
2018 we produced an international performance together with Pro Rodopi Art Center in Bulgaria at Sliven State Puppet Theatre. 2020 we produced another international performance with Pro Rodopi Art Center in Bulgaria.
Alongside our theatre workshop we have created Pegasus Garden, a unique Theatre-Garden, a Forum for Culture and Ecology.
In this naturally beautiful environement the theatre organizes cultural and ecological activities for the general public and for children´s groups, and the festival Pegasus Family.
THE THEATER GARDEN PEGASUS GARDEN IN HÖG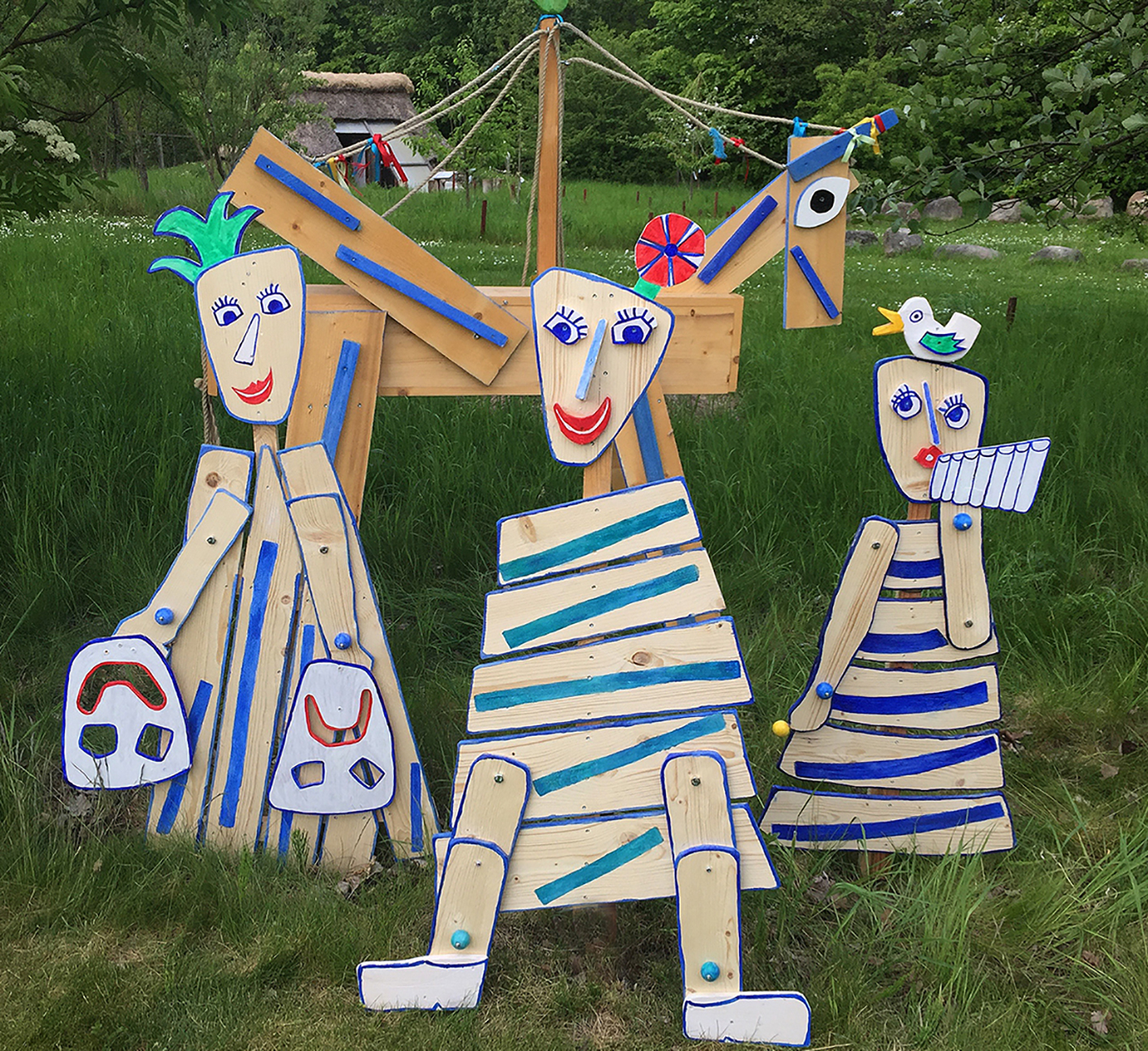 NEXT TO OUR THEATER WORKSHOP IN HÖG WE HAVE CREATED PEGASUS GARDEN.
A UNIQUE CLIMATE-SMART GREEN ROOM FOR LOCAL, REGIONAL AND INTERNATIONAL AUDIENCES, 15 MIN FROM LUND, 20 MIN FROM MALMÖ.
PEGASUS GARDEN IS EUROPE's ONLY ECOLOGICAL THEATER GARDEN.
PEGASUS GARDEN AND THE THEATER WORKSHOP IN HÖG IS SOUTH SWEDEN'S ONLY PERMANENT STAGE FOR PUPPETTHEATER AND ANIMATION FOR CHILDREN AND FAMILIES.

Here the public has the opportunity to meet artists and ecologists who with insight and humour can communicate images of the future where both collective experience and creative joy can find place.
The project Pegasus Garden is idealistic and non-profit even though Staffan Björklund's Theatre is subsidized by local, regional and state authorities. The theatre offers both public events and showings of the garden, it's ecological installations as solarpanels, suncells, windmill, compost toilet, organic farming.
And of course Open Air-Performances played with puppets made out of natural materials, for families, schools, nurseryschools and other groupes in the summertime!
The theatre has given Seminars with slideshows concerning this unique theatre-garden-project at a lot of international festivals and theatre meetings in Europe, Africa, Russia as well as Asia.
OUR INTERNATIONAL FESTIVAL PEGASUS FAMILY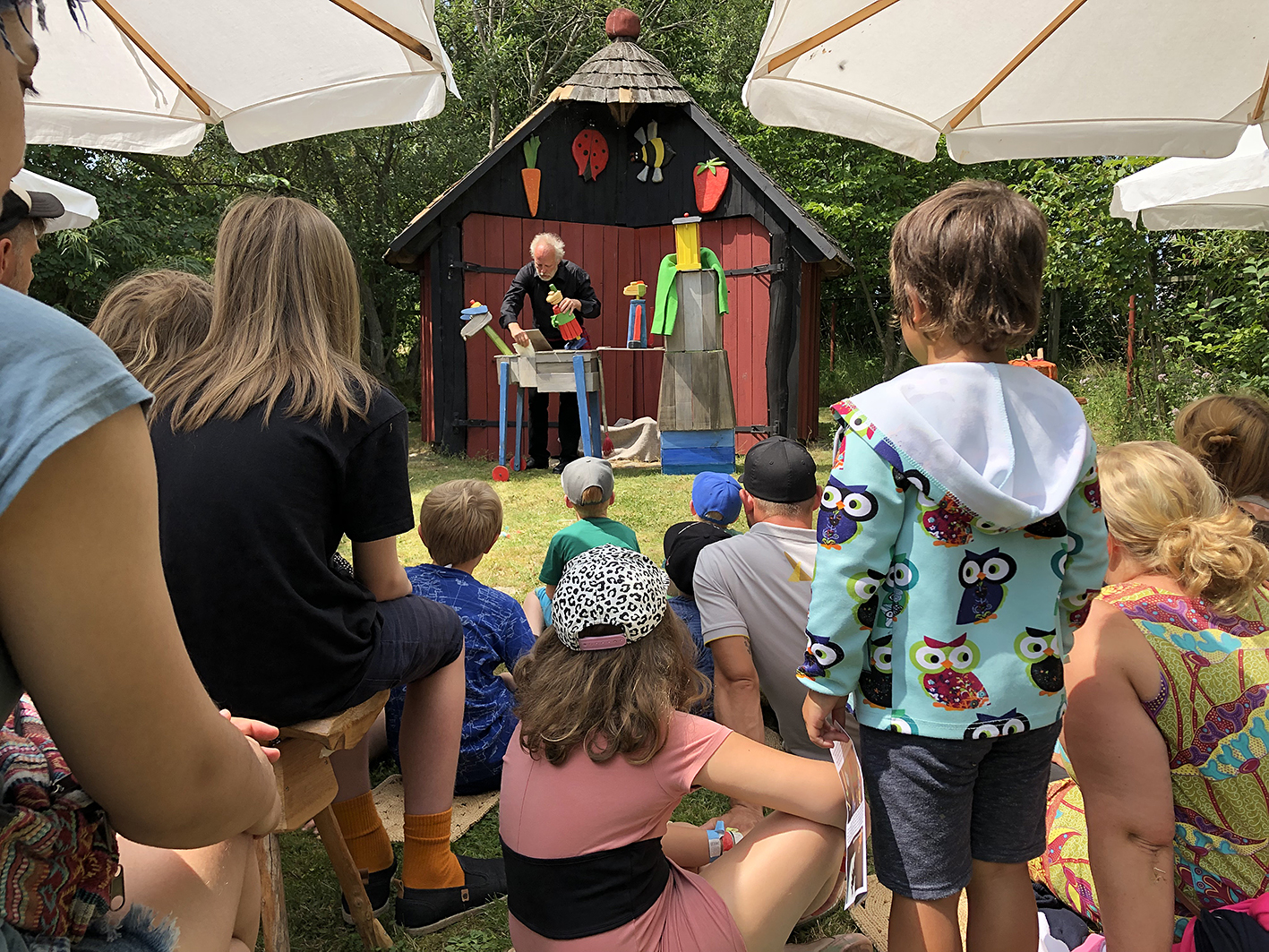 Since 2015, we organize PEGASUS FAMILY in PEGASUS GARDEN. A large international Visual Interactive Summer Puppet Theater Festival
The festival, which is aimed at family audiences, is based on two values: Ecology and UN Convention on the Rights of the Child.
The audience can see professional international Puppet Theater groups and make their own puppets together with the visiting international Artists and professional Puppet Makers.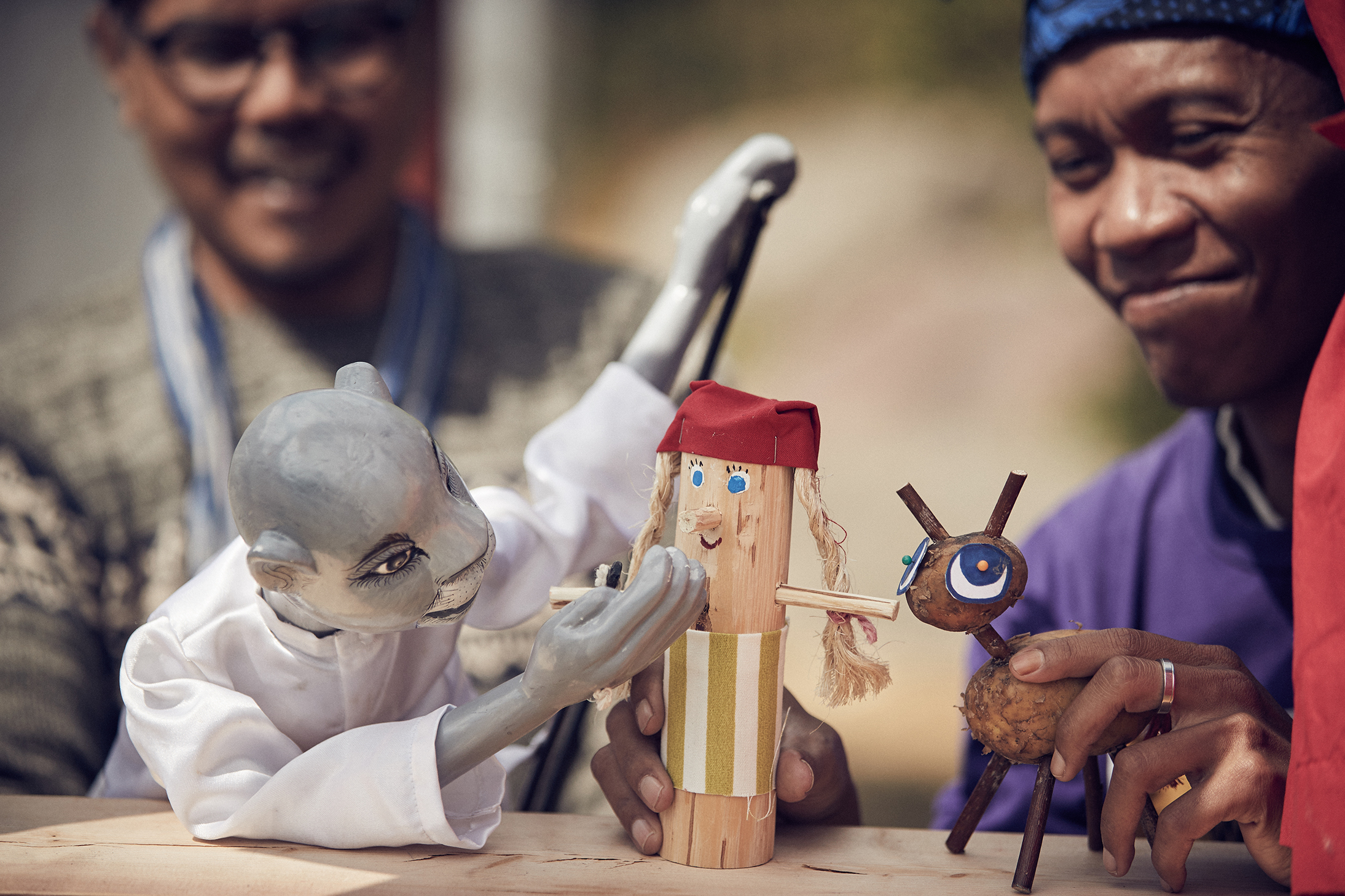 Since the start in 2015, the audience has seen about forty performances and met groups from INDONESIA, SLOVENIA, TURKEY, SWEDEN, GREECE, SPAIN, DENMARK, BULGARIA, POLAND, GERMANY, ARGENTINA.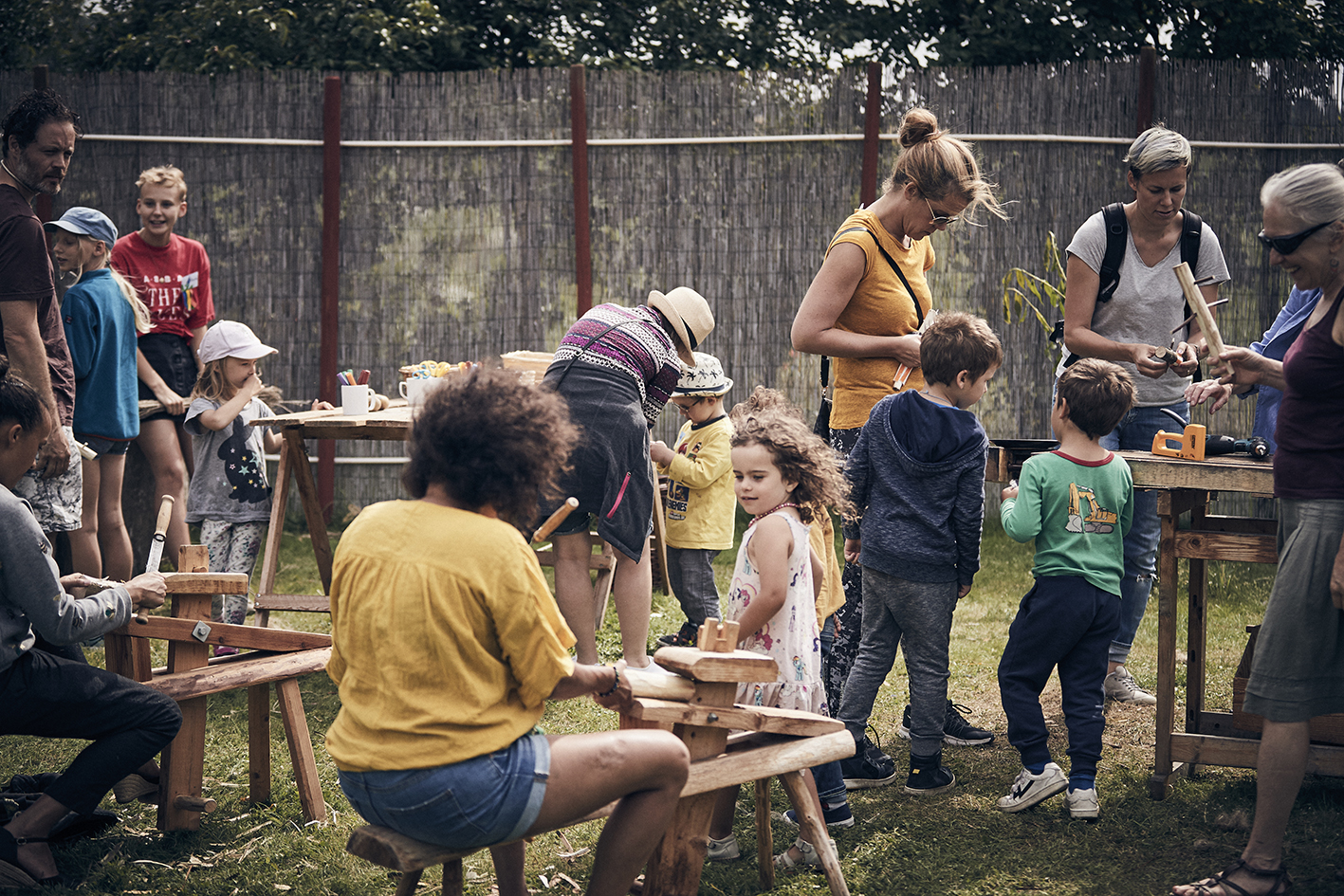 PEGASUS FAMILY IS SWEDEN's ONLY ANNUALLY PUPPETTHEATEREVENT OF ITS KIND!
We carry out the festival with support from the Swedish Arts Council, Region Skåne, Kävlinge municipality.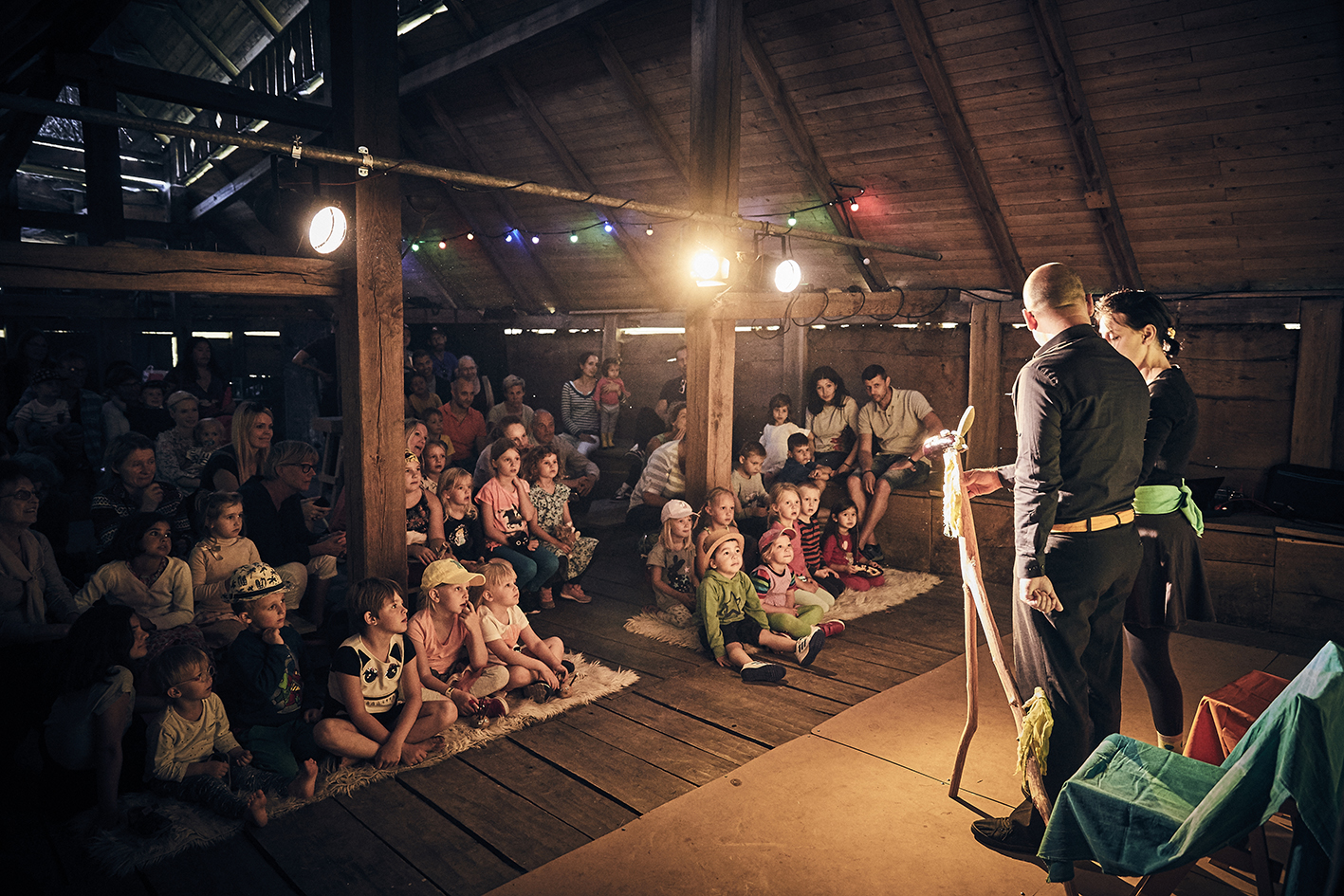 Available for international tours and festivals 2021:
MÜNCHHAUSEN – YOUR PERSONAL FANTASY TRAINER
HOMO LUDENS – THE PLAYING MAN
THREE ON A STRAW
MÜNCHHAUSEN – YOUR PERSONAL FANTASYTRAINER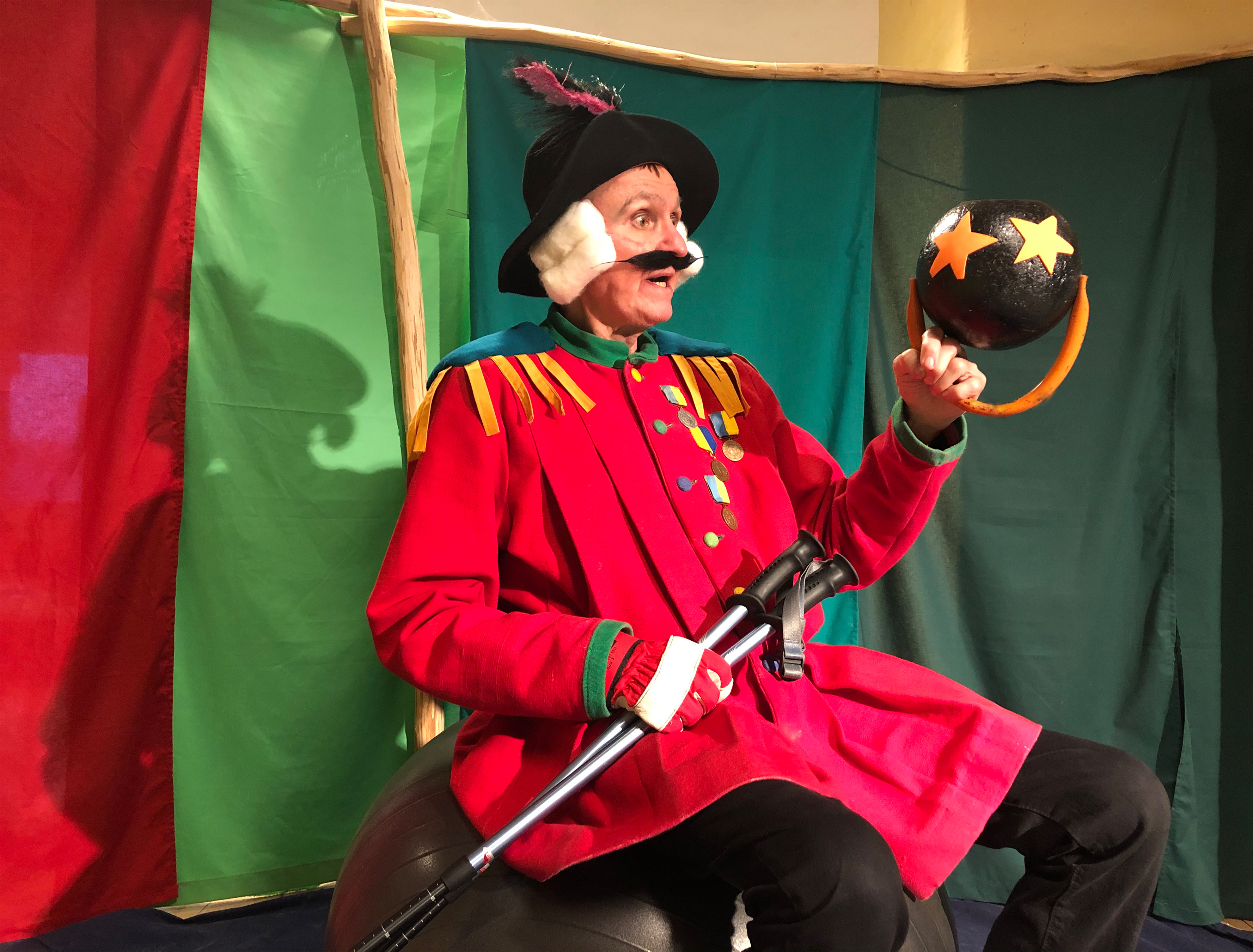 Life is full of wonderful and fun fantasies!
With a little practice, you can fully experience them.
Meet Your Personal Fantasy Trainer: Münchhausen!

In an international co-production, he takes us to a Gym where training equipment is animated and gets dream roles in a real tall tale!
Join Münchhausen on a journey to the Palace of  Emperors and Sultans, and to the Moon!
In the gym it is stretched and strained most of the time!
But not on the truth! 
The performance is an international visual physical interactive co-production, based on Rudolph Erich Raspe´'s iconic book BARON MÜNCHHAUSEN'S STRANGE JOURNEYS AND ADVENTURES TO LAND AND WATER.
Much of the material in the book about Münchhausen's adventures had been heard by Raspe from the real Baron von Münchhausen, who lived in Hanover in the 18th century and was fond of tall tales that had the ambition to entertain rather than be believed.
The show is the second part of our international trilogy about how Fantasy can give us a slightly better and more fun life: HOMO LUDENS – THE PLAYING MAN, MÜNCHHAUSEN – THE DREAMING MAN, SYLVESTER – THE REFLECTING MAN.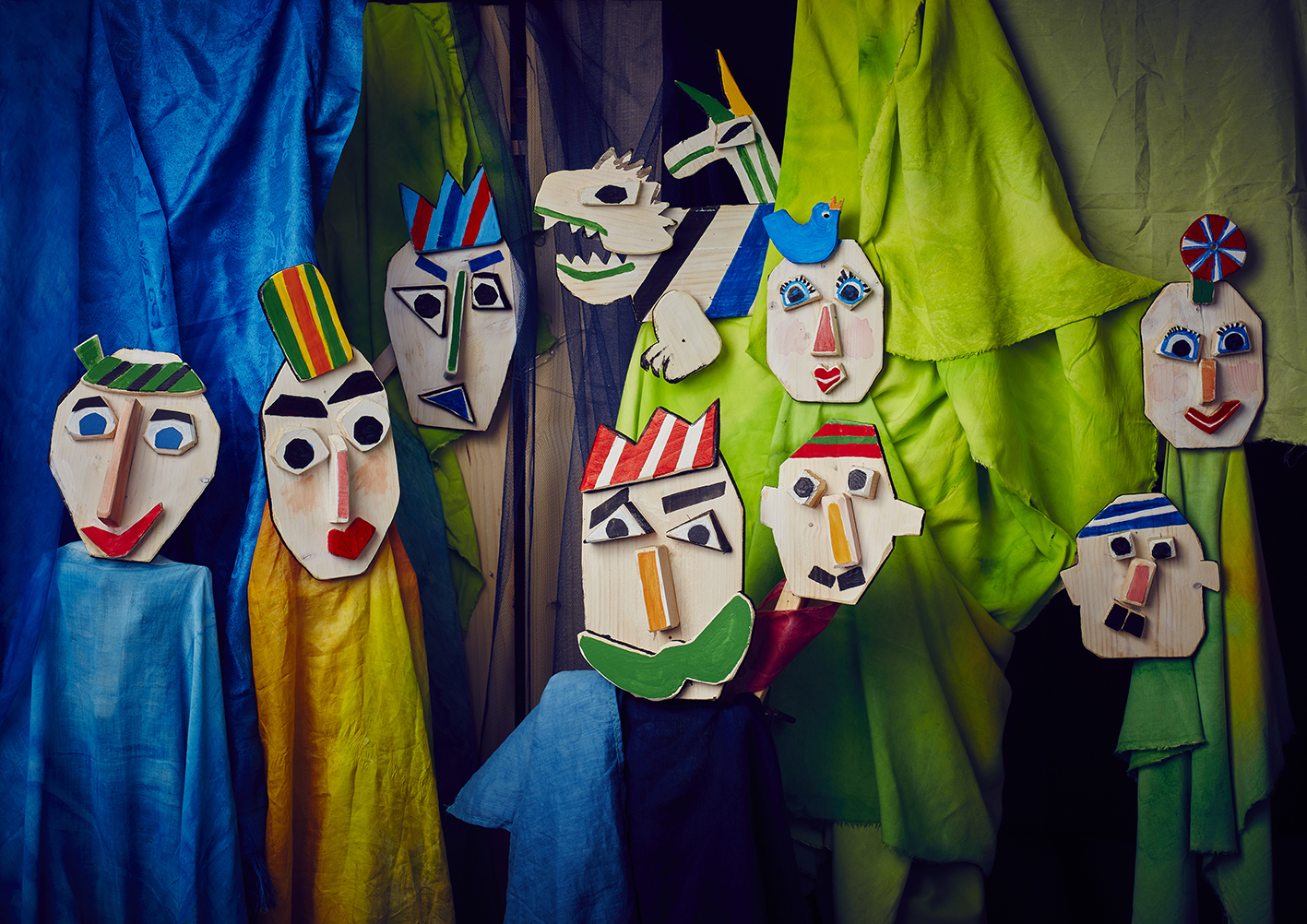 A PUPPET DRAMA AT THE HEIGHTS OF OLYMPOS
What´s disguised up there behind the clouds around Olympos?!
Nobody knows!
How do they think, these gods and all curious beings and muses far up there?
Are they serious?
Are they joking?
How do they look?
Finally we get the answers!!
In Puppetry everything is possible!
Follow Bellerofons humourous trials to find out what´s happening up there!
Experience Heroism, Treachery, Arrogance, Cyclops, Pegasus, and the hair-raising Chimera!
Familyperformance
Very first performance December 26th 2019
HOMO LUDENS – THE PLAYING MAN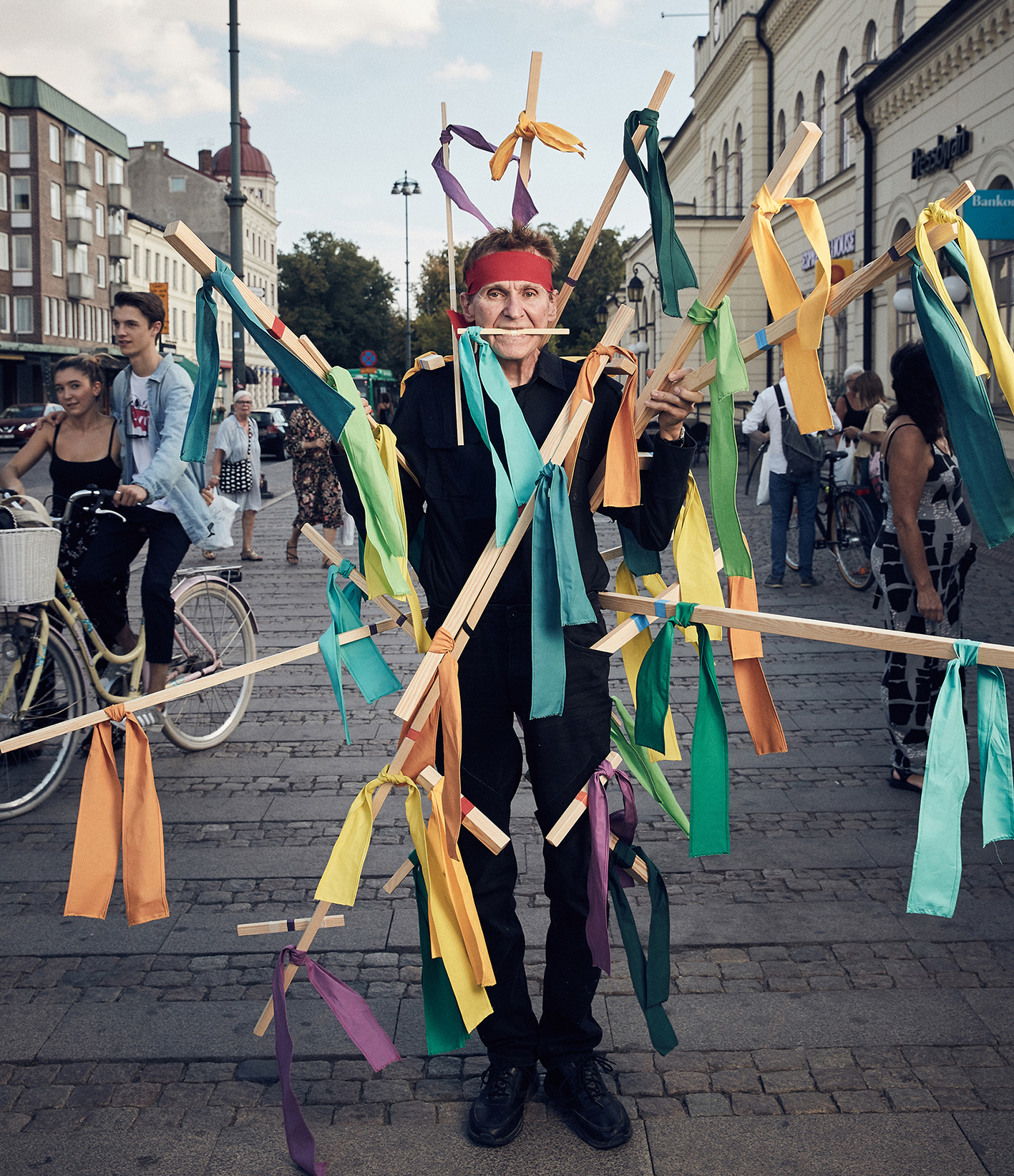 A Swedish-Bulgarian-Danish Visual Physical Theatre Production
Concept and Directed by Petar Todorov, Pro Rodopi Art Centre Bulgaria
Devised by Petar Todorov, Staffan Björklund, Enid Björklund
Music by Lars Fjeldmose, Copenhagen Denmark
Costume and props by Enid Björklund
Recorded voice by Nijas Fjeldmose, Copenhagen Denmark
Performed by Staffan Björklund, Hög Sweden
Inspiration Johan Huizinga The Netherlands and Leonardo Pisano Fibonacci Italy
THE WORLD IS A PLAYGROUND AND WE ARE ALL CHILDREN IN IT!
1, 1, 2, 3, 5, 8, 13, 21, 34, 55, 89, 144, 233, 377,…
Golden cut, Spiral, Keyboard…
Play formed us into cultural beings!
Play is the prerequisite for humanitarianism and peaceful togetherness.
It's for everyone, and it's for free! It's not for real!
It has no connection to profit or property! It has its own rules!
WELCOME TO OUR PLAYGROUND!
Here we´ll play! Here the journey is as valuable as the goal.
Play gives joy and space for creativity.
Transformation becomes the story!
For adults and children from 8-9 years.
60 persones on chairs in a circle on a stagefloor in larger theater rooms/blackboxes, or in a semicircle in cultural rooms as galleries, museums, libraries… 
WE DON´T STOP PLAYING BECAUSE WE GROW OLD, WE GROW OLD BECAUSE WE STOP PLAYING!
Very first performance October 2018.
October 2019 we gave appriciated performances at four larger international Puppet-Animation-Festivals in S:t Petersburg (RU), Kiev (UKR), Smolyan & Bourgas (BG)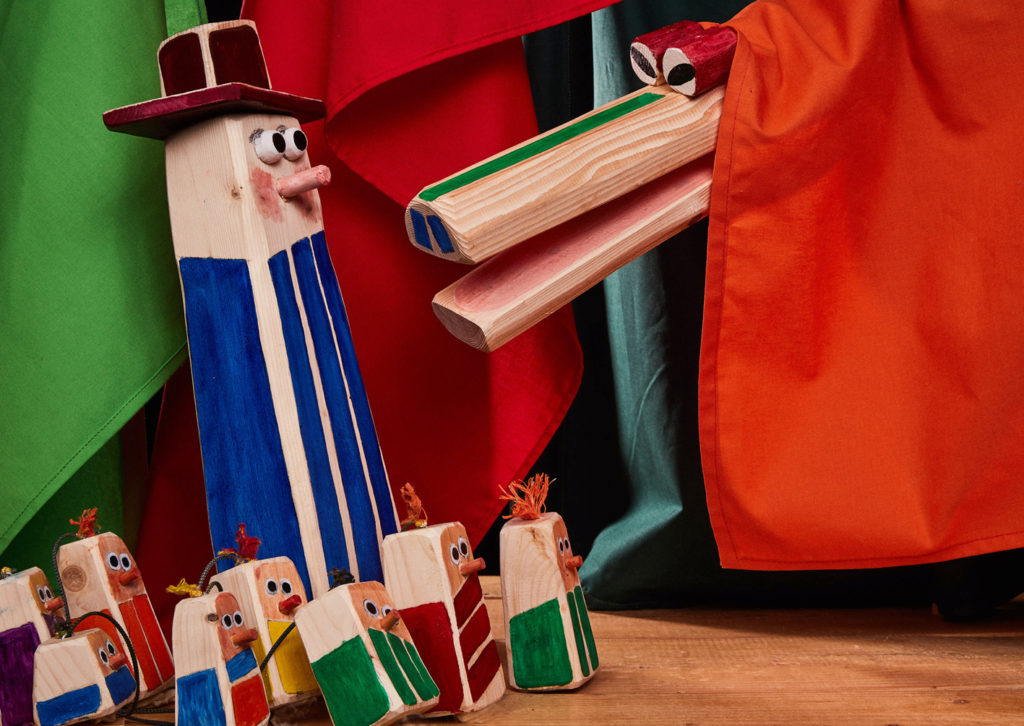 On the outskirts of the little village,
right where the oxen were grazing,
lived a farmer with his wife. 
He was always happy….
But she was sad all day long.
Suddenly what happened happened!
And if it hadn´t happened, all this would never have been told!
Very first performance April 2017
THE BOY AND THE PLAYHOUSE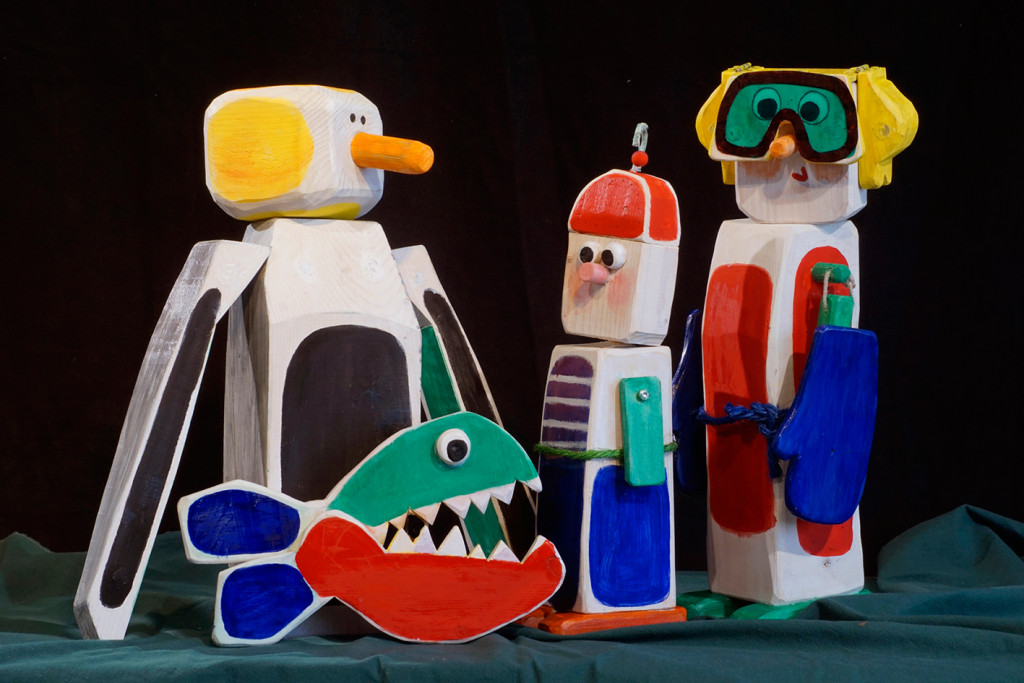 Here they are!
Eager birds
Lively horses
Meditative sheep!
 
All springing from the same silent stem!
And what they make up….
Nobody could have imagined,
Everything can happen in the Playhouse!
 
A play about creativity.
Musical and with almost no words, on how a woodcarver and her little son encourage each other's ideas and inventions when they jointly give life to a large wooden block with a will of its own!
Very first performance October 2015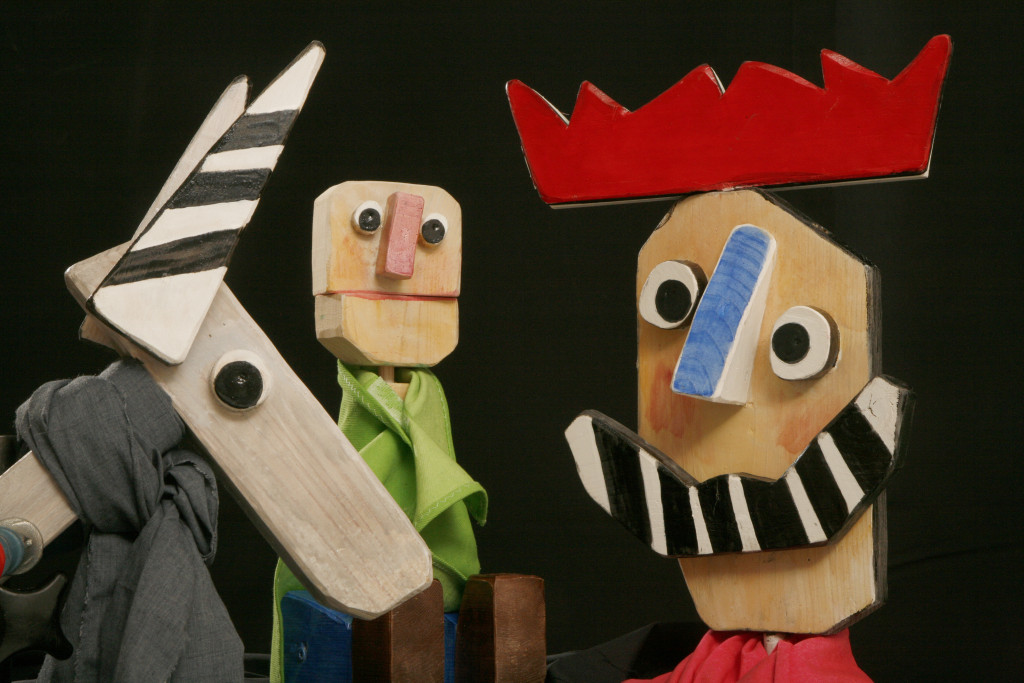 A free adaptation of a handful of comic stories by Rabelais, Aesop, Nasrudin from the old school, and a Danish high-hat-man who Mr. Stick says he encountered!
Very first performance November 2013.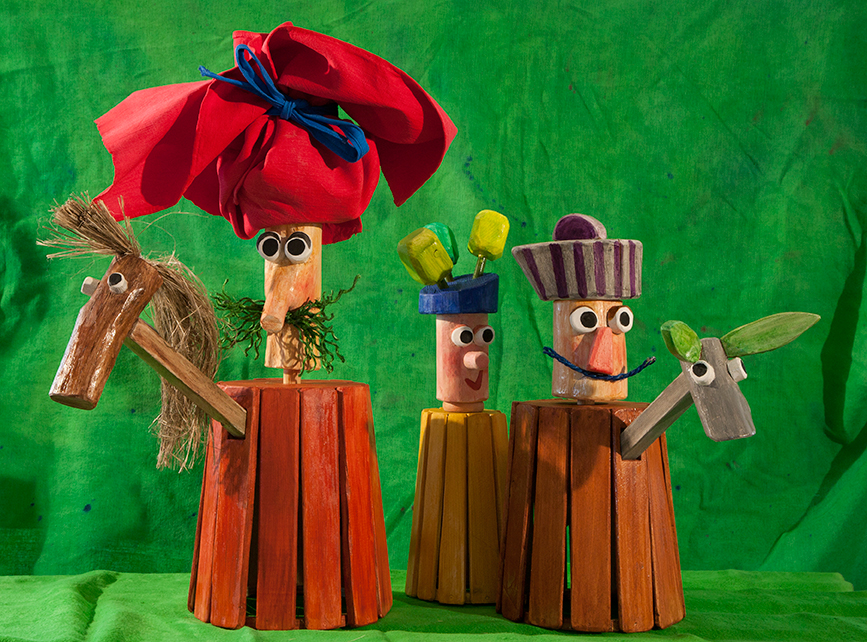 A well-rooted
Carrot-Madam
of noble family!
Meets Great-Grandroot
Chubby and rugged
He´s heavenly!
Donkeys are foooled!
Here are ducats of gooold!
And root vegetable morality!
A deep-rooted summerstory about Old Ladies and Old Men
With their fingers in the soil and their minds in the skies!
Madame Root has been performed at an international festival in Slovenia.
THE OLD MAN AND THE DONKEY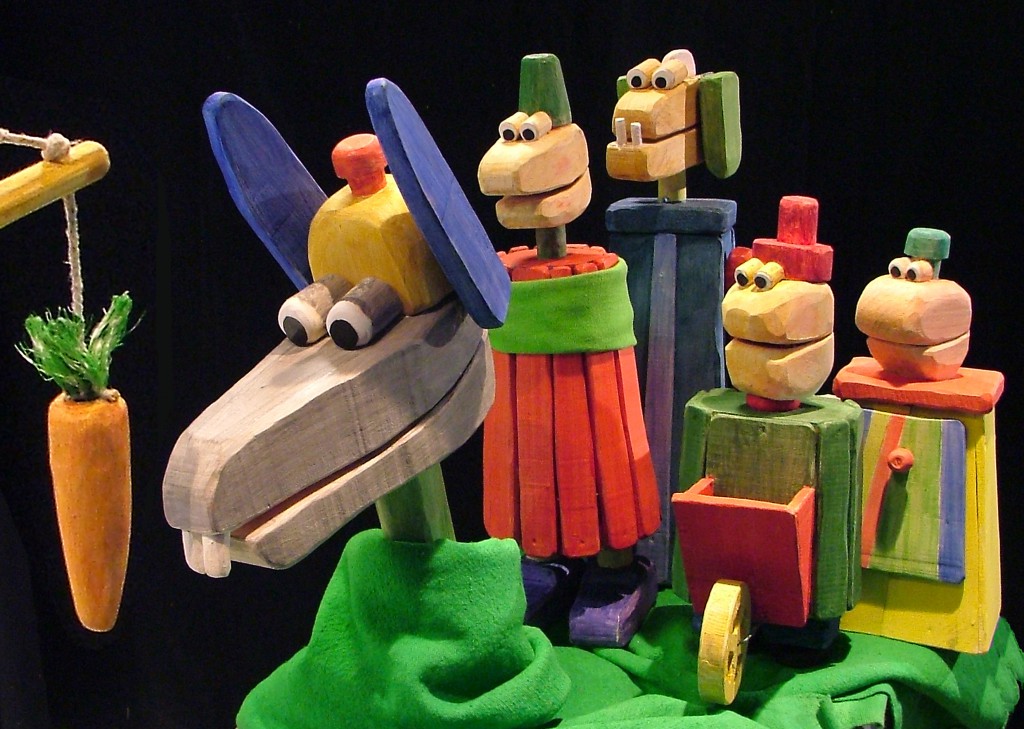 A hilarious performance about the old man and his clever donkey.
Suddenly, they will need to give it all their best – because now they need help, things are starting to happen!The lamb has disappeared!
Woe, woe, woe!
The princess caught a cold!
No, no, no!
The nestling is cheeky!
Oh oh oh!
The Old Man And The Donkey has been performed at international festivals in Sweden, Denmark, China, Serbia, Chech Republic, Germany, Romania, Poland, Vietnam, Slovenia, Russia.
Awards: "Best Animation", "Most Comic Solo Artist", "Best Puppet Design","Best Original Creation", "Originality In The Art Of Animation", "Gold Medal For Most Beloved Puppets", "Best Family Performance", "Childrens Juryprize 25 Golden Stars", "Best Performer".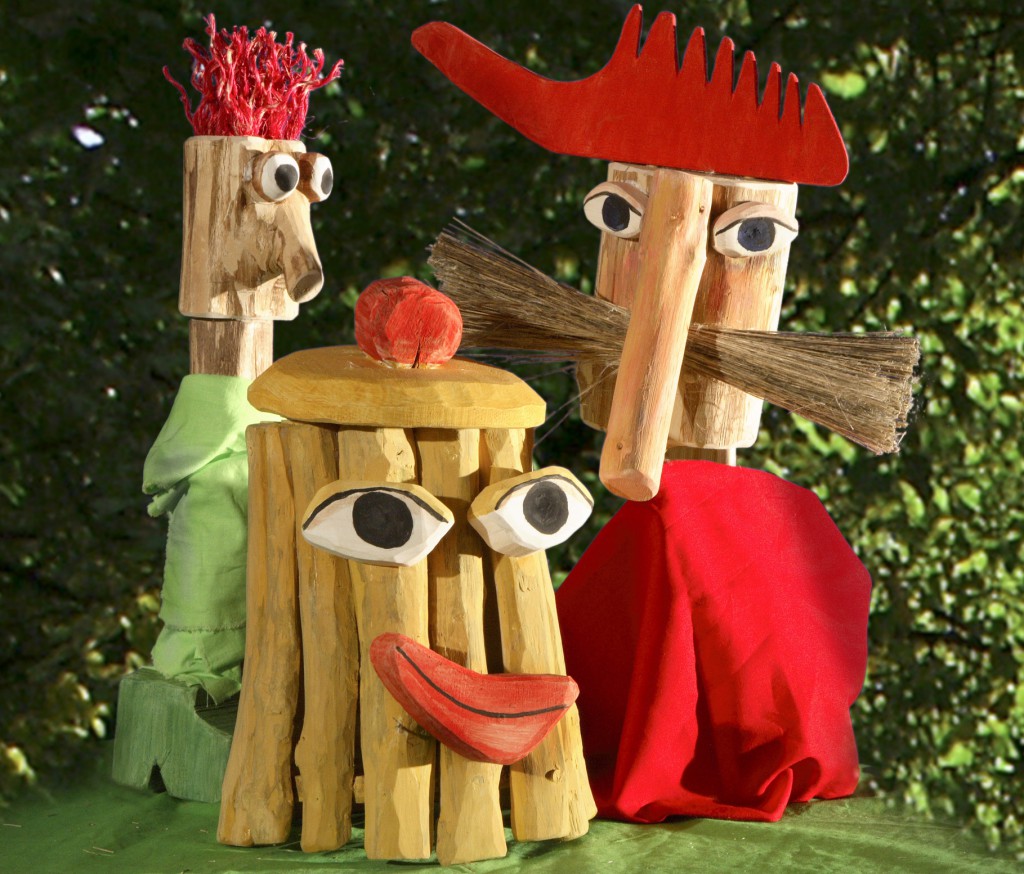 Some will get long ears, others longer noses!
Tender vegetables, newly awakened from their garden bed, bicker with the stuck-up drones at the edge of the wood! And You will meet King Midas as You newer saw him before! A most delicious puppet theatre!
Three On A Straw has been performed at international festivals in Spain, Romania, Indonesia, Slovenia, Sebiria, Czech Republic, Poland, Tunisia, Russia, Denmark, Bulgaria, Greece.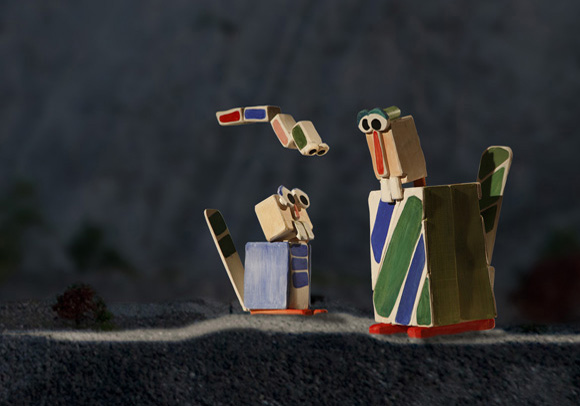 Humoristic-musical puppet show with frisky tussle
about nectar and settlement in the edge of a forest near you!
Two with pawns
Two who tramp
Two who step on somebody's toe!
Two with wings
Two on the spree
Two who nibble on wooden chips!
Two On Toe has been performed at international festivals in Istanbul Turkey, Kwidzyn Poland and Liberec Czech Republic.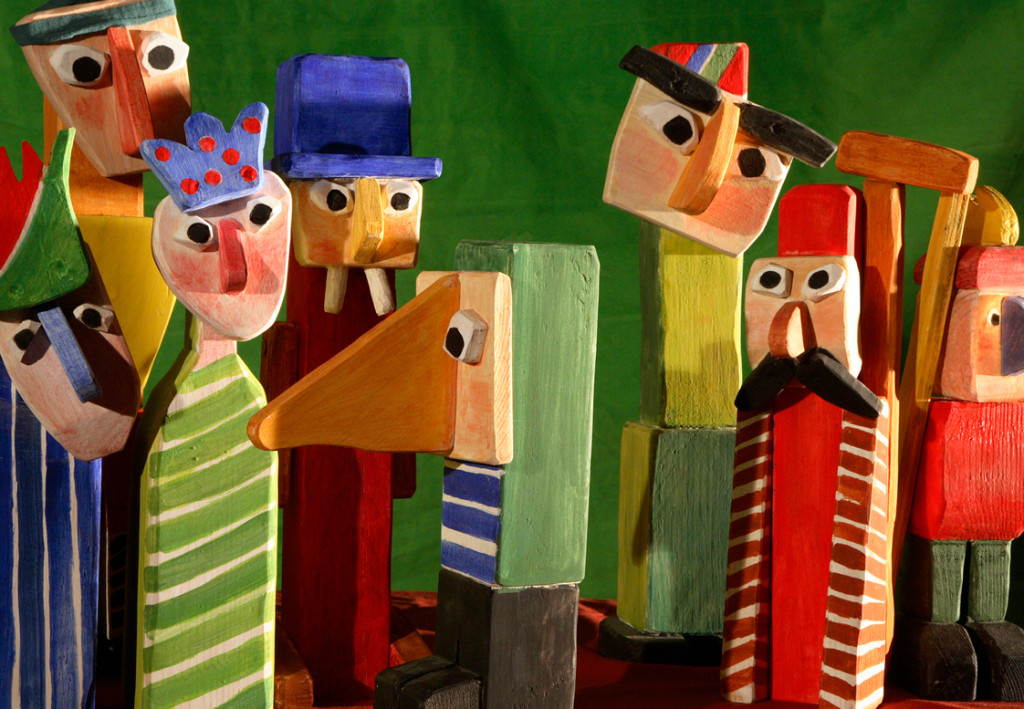 A screamingly funny musical spectacle with wooden puppets!
On big shoes, small heroes and a good heart. A burlesque adventure that ends up dreadfully well!